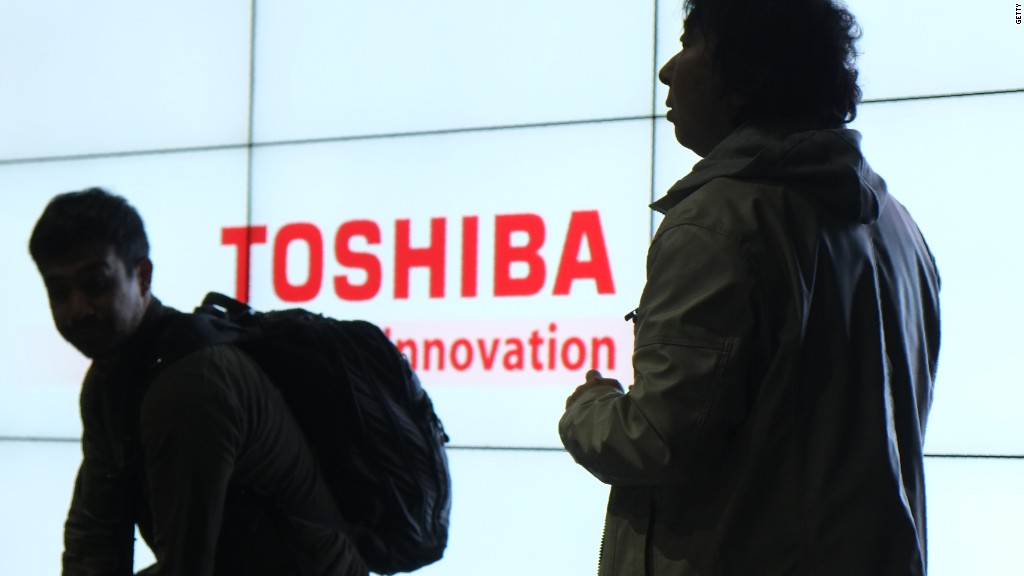 Toshiba may not survive its deepening crisis.
The Japanese conglomerate said Tuesday that there is "substantial doubt" about its ability to continue as a going concern after it reported huge losses.
Toshiba has been hammered by the collapse of its American nuclear business, Westinghouse Electric, which filed for bankruptcy protection in the U.S. last month.
After twice missing deadlines, Toshiba (TOSBF) reported a net loss of 648 billion yen ($5.9 billion) for the quarter ended in December. But in an unprecedented move for a major Japanese company, Toshiba filed the report without the approval of its auditors.
Japanese regulators must now decide whether to accept Toshiba's earnings report. If not, shares in the ailing company could be delisted from the Tokyo Stock Exchange.
Here's where things stand:
Delayed earnings and delisting threat
The refusal by auditor PwC Aarata to give its seal of approval is another embarrassing blow for Toshiba as it tries to persuade investors that it can find a way out of its crisis.
Westinghouse suffered billions of dollars in losses due to cost overruns and construction delays at nuclear plant projects in Georgia and South Carolina.
The unit's bankruptcy means Toshiba will eventually be able to remove it from its accounts. But dumping Westinghouse could drag Toshiba to a net loss of 1 trillion yen ($9 billion) for the fiscal year that ended in March.
Related: Westinghouse Electric is filing for bankruptcy
PwC refused to sign off on the earnings report because it is still studying the results of investigations into Westinghouse's takeover of nuclear construction company CB&I Stone & Webster in 2015, Toshiba said Tuesday.
But the company says it has no reason to believe that losses tied to Westinghouse will have any financial impact beyond fiscal year 2016. Toshiba CEO Satoshi Tsunakawa said he considers the investigation to be over.
Regulators in Japan will have to decide if the disarray means Toshiba, one of the country's best known multinational corporations, should suffer the humiliation of having its shares taken off the stock exchange.
Selling off the crown jewels
To try to repair its balance sheet, Toshiba is now selling a majority stake in its prized computer chip business. Tsunakawa has said he expects the unit to fetch at least 2 trillion yen ($18 billion).
Taiwan-based Foxconn, one of Apple (AAPL)'s biggest suppliers, has offered as much as 3 trillion yen ($27 billion), according to The Wall Street Journal and Bloomberg. Toshiba declined to comment on the reports, and Foxconn didn't respond to a request for comment.
Related: Toshiba chairman steps down as company takes $6.3B hit from nuclear business
But the Japanese government is keen to keep the memory chip business in the country, according to local media, and has called on Japanese companies to club together to buy a stake.
Toshiba said Tuesday that the sale of the chip business and other assets would enable it to stay financially sound.
What happens to Westinghouse?
Westinghouse's bankruptcy filing has raised questions about what will happen to the storied U.S. company.
Toshiba's majority stake in Westinghouse will be sold. That will happen under the supervision of the bankruptcy court "and we will not be involved in that," Tsunakawa told reporters last month.
The sale process could fuel concerns in the U.S. government, which reportedly wants to ensure domestic nuclear capabilities don't end up being bought by a Chinese firm.
Westinghouse is already building reactors in China. Buying the struggling American company could provide China with technology it needs to become a leading player in nuclear power.
-- Yoko Wakatsuki in Tokyo contributed to this article.