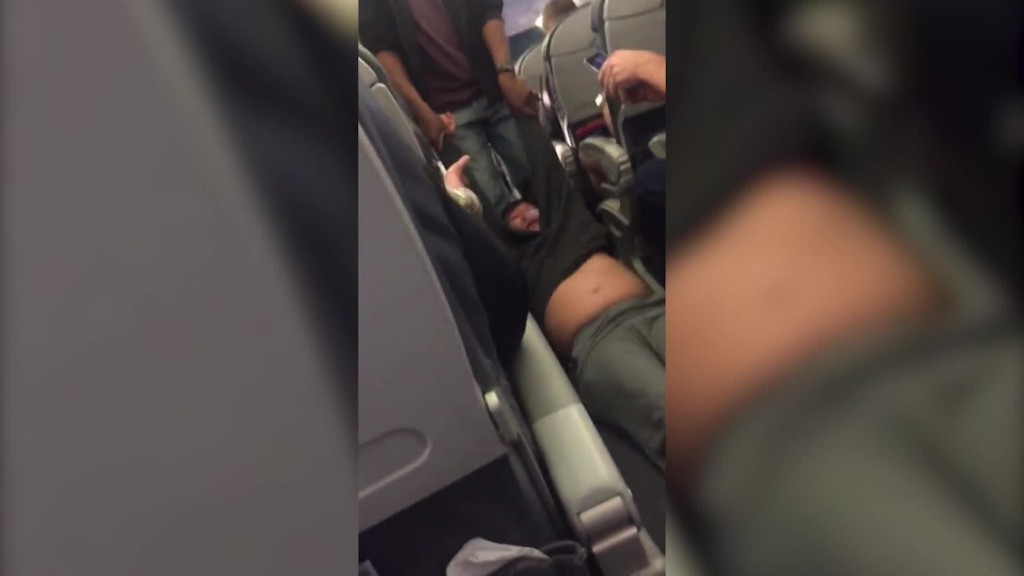 Shares in United Airlines slipped by just over 1% Tuesday as the company scrambled to address a video showing a passenger being forcibly dragged off an overbooked flight.
Earlier in the day, United Continental Holdings (UAL)' stock was off about 4%, knocking off close to $1 billion off the company's market value. By late afternoon, after a mea culpa from the CEO, the stock had recovered from the worst losses -- but its market value was still off by $250 million.
The video, which surfaced Monday, showed a passenger removed on Sunday from United flight 3411 at Chicago O'Hare International Airport.
Several passengers recorded the incident on their phones and posted video on social media showing three Chicago Department of Aviation security officers dragging the man, who has not been identified, down the aisle by the arms and legs while other passengers shout in protest.
He continued to resist after he was removed and ran back onto the airplane, face bloodied from the encounter.
Related: Know your rights if your flight is overbooked
The incident sparked a massive reaction online.
Following the backlash, United CEO Oscar Munoz issued a statement calling the incident "upsetting" and apologized "for having to re-accommodate" customers.
But that failed to appease many customers. Public relations analysts have also panned the company's public response to the incident.
Munoz on Tuesday afternoon issued his third apology. He called the event "truly horrific" and pledged to "fix what's broken so this never happens again."
Anger was not limited to the U.S. The incident was the number one trending topic Tuesday on Weibo, China's answer to Twitter, attracting more than 100 million views.
China is one of United's most important growth markets.
Related: American Airlines buys stake in top carrier China Southern
The Chicago-based carrier is the U.S.'s third largest airline by passenger traffic, operating more than 4,500 flights a day to 339 airports across five continents.
United released its traffic figures for March on Monday afternoon, reporting 3% growth over the previous year.
The company has been trying to revamp its image after ranking near the bottom of airline customer satisfaction indexes for several years. It is updating its fleet and last year added free snacks, premium coffee, better Wi-Fi and upgraded airport lounges.