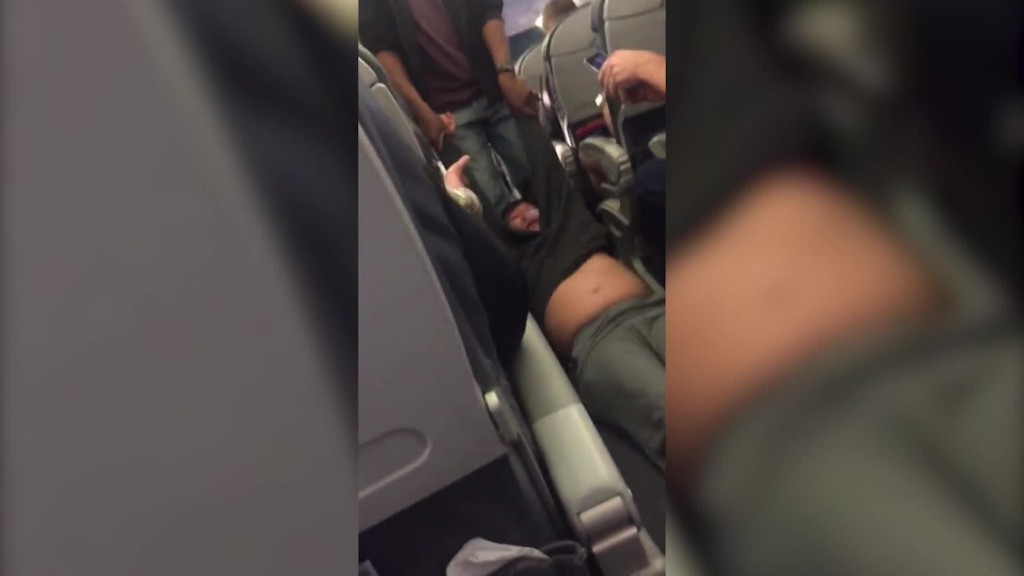 Air travel is less pleasant than ever, but there isn't much passengers can do about it.
That's because choice has mostly disappeared from the friendly skies.
After several rounds of mergers, just four airlines -- American (AAL), Delta (DAL), United (UAL) and Southwest (LUV) -- account for 82% of the miles flown on U.S. carriers.
Recent horror stories, including a passenger being dragged off a United flight and a systemwide meltdown at Delta, only add to passenger angst.
"You do feel helpless when you fly today because you don't have choices," says Michael Boyd, an industry consultant.
Consolidation is only part of the story. On about half of the most popular routes in the United States, you have only one choice for an airline if you want to fly nonstop, according to the most recent figures from PricewaterhouseCoopers.
And those figures are from 2011, before American Airlines and U.S. Airways combined to form the world's largest airline. On 36% of the most popular routes, passengers had a choice of only two airlines.
Fly cross-country and you'll have plenty of options. But try to get from St. Louis to Cincinnati, cities that both were once major hubs, and you'll have very limited choices -- a couple of Delta flights a day. The same is true between Chicago and Louisville, the route of the infamous United flight.
"Quite a bit of the state of air travel is traceable to over-consolidation," said Jonathan Grella, executive vice president of the U.S. Travel Association, a trade group that represents hotels, airports and tourist attractions but very few airlines.
He said the lack of choice "is creating an adversarial relationship between passengers and carriers that is unnecessary. People want and deserve choices. But if there's only one airline on your route, what are you going to do? It's not like you're going to walk or take the stagecoach."
Related: United Airlines shows how to make a PR crisis a total disaster
Even on routes served by more than one airline, there are fewer flights. Airlines are using larger planes, filled to near record levels, to move the record 821 million passengers who flew on U.S. airlines last year.
And those airlines flew 15% fewer flights last year than in 2007, Boyd said. Passengers who in the past might have found a flight that was convenient for their plans now have to change their plans because of fewer choices.
Passenger complaints to the Transportation Department have soared as airline choices have shrunk. The number of complaints per passenger last year was nearly double the rate from 1997.
Related: The often-overlooked reason United can kick you off your flights
Boyd says part of the problem is that airlines are imposing more and more fees on passengers, which are particularly unpopular. Together the industry collected more than $7 billion in fees just on checked bags and changing tickets in the 12 months ending in September, according to federal data.
Another problem for airlines is the growth in social media, in which problems which would have been known by only a planeful of people in the past are quickly spread all over the world, as happened with the incident with the passenger being dragged off the United flight.