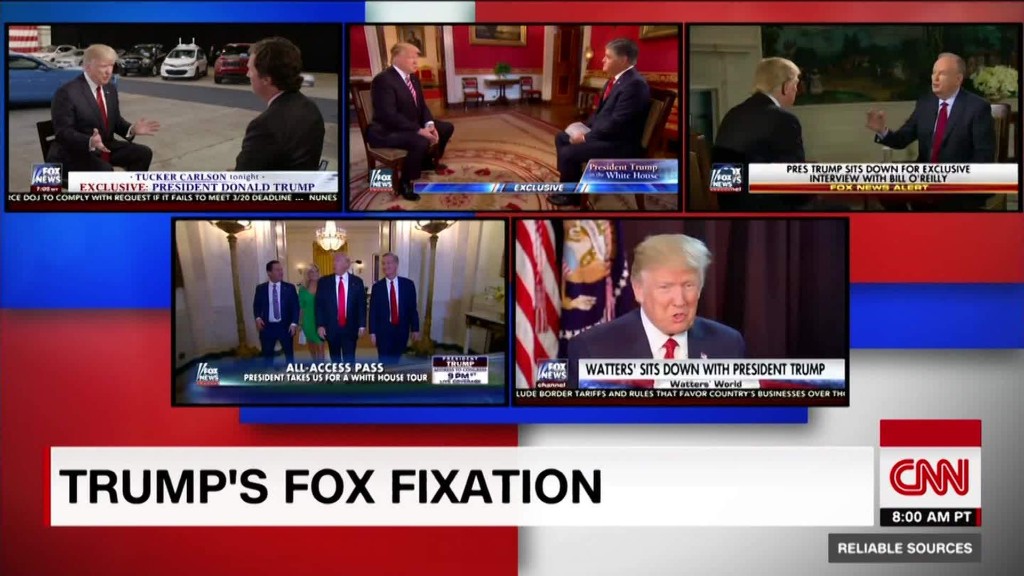 President Trump has been treated better by Fox News since Rupert Murdoch took over for Roger Ailes -- and he knows it.
The president has been heard on multiple occasions talking about how Fox's coverage of him has become more positive since Murdoch took the reins at the network, sources at both the White House and Fox News told CNNMoney.
The president "talks about how the coverage under Murdoch is better than under Ailes," a White House source said.
According to New York magazine's Gabriel Sherman, Trump was also heard on a hot mic this week telling Fox Business host Maria Bartiromo, "Rupert's been a lot better to me than Roger ever was."
The president's sentiments about Murdoch may explain why he repeatedly gives interviews to Fox outlets while ignoring other networks. Six of the eight sit-down television interviews Trump has given as president have gone to Fox News or Fox Business. (The other two went to ABC News and the Christian Broadcasting Network.)
Trump's relationship with Fox was more fraught during the 2016 campaign, especially during the Republican primary, when there was still competition to be the GOP's standard-bearer. Adding to the tension, former primetime host Megyn Kelly challenged Trump's statements on her show and sparred with him during primary debates. Trump even skipped one of those debates, citing what he saw as unfair treatment by Kelly.
Since Kelly's departure in January, Fox's primetime lineup has become notably pro-Trump, from Bill O'Reilly to Tucker Carlson to Sean Hannity. The network's morning show, "Fox & Friends," is also overwhelmingly supportive of the president, who used to be a regular guest on the program.
Related: Latest sign of warming relationship between Rupert Murdoch, Donald Trump: a tweet
Trump and Murdoch's relationship was not always so friendly. Murdoch was a vocal critic of Trump early in his campaign. In early 2016, however, Trump's son-in-law Jared Kushner brought Trump and Murdoch together for several meetings and conversations, according to sources close to both men, and Murdoch came around to Trump.
Shortly before his inauguration, Trump tweeted, "Rupert Murdoch is a great guy who likes me much better as a very successful candidate than he ever did as a very successful developer!"