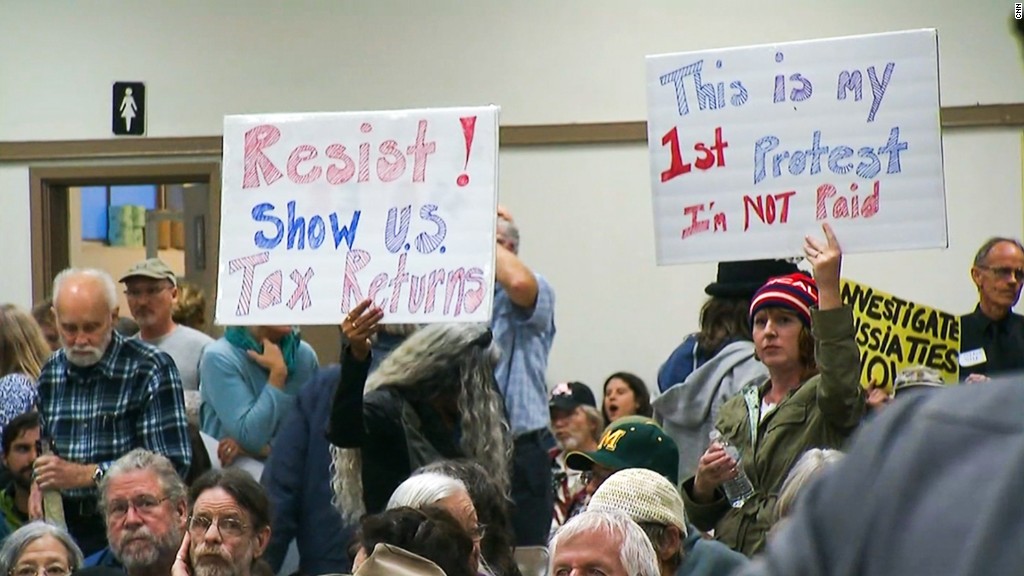 Turns out, people still care about President Trump's tax returns.
On Saturday, protesters across the U.S. plan to demand that Trump make his most recent tax returns public. It's something every president and presidential nominee has done for the past 40 years.
Trump has said that Americans "don't care at all" about his tax returns, but polls show 74% of Americans say he should release them. Many lawmakers, including some Republicans, have also called on him to make them public. And a petition demanding that Trump release his returns has garnered more than 1 million signatures.
Still, the White House has not indicated Trump has any intentions of releasing his returns. So Trump critics are prepared to make some noise.
"We march to demand that the president release his returns, as he has repeatedly promised, but failed, to do," the Tax March website reads. "We march because it is in the best interest of the American people to know what financial entanglements and conflicts of interest our leaders have."
Related: What we'd learn if Trump would just release his tax returns
The organizers of Saturday's marches say there are more than 180 planned across 48 states and the District of Columbia.
Much like the "Pussyhats" symbolized by the Women's March in January, the hallmark of this protest will be giant inflatable chickens. They're meant to symbolize Trump's cowardice, according to Delvone Michael, a member of the Tax March executive committee.
Michael is a senior political strategist for the progressive Working Families Party. The march's executive committee also includes organizers from the National Women's Law Center, the Indivisible Project, the Georgetown Center on Poverty and Inequality and a host of other groups.
Related: Pelosi, Dems not letting go of Trump tax return push
There's no way to know for sure how large the crowds will be. In some of the largest cities -- Washington, D.C., Los Angeles, New York and San Francisco -- anywhere from 10,000 to more than 20,000 people are planning to attend, according to Facebook event pages.
However, many cities may draw crowds of fewer than 100. The Facebook page for a march in Savannah, Georgia, for example, shows only a dozen people plan on attending. For a march in Charlotte, North Carolina, less than 100 Facebook users have said they'll go.
Of course, turnout at the tax marches could surprise on the upside.
Kathleen Petersen, a retiree who is organizing the march in Cheyenne, Wyoming, also helped organize the local Women's March there the day after Trump was inaugurated.
"We thought we'd be lucky if we got 200 people. And we got 2,000," Petersen said.