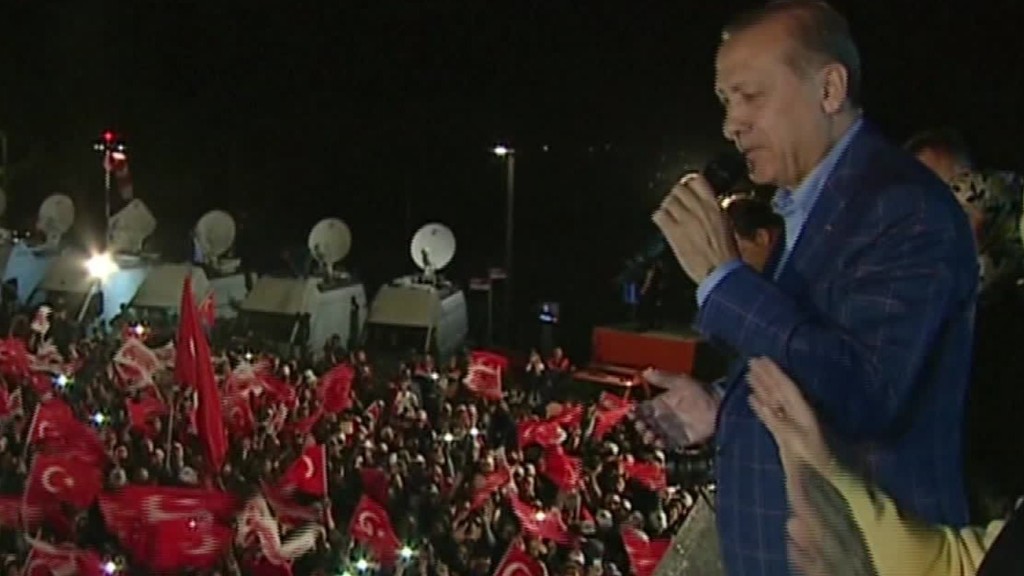 Turkish President Recep Tayyip Erdogan has won sweeping new powers. Now he has to win over investors.
Erdogan, who survived a coup attempt last year, secured a narrower than expected victory in Sunday's constitutional referendum.
Investors breathed a little easier Monday, sending the Turkish lira up 0.5% against the U.S. dollar and Turkish stocks slightly higher. Markets were worried that defeat for Erdogan may have sparked a backlash from the government -- authorities have arrested more than 47,000 people on specific charges since the July coup.
"Following this result, we expect a brief relief rally in Turkish assets as the huge uncertainty associated with a 'no' vote has been averted," wrote Commerzbank's senior emerging markets economist Tatha Ghose in a research note.
But any gains are likely to be muted. To make the most of his new powers, Erdogan will have to win elections in 2019 and that means a state of emergency is likely to be extended, reducing the prospect of reform, analysts say.
"We're getting a rally, it may go a bit further, but it can do so without us," wrote Kit Juckes at Societe Generale. "Our emerging markets team... are waiting to see what kind of policy changes we see."
This is what investors will be watching closely:
Elections in 2019
Turkey is deeply divided -- more than 48% voted "no" -- and political uncertainty will continue. The "yes" vote was smaller than support for government parties in the last election in 2015. That's likely to encourage the opposition to to challenge the outcome of the referendum.
And Erdogan will have to win elections in 2019 to complete his victory.
"The switch to an executive presidency will not be immediate -- it will occur after the next election," said Ghose.
Erdogan has been given much credit for the country's economic boom over the last 15 years. But his reputation has been tarnished recently.
Related: Turkey referendum: What happened and what comes next
Average income has risen from $3,800 in 2003, when he became prime minister, to around $10,000, according to data from the World Bank. This means the number of people living below the poverty line dropped from 23% of the population to less than 2%.
But Turkey no longer sees the 6% average annual growth it enjoyed from 2002 to 2007. It's likely to be half that in 2017, according to the IMF. Foreign investment has also taken a hit -- down from $22 billion in 2007 to $17 billion in 2015, and that was the best of the intervening years. The lira has lost more than 22% against the dollar over the past 12 months.
The European question
Turkey began negotiations to join the European Union in 2005 but progress has been very slow. Sunday's referendum could make matters even worse.
International monitors have already given a scathing verdict on the conduct of the vote. German Chancellor Angela Merkel reminded Erdogan that Turkey -- as a potential EU member -- has to safeguard democracy and basic rights.
Another sticking point is Erdogan's desire to restore the death penalty, a move made easier by his referendum win.
French President Francois Hollande warned that any referendum in Turkey on the reinstatement of the death penalty would constitute a break with EU values and commitments.
"This will derail EU accession talks and other EU cooperation for the foreseeable future," said Commerzbank's Ghose.
The EU is likely to keep a refugee deal alive, under which it pays Turkey about three billion euros each year to help it cope with the influx of migrants from Syria and elsewhere.
Relations with Russia
Turkey has an off and on, but vital, relationship with Russia.
In 2014, they sparred over Ukraine and the illegal annexation of Crimea. More recently, they've disagreed over Syria. Turkey has been upset by Russia's support for Syrian president Bashar al-Assad.
However robust and dynamic its economy has been for the past decade, Turkey depends on trade, tourism, and energy resources.
Russia is among Turkey's top trading partners. Several million Russian tourists have added billions of dollars to Turkey's economy. Most significantly, Russia supplies 12% of Turkey's oil and 55% of Turkey's natural gas.
The Kremlin said Monday that "everyone should respect the will expressed by the Turkish people."