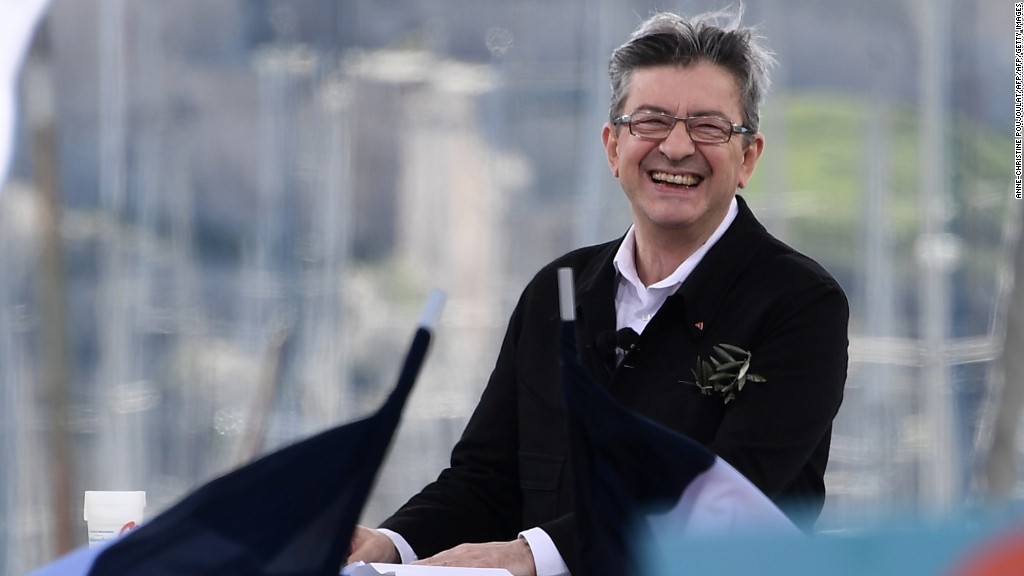 The surging dark horse candidate in France's presidential election is coming for the rich.
Jean-Luc Melenchon, who has been endorsed by the French Communist Party, says he would introduce a 100% tax on income above €400,000 ($425,000).
Why €400,000? That's 20 times higher than France's average wage.
The top rate of income tax is currently 45%. Boosting that to 100% would effectively cap earnings at €400,000.
France already has some of the world's highest rates of income tax, and previous attempts to push them even higher have failed.
President Francois Hollande proposed a 75% top tax rate in 2012, but the proposal was rejected by the French courts.
High taxes have contributed to an exodus of millionaires from France.
Around 10,000 millionaires left the country in 2015, followed by 12,000 last year, according to New World Wealth. Movie star Gerard Depardieu is among those who have ditched France over the issue.
"I believe that there is a limit to the accumulation [of wealth]," Melenchon said in March. "If there are any who want to go abroad, well, goodbye!"
Stratospheric tax rates are not Melenchon's only controversial idea. He also wants to limit pay for CEOs to 20 times the salary of their worst-paid employee. He argues that such a law would force executives to increase the wages paid to workers before boosting their own.
Melenchon is holding rallies across France later on Tuesday, where he will appear via a hologram.
Related: Facebook targets 30,000 fake accounts in France
Melenchon has shaken up the polls over the past week by tapping into the frustration felt by many voters over lukewarm economic growth and high levels of unemployment.
He's now within a few percentage points of the two leading candidates, far-right leader Marine Le Pen and centrist Emmanuel Macron, as the first round of voting in the presidential election looms on Sunday.
The possibility of Melenchon advancing to the second round, scheduled for May 7, has spooked investors.
The difference in yields on French and German government bonds is now the largest it's been since February, suggesting that investors see French debt as a substantially riskier proposition than German bonds.
Their worries will increase markedly if Le Pen, who has called for France to abandon the euro, were also to advance to the second round of voting.
They want to kill the euro: Why many Europeans want their money back
Here's a quick look at Melenchon's other economic policy proposals:
Cut France's working week to four days
More vacation days for workers
Raise minimum wage by 16%
Increase the tax on inherited wealth
Abandon nuclear power; 100% renewable energy by 2050
No new free trade agreements
Leave NATO, the International Monetary Fund and the World Trade Organization
Nationalize French energy company EDF and gas provider Engie
Melenchon has also threatened to drop the euro if demands, including a devaluation of the currency, are not met.
-- Maud Le Rest and Margaux Deygas contributed reporting.