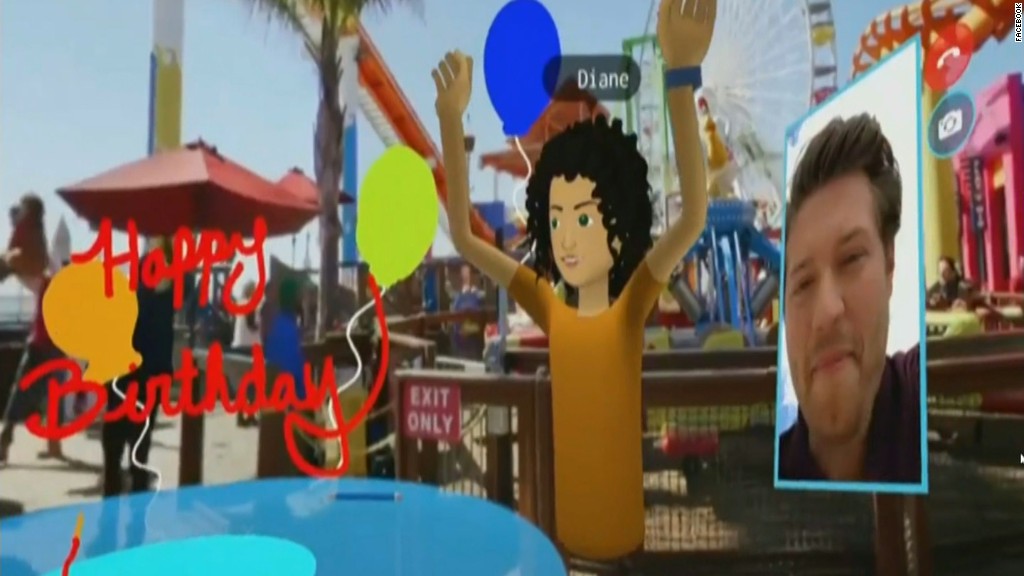 Facebook just built a virtual reality version of ... Facebook.
Mark Zuckerberg kicked off Facebook's annual F8 developer conference on Tuesday. The two-day event, now in its tenth year, drew roughly 4,000 attendees to the San Jose Convention Center in California.
This year, the company announced new augmented reality features for your smartphone camera, a cute VR version of the social network for Oculus and even more ways to talk to companies on Messenger.
Zuckerberg tests out his standup routine
The conference is a chance for Zuckerberg and his executives to wax poetic about all they ways they're changing the world, while also getting brands excited to sell things on Facebook.
Newish dad Zuckerberg tried out something different on stage: dad jokes. He made cracks about the other F8 trending this week, "The Fate of the Furious," and joked about his overly long community posts.
"I wrote like six more of these, but I understand that some of you are here to see a tech keynote," said Zuckerberg. He reinforced Facebook's commitment to building community, before speaking briefly about the Cleveland murder video that was uploaded to Facebook.
Related: Mark Zuckerberg makes cursory mention of Facebook murder video at F8
Augmented reality is already on your phone
He quickly pivoted to the main thrust of his keynote: augmented reality, but without the dorky glasses.
Facebook is using its new camera tools to launch its own augmented reality platform. Instead of putting on goggles, you will hold up your smartphone and watch as it overlays graphics on the world in front of you in real time.
You can add sharks swimming around your morning coffee, or a virtual mug to your table to feel less alone. Add effects to a room, like dripping paintings or rain clouds, and pop-up informational boxes for products or locations. It uses precise location detection, 3D effects and object recognition to make the moving effects work.
The platform is available in a closed beta starting Tuesday.
Facebook's new camera update already uses some of this "augmented reality," like animated mustaches and glitter beards. Zuckerberg acknowledged that the company was late adding the camera effects to its apps, but said, "I'm confident that now we're going to push this augment reality platform forward." Snapchat released similar features Tuesday morning -- the latest shot in the war between the two companies.
Related: Facebook is still trying to make bots happen
Facebook Spaces means you never have to leave your home again
Last year, Facebook did a silly demo on stage of people hanging out in virtual reality, taking selfies. It was a rough draft for Facebook Spaces, a new virtual reality version of Facebook the company announced today.
Facebook Spaces is an app for the Facebook-owned Oculus VR goggles. Facebook described it as "a magical canvas for shared experiences."
When you can't just chill on the couch with your bestie IRL, you can put on some goggles and do it as animated people in a virtual version of your living room. Or in a virtual park, Paris, maybe even outer space if you're into that.
Rachel Rubin Franklin, the former head of the Sims video game franchise, said it lets you spend time with people and gives "the essence that you're really there together."
The app ports in your Facebook profile, so it already knows who your friends are. If you don't have Oculus (most people don't), you can see a VR version of yourself talking to your friends' VR versions. You can build a custom avatar based on your Facebook profile shot, like a 3D bitmoji. This is the future, folks.
VR social networks and communities already exist, and they're experiencing the same etiquette questions as social networks. For instance, one woman was sexually assaulted while playing a video game in VR.
Facebook Spaces launches in beta for Oculus Rift Tuesday.
Forgot your password? Facebook's got your back
Facebook is expanding its efforts to eliminate passwords. In January, the company began testing Delegated Account Recovery, a tool that lets you use your Facebook account to log in to another app if you forgot your password.
Instead of answering security questions or receiving password reset emails, people can use Facebook to confirm their identity. The security tool is now rolling out to more apps as a closed beta test.
New communities just for developers
Facebook also announced a number of new tools just for developers. Since coding can be a lonely undertaking, Facebook is launching Developer Circles. They're like Facebook Groups for developers, helping connect people living in the same area and offering educational options like special classes from Udacity. There are new analytics tools and more location information to draw from. Developers can now build simplified pages and apps for people who have slow internet connections.
Year one of a 10-year plan
A lot has changed since F8's first installment. Over the past decade, Facebook (FB) has gone from a single website where people play Farmville to a public company that also owns Instagram, Oculus and What'sApp.
At last year's F8, Zuckerberg took a subtle swipe at then-candidate Trump, saying, "Instead of building walls, we can help build bridges." In the first few months of Trump's presidency, Zuckerberg has expressed concern about Trump's executive orders on immigration. COO Sheryl Sandberg has also criticized Trump on his abortion policies.
On the heels of the campaign, Zuckerberg made it his New Year's resolution to visit people from every state by the end of 2017 -- though he did not specifically mention Trump as a factor. The U.S. election also put fake news and its impact on real-life decisionmaking in the spotlight. Zuckerberg initially said it was "crazy" that Facebook could have impacted the election, though later backtracked on his comments.