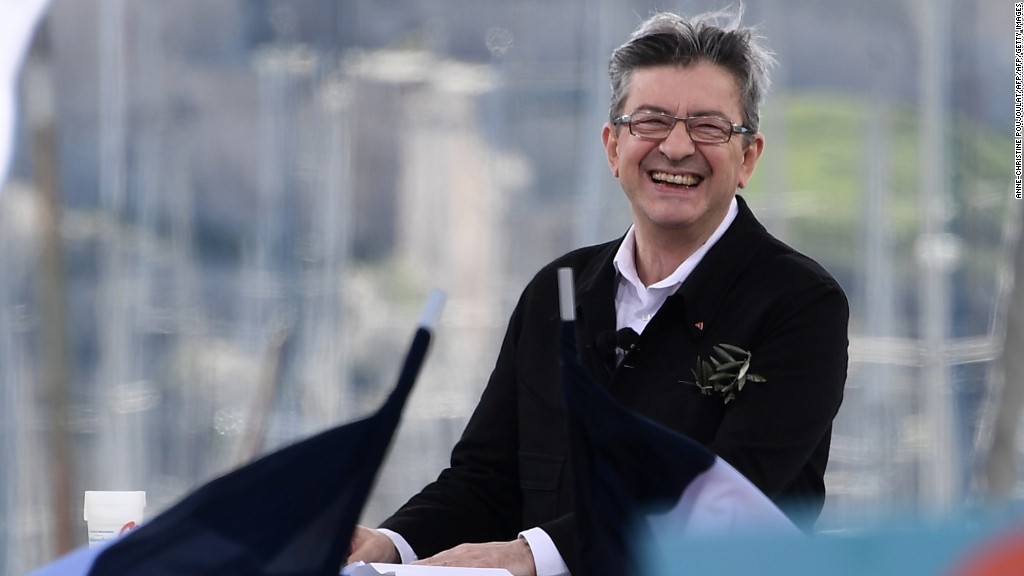 The Trump rally is facing some new competition from an unlikely spot: Europe.
Despite an unnerving election in France looming, investors are dumping pricey U.S. stocks in favor of much cheaper ones in the embattled eurozone.
That's according to a Bank of America Merrill Lynch survey of global fund managers that found investors have become the most bullish on the eurozone in 15 months.
After the ferocious Trump rally lifted U.S. stocks to record highs, fund managers have also become more cautious about Wall Street. Their allocation to U.S. stocks has plunged to the lowest level since January 2008, according to the BofA survey that was released on Wednesday.
"Investors are showing love for Europe and scrambling out of U.S. equities," Michael Hartnett, BofA's chief investment strategist, wrote in the report.
The problem they have with Wall Street is that stocks have become expensive. All told, 83% of fund managers think the U.S. market is the most "overvalued" region in the world, the highest level in the 17-year history of the survey.
But is now the most prudent time to rush headfirst into Europe?
Related: French candidate wants a 100% tax on the rich
Eurozone stocks have retreated about 2% this month amid apprehension over the radical ideas endorsed by leading candidates in France's presidential election. The first round of voting in this race takes place on April 23 and the top two candidates are set to square off in a second round on May 7.
The matchup features one far-right candidate, Marine Le Pen, who wants France to dump the euro. Such a move could call into question the entire existence of the common currency, a move that would lead to volatility in global financial markets.
Another surging candidate, socialist Jean-Luc Melenchon, is pushing for a 100% tax on income above $425,000 and for France to leave NATO, the IMF and the World Trade Organization.
"There is a great deal of concern that from a market perspective we could have two bad candidates to choose from in the second round," said Erin Browne, head of macro investing at UBS O'Connor, a hedge fund division inside the Swiss bank.
Browne warned that the French election could spark trouble in the European banking system that creates a "fairly significant risk-off event across markets."
Related: Global fears give Wall Street pause
Despite those concerns, investors have been lured into European stocks by hopes that a rebound in corporate profits there will make current low valuations look cheap in retrospect.
BofA said cash is rotating out of U.S. stocks and into the eurozone at one of the fastest clips since 1999.
"Although we agree on the allure of Europe's earnings recovery, complacency looks extremely high," Ronan Carr, BofA's European equity strategist, wrote.
The picture could clear up after the French presidential election.
"If we were to take away the French elections, or they go well, European assets are a great place to buy right now. You just need to be careful about the geopolitical risks," Browne said.
Of course, political risk exists in the U.S., too.
The Trump rally was built on expectations that Republican control of the executive and legislative branches would lead to quick and sweeping tax reform that would lift corporate profits and stimulate the economy.
But deep divisions within the GOP have forced Wall Street to dial back those hopes. Even Treasury Secretary Steven Mnuchin told the Financial Times this week that a deal on tax reform is unlikely by the August recess deadline he previously set.
BofA said only 5% of investors surveyed now expect tax reform before the summer recess, but almost half anticipate a deal before the end of the year.
"The market was overly optimistic about the timing of tax cuts," said UBS's Browne. Still, she said a package of tax cuts and modest reform is "realistically achievable" by the first quarter of 2018.
--CNNMoney's Ivana Kottasova contributed to this report