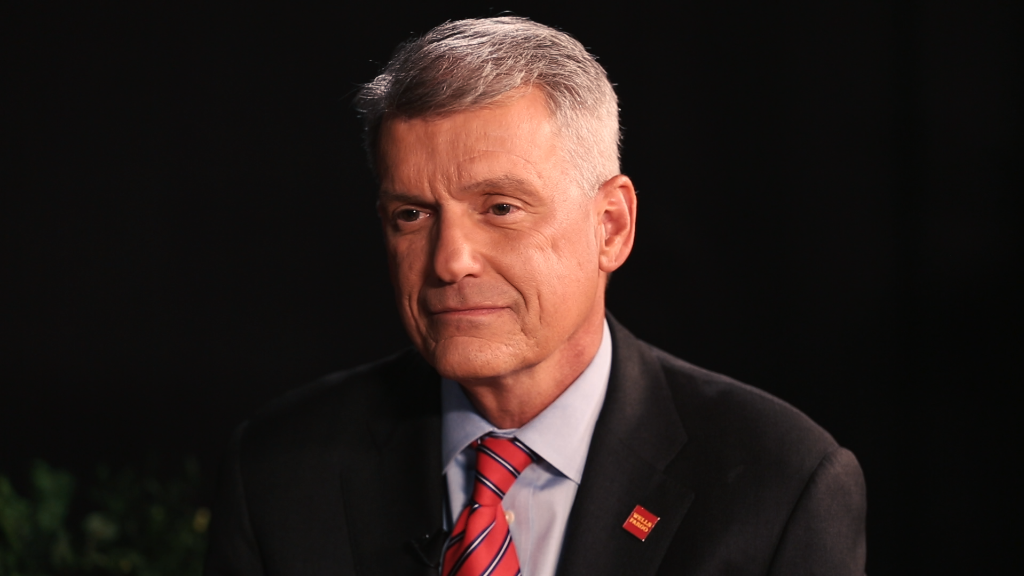 Wells Fargo workers have reason to be suspicious of the bank's confidential ethics hotline.
Just this month, Wells Fargo was ordered by the Labor Department to pay $5.4 million and rehire a whistleblower who was fired after calling the bank's ethics hotline to report suspected fraud. The bank could be forced to rehire another employee, as well.
That's not counting the almost half dozen former Wells Fargo employees, who told CNNMoney last fall they were fired after they tried to stop illegal sales tactics at the bank.
But Wells Fargo's CEO Tim Sloan now has a message for his distrustful employees.
"It is safe to call the ethics line," Sloan told CNN's Poppy Harlow in an exclusive interview this week. Sloan wants to reassure employees they won't face retribution for flagging any unethical behavior they see at the embattled bank.
As the newly-appointed CEO, he is now in charge of cleaning up the scandal that ensued over creating some 2 million fake accounts and firing 5,300 workers.
Sloan insisted that even "one instance of retaliation" is "completely unacceptable."
Related: Listen to Poppy's entire Wells Fargo interview
After hearing about Wells Fargo (WFC) workers who say their lives were turned upside down by retaliation, Sloan said he thought about the problem in personal terms "not necessarily as a CEO...but as a father."
"The lens that I use is, 'Would I be comfortable if our sons or daughter or daughters-in-law called the ethics line if they worked at Wells Fargo and they had a problem?'" Sloan said. "And the short answer is yes."
Sloan has two sons and a daughter, all Millennials, none of whom work at Wells Fargo.
The Wells Fargo boss said the bank brought in a law firm to look at "hundreds of cases" where an employee called the ethics line and identified him or herself to see if they were fired or punished in any way within 12 months.
"We've gotten it down to a handful that we're spending more time looking at. If it turns out that we were in error, we will fix it with that team member," Sloan said.
But workers have lost a lot more than their jobs. Some whistleblowers have said their firings from Wells Fargo led to severe stress, anxiety and even the loss of their homes.
"They ruined my life," Bill Bado, who was fired from Wells Fargo eight days after sending an email to human resources about fake accounts, previously told CNNMoney.
Sloan declined to specify how these former workers' situations will be fixed, simply saying it "depends on the situation for that team member."
Related: The damning 2004 report Wells Fargo chose to ignore
Wells Fargo's independent directors launched an exhaustive investigation last fall after the bank admitted to the misdeeds that went on for several years.
That probe, released last week, said that a "limited review" by a law firm "has not identified a pattern of retaliation" against the bank's employees.
But the 110-page report did say that "many employees felt that failing to meet sales goals could (and sometimes did) result in termination."
Sloan admitted that Wells Fargo's unrealistic sales goals were wrong and should have been eliminated earlier. Even Warren Buffett, the bank's leading shareholder, has said Wells Fargo made a "terrible mistake" by keeping in place sales goals that "corrupted people."
Now, Wells Fargo is reaching out to employees who left the bank "because they were uncomfortable" with the sales goals, the bank's culture or who were fired for "not meeting certain goals," according to Sloan.
The CEO said Wells Fargo has hired back roughly 1,000 former employees who may fit into those categories.
"We want those folks to come back to Wells Fargo," he said.
However, Sloan emphasized that the 5,300 fired employees -- workers that Wells Fargo says used sales tactics that violated the rules -- are not welcome back.
Of course, at least some of those 5,300 workers would argue they were trying to keep their job by meeting the unreasonable sales goals set by senior management.
"If you violate our code of ethics when you break the law, you can't work at Wells Fargo," Sloan said.