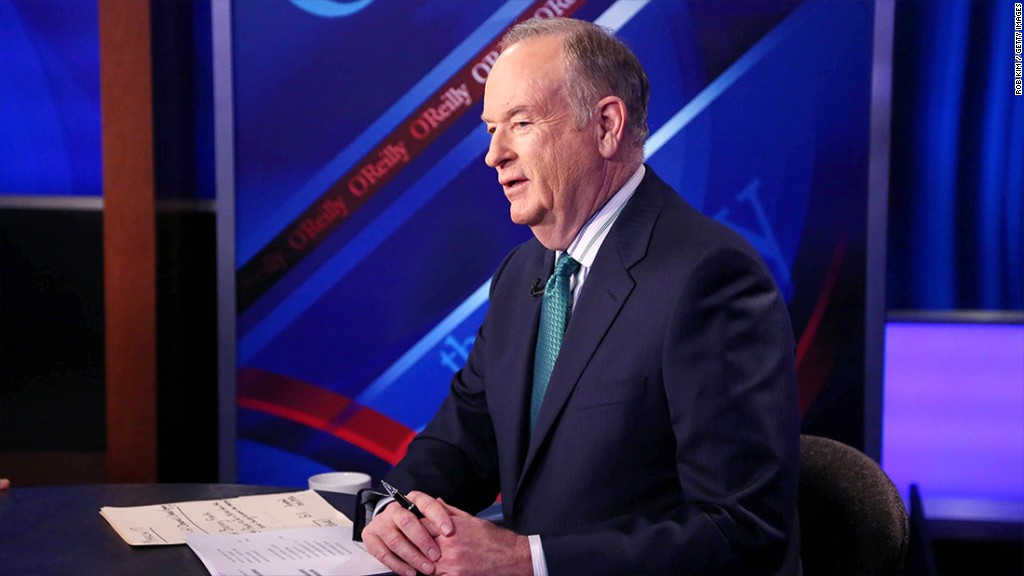 Speculation over whether Bill O'Reilly will keep his job at Fox News has given way to a new question: Who will replace him as the network's biggest star?
The answer may come sooner rather than later, given that representatives for Fox and O'Reilly are already discussing his exit.
Related: Source: Fox News and Bill O'Reilly are talking exit
There are several theories floating around the halls of Fox News, according to current and former employees there. The most prominent theory has Fox News moving Tucker Carlson to the 8 p.m. hour and backfilling the 9 p.m. hour with with a new host.
Eric Bolling, Greg Gutfeld and Dana Perino, all co-hosts on Fox's popular evening roundtable show "The Five," have each pinch-hit for O'Reilly while he's been out on vacation, and all are possible replacements at either 8 or 9 p.m.
One widely discussed theory inside the building is that Fox would move all of "The Five" to 8 or 9 p.m. That option would get popular hosts like Bolling and Perino into primetime, and would also give Fox News a unique offering different from the one-person shows so familiar across cable news.
Another theory, which sources said was less likely, has Carlson moving to 8 p.m. and newsman Bret Baier taking over at 9 p.m., restoring a news program to prime time, which Fox's lineup has been missing since Megyn Kelly's departure.
If O'Reilly is in fact dropped, he would be the third evening host to leave the network in the last year, following the departures of Kelly and Greta Van Susteren.
That could perhaps make the Murdoch family, who have been deliberating over O'Reilly's future for weeks, eager to replace O'Reilly with a female host.
Perino isn't the only woman who might be considered. Laura Ingraham, a Fox News contributor who also hosts a popular radio show, could also be a candidate. Ingraham, who was considered for a role inside the Trump administration, has also filled in for O'Reilly over the years.
Related: Part of Bill O'Reilly's problem at Fox: Few people there actually like him
So has Jesse Watters, the controversial Fox correspondent who has had a regular segment on the "Factor." He too has been called on to fill in for O'Reilly at times, and earlier this year he began hosting his own weekend program, "Watters World." Last month, Watters landed an interview with President Trump.
Fox could, conceivably, look beyond its current ranks for a replacement. Axios' Mike Allen reported Wednesday that "corporate execs would love to bring in an outside, non-political big name from another network."
Whoever might replace him, if O'Reilly does leave Fox, his departure would mark a swift and stunning fall for a man who has hosted the number one program in cable news for 16 years running. But the "Factor" became radioactive after the New York Times reported earlier this month that five different women who had accused O'Reilly of sexual harassment or verbal abuse had received settlements totaling $13 million.
The report prompted dozens of companies to drop their advertisements for the show.
But that doesn't mean O'Reilly wouldn't try for a comeback elsewhere if he leaves Fox. He had spoken last summer about potentially retiring soon, but O'Reilly has never been a man to take what he perceived as a slight or a wrong against him lying down, and a forced exit could be enough to prompt him to try to continue his career elsewhere.
There is nowhere else like Fox News on cable, but there are conservative networks that have arisen as challengers in recent years, and one of them could conceivably try to make a play for him.