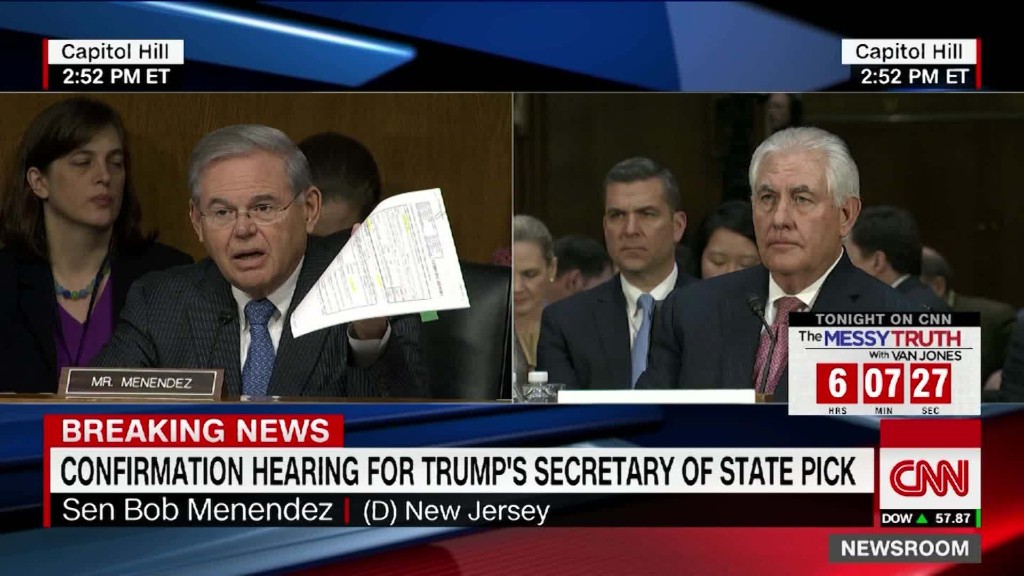 ExxonMobil wants back into Russia. But it has one major hurdle to jump: U.S. sanctions.
Exxon has asked the U.S. Treasury Department for permission to bypass sanctions on Russia, as The Wall Street Journal first reported. A senior administration official told CNN that the request "has been in the works for some time," since before the election.
A waiver would allow Exxon to resume its joint venture with Russian oil giant Rosneft.
Exxon said it does not comment on "ongoing issues."
But there are powerful reasons why Houston-based Exxon would want to get back into business with the state-backed firm: Their agreement to form a joint venture, signed in 2011, allowed Exxon to conduct offshore exploration in the Black Sea and the Kara Sea in Siberia.
The undeveloped oil fields are thought to be the most promising in the Russian Arctic, according to S&P Global Platts.
In 2012, the two firms agreed to jointly develop more oil reserves in Siberia and establish a research center in the Arctic.
Plans to build a large natural gas plant near Vladivostock in eastern Russia followed in 2013.
The deepening relationship was put on hold, however, after the U.S., European Union and other Western countries imposed sanctions on Russia in 2014 over its role in the crisis in Ukraine.
Exxon, which has been operating in Russia for more than 20 years, was allowed to finish some of its projects. But then the drilling stopped.
A lot has changed since then. The Russian economy has turned the corner, emerging from a painful recession in the final quarter of 2016.
Oil prices have climbed back above $50 per barrel.
Related: Russia could soon control a U.S. oil company
Still, the waiver request is a major political gambit for Exxon.
The Trump administration is under intense scrutiny over its ties to Moscow. The fact that the current secretary of state, Rex Tillerson, spearheaded the Rosneft deal while CEO of Exxon, has drawn even more attention to the waiver request.
Tillerson has recused himself from all government matters involving Exxon. He also sold all his stock in the firm, and is placing the shares he would have received over the next decade into an independently managed trust.
But a political storm appears to be brewing.
Sen. John McCain, a Republican, asked "Are they crazy?" when news of the waiver application broke. McCain is a leading critic of Russian President Vladimir Putin.
Rep. Adam Schiff, the top Democrat on the House Intel Committee, said that the waiver should be denied.
"The Treasury Department should reject any waiver from sanctions which would allow Exxon Mobile or any other company to resume business with prohibited Russian entities," he said in a statement. "Until Russia abides by the Minsk accords and ends its illegal occupation of Crimea, the only changes to sanctions should be their intensification, not their dilution."
Still, the financial incentives for Exxon are powerful when it comes to Russia.
In March of 2016, Tillerson said that Exxon was "very anxious to get back to work there."
It's a hope echoed by his successor.
"In Russia, we're there for the long term," CEO Darren Woods said in a February interview with Forbes.
--CNN Elise Labott contributed to this report.