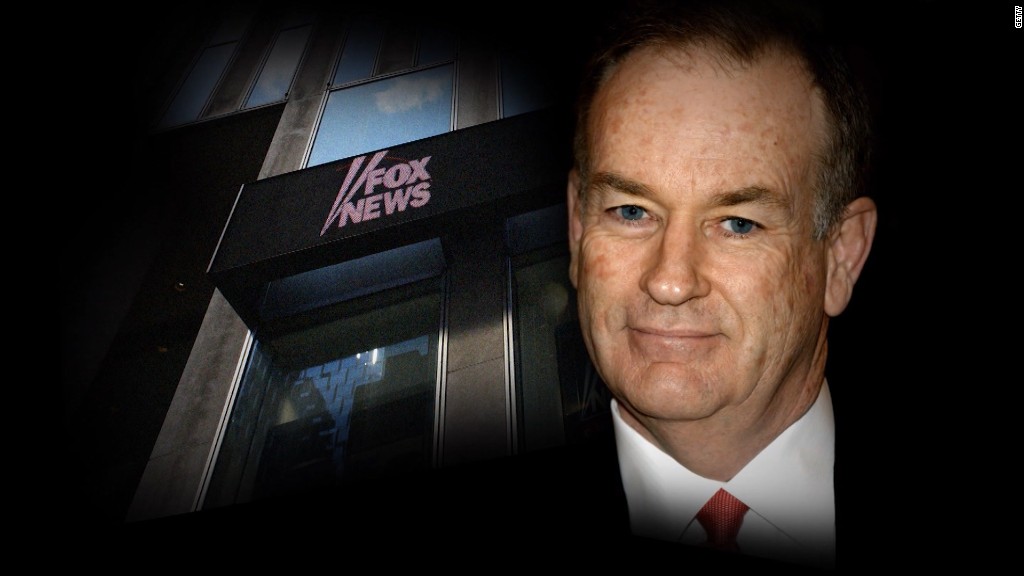 The career of Bill O'Reilly at Fox News went up in flames Wednesday, a fiery end to as combustible a figure as television news has ever generated.
The cause was self-immolation. After decades of two-fisted commentary from his perch behind the desk of "The O'Reilly Factor," by far the most popular program in the history of cable television news, O'Reilly fell victim to accusations that he brought a similar brand of unchecked machismo to his behavior toward women who worked around him at Fox.
More than that, he eventually burned out trying to stand tall -- and rigid -- as a bulwark in defense of what he viewed as traditionalism when it came to the roles of males in society and white privilege in American political life -- unmoved and unmoving, even as an overwhelming force of cultural change pressed down on him and his network.
Related: Nine months of sex harassment scandals take down two Fox News icons
His demise seemed surprisingly fast only because its inevitability had been so long deferred by his enormous success. For years, that track record protected him from a steady drumbeat of problems, not only accusations of crude sexual behavior around women, but also acute racial insensitivity, widespread rumors of volatile treatment of subordinates and a resume dotted with self-aggrandizing fabrications.
O'Reilly denied all of these with his trademark bluster and unrepentant self-assurance. He had always had reason to be confident: he was, after all, the king of ad dollars in cable television -- likely close to $400 million in the past two years alone -- and that trumped all other factors. Until now. This time the O'Reilly factor was: enough is enough.
O'Reilly is best known for his 20 years at Fox News, but he had a long career in television before assuming the position of signature face and voice of the media outlet that roiled the national discourse by establishing an alternate approach to news presentation in America: a fervent, unswerving justification of conservative dogma.
He worked as a correspondent at both CBS News and ABC News, and raised his national profile as anchor of the syndicated tabloid magazine show "Inside Edition" in the early 1990's. What he gained from all that was a facility as a broadcaster unmatched by anyone else at Fox News. One truly underrated characteristic of O'Reilly's prodigious success was his undeniable skill on the air.
O'Reilly was an articulate, aggressive spokesman for the daily Fox News narrative. He editorialized at the top of every show -- his nightly "talking points memo" -- in compellingly punchy language that usually spoke to the anxieties and grievances of the conservative audience, a group that looked to Fox News, and especially O'Reilly, for daily validation of their views. It was only usually because O'Reilly would, more than some of his colleagues, occasionally veer off the conventional conservative line when he saw through an illogical or unreasonable take on events.
Example: He once defended Ellen DeGeneres against a conservative women's organization that was insisting the comedian be fired as a commercial spokeswoman over her "lesbian lifestyle." O'Reilly said on the air: "The essential question is that a conservative group in this country is asking a private company to fire an American citizen based upon her lifestyle. I don't think that's correct."
O'Reilly prided himself on remaining "an independent," though he only registered as one after he had been identified on the voting rolls in New York as a registered Republican.
And even though he broke enough from the dogma of the Right to justify his claim of not being a doctrinaire conservative, his core beliefs were clearly in line with much of his network, and his audience. That audience was mostly male, mostly white, and mostly old.
Also: mostly Christian. O'Reilly, a product of Catholic education (Chaminade High School on Long Island; Marist College, when it was a Catholic institution) made a cause of defending Christmas against the scourge of generic greeting like "Happy Holidays." That was mostly silly. But also, in a bizarre comparison, he chastised President Obama, who is Christian, for never calling "out those who abuse the Muslim faith, who commit atrocities under a religious banner" -- as O'Reilly said he did in going after Catholic leaders "with a vengeance" for the pedophilia scandals.
And one of his most infamous crusades, on the religiously fraught issue of abortion, was directed at the Kansas doctor, George Tiller, who defied opposition to perform later-term abortions. O'Reilly railed against "Tiller, the baby killer," in frequent commentaries. Tiller was later murdered by an anti-abortion fanatic. O'Reilly deflected any responsibility for that event, and expressed no regrets for his impassioned statement of his views.
But nowhere did O'Reilly wander more head on into eye-opening retrogressive territory than when he spoke about race. Even as he frequently dismissed racism as largely a thing of the past, he himself expressed archaic racial views with alarming frequency. The most infamous may have been his tale of sharing a dinner with Al Sharpton at the famed Sylvia's restaurant in Harlem.
He confessed that he "couldn't get over the fact that there was no difference between Sylvia's restaurant and any other restaurant in New York City. I mean, it was exactly the same, even though it's run by blacks, primarily black patronship." Later, he said he was surprised that none of the customers was "screaming: 'M'Fer, I want more iced tea.'"
On another occasion, in arguing that Ronald Reagan tried too hard to be a nice guy and so wasn't tough enough in his comments about race, O'Reilly said: "That's what racial politics is -- nasty and tough. ... It's hard to do it because you gotta look people in the eye and tell 'em they're irresponsible and lazy."
And as recently as December he spoke out in defense of the "white establishment," which he said the Left was trying to eliminate in favor of "diversity."
One key to O'Reilly's popularity was surely his style: adversarial and decidedly in your face. He was a big man, 6'4", who seemed to relish his lifelong ability to look down on people. His interview mode was always aggressive, often bullying. Many of his questions were preceded by a diatribe delineating his own views, followed by the line, "Am I wrong?" That set-up basically eliminated any contrarian response from all but the most boldly confrontational -- and those brave few could count on being met with a venomous reaction and, sometimes, an order to a producer to cut off the guest's mic.
Inside the Fox building, O'Reilly was not a well-liked figure. Numerous employees, some in executive positions, told me over the years that they went out of their way to avoid him. But he developed a few surprising relationships, none moreso than the mutual appreciation he apparently shared with Jon Stewart of "The Daily Show." Their appearances together were rife with disagreement, but it was respectful disagreement -- though O'Reilly always pushed the view that Stewart's audience was made up exclusively of "young stoners and aging guys with ponytails." (Perhaps the most telling observation imaginable of how O'Reilly and his audience viewed anyone with a left-of-center mindset.)
Related: What will Bill O'Reilly do now?
That O'Reilly could joust effectively with Stewart, and David Letterman, and even his comic doppelganger Stephen Colbert back in his faux conservative days, spoke to his unshakeable self-confidence. O'Reilly knew the audiences for those shows hardly paralleled his own, but he didn't fear playing in those arenas -- especially when he had books to sell.
In that area O'Reilly had few peers. He ground out books about himself and his Cliff's Notes takes on historical events to massive success. Undoubtedly, he will continue to do so for his loyal readership and audience, who will now be bereft of his daily guiding analysis of current events.
At least for the moment. Having been finally brought low by the forces of evil, the feminists, the pinheads, the "loony Left," it is likely that O'Reilly will not flag in his search for the right forum from which to raise himself back up to his full imposing, imperious height and take arms against this sea of troubles, flinging down his own fusillade of slings and arrows.
As of today, Bill O'Reilly needs a new bully pulpit.