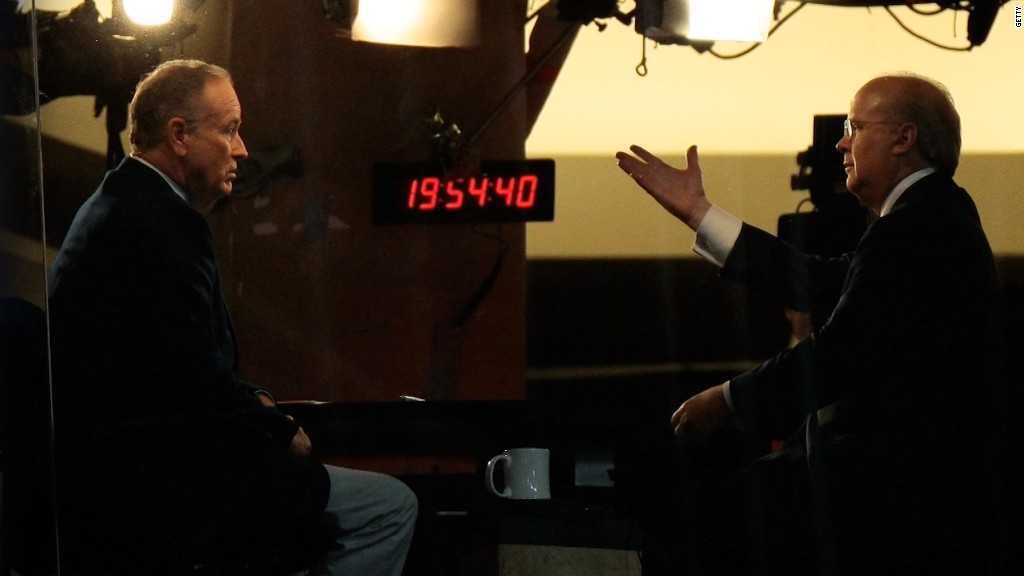 The ratings impact of Bill O'Reilly's firing will be measured over months, not days. But day one was a very good one for Fox News.
Ratings for the O'Reilly-free "Factor" Wednesday night were on par with O'Reilly's recent performance in the 8 p.m. time slot, according to Nielsen data.
The program remained in its usual No. 1 position in overall viewership and in key advertising demographics.
"The Factor," temporarily hosted by Dana Perino, averaged 3.3 million viewers Wednesday night, up from 2.2 million viewers for the previous hour, a gain of 1.1 million.
The O'Reilly-hosted "Factor" was known for a similar spike -- O'Reilly typically attracted at least a million more viewers than his lead-in.
Related: Sources: Fox News payout to Bill O'Reilly will be tens of millions of dollars
Some of the gains on Wednesday might be chalked up to curiosity about how Fox would handle O'Reilly's ouster and how Perino would address it on the air.
But a close look at the ratings suggests something else: that Fox's fans are largely unperturbed about the O'Reilly controversy.
There's been speculation in media circles that Fox's prime time ratings will suffer without O'Reilly in the chair.
It's true that whenever he takes a vacation, there's a dip in viewership at 8 p.m., as shown again last week.
But Perino's numbers were strong Wednesday, challenging the theory that O'Reilly fans might turn off Fox if he's replaced. So far -- and it's only been one day -- the Nielsen data affirms the idea that Fox is much bigger than any single star, even a star of O'Reilly's wattage.
In the 25- to 54-year-old demographic that's key for advertisers, Fox averaged 625,000 viewers during the "Factor," the time slot's best performance since O'Reilly went on vacation a week ago.
Tucker Carlson, the 9 p.m. host who will move to 8 p.m. next Monday, held onto the bulk of the "Factor" lead-in, averaging 2.8 million total viewers and 588,000 in the demo.
When the Nielsen numbers came in on Thursday afternoon, Fox News quickly shared a press release about its performance, saying its prime time lineup "dominated last night's ratings."