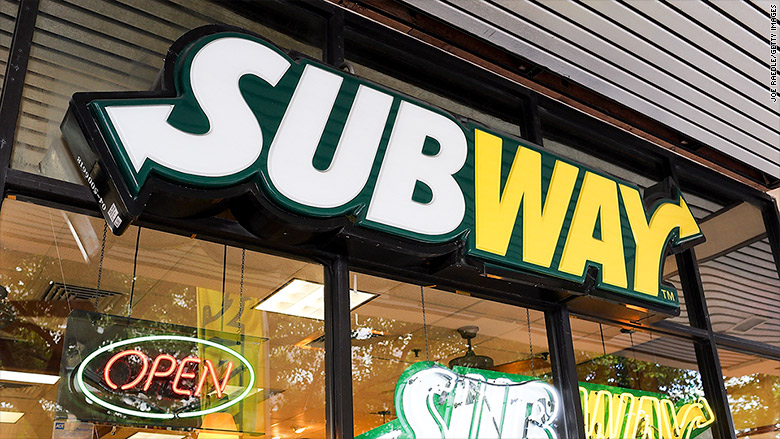 For the first time in the company's history, Subway closed more U.S. stores than it opened the year before.
The sandwich shop has long bragged that there are more Subway restaurants in the world than any other restaurant chain. But in 2016 the chain closed more stores than it opened, which meant the chain's store count dropped slightly, Subway told CNNMoney on Thursday.
The company now operates about 26,744 stores in the U.S., a decline of 359 locations.
There are more than 40,000 Subway shops around the globe, which means it has more stores than any fast food chain on the planet.
Related: JCPenney stores get a temporary lifeline
McDonald's (MCD) has the second highest restaurant count with about 36,000 stores worldwide, though it tops Subway in sales.
Subway said Thursday its 2016 U.S. sales totaled about $11.3 billion, down from $11.5 billion in 2015.
The company said in a statement that the dip was due to a "focus on international growth," where sales were up. It's stores abroad brought in $5.8 billion, up 3.7% from the year before.
Subway also hinted that its planning a few big changes this year that aim to reinvigorate its growth stateside.
Related: Payless ShoeSource is filing for bankruptcy
"Going into 2017, we are undertaking an exciting transformation that includes introducing new and improved products, creating an even greater customer experience, refining operations, and positioning Subway franchisees for continued success," the company said in a statement.