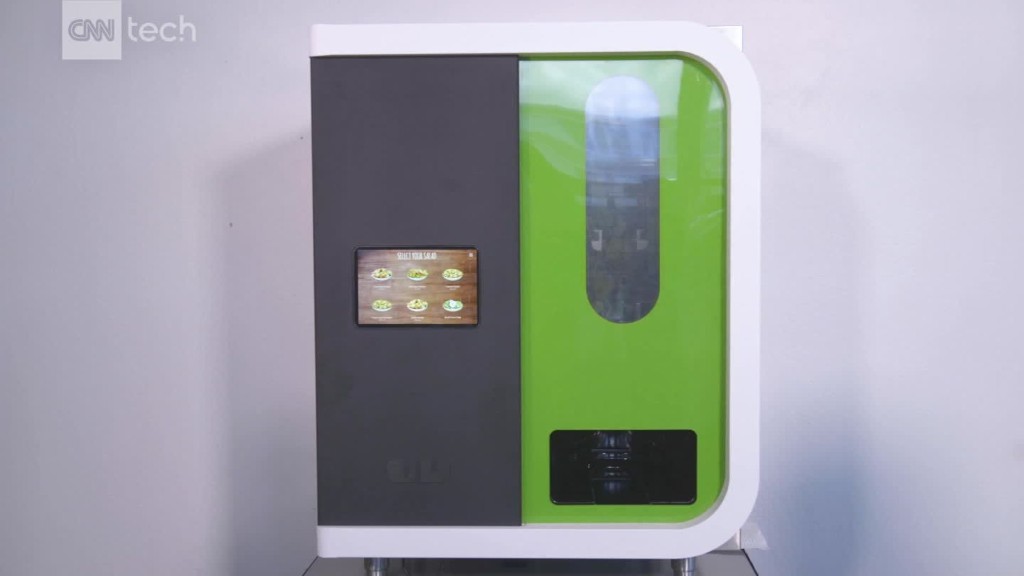 Sally doesn't clean, chop or toss vegetables. The new salad robot making its debut in San Francisco this month is more like a salad vending machine: Press a few buttons on a touchscreen and it drops neat portions of refrigerated ingredients into a bowl.
But Sally the Salad Robot could be the latest step in automating some of the more repetitive parts of food preparation. Its creators hope food robots can help with one of Silicon Valley's biggest restaurant problems: a shortage of kitchen workers.
Sally is the first product from Chowbotics, a Redwood City startup developing robots for the food-service industry. CEO and Founder Deepak Sekar spent two years creating Sally with help from Apple (AAPL)Fellow Rich Page.
"I've always thought cooking was 20% creative work and 80% formulaic work like chopping," said Sekar.
He also worked with ex-Google (GOOG) chef Charlie Ayers, an early Google employee who has gone on to open his own restaurant in Palo Alto, Calafia Café, and work on food startups.
Sally is a bit larger than an ATM, with a rounded window so you can peer inside at the food. You can choose a suggested salad recipe or customize your own on the touchscreen. Inside there are 21 canisters chilled to around 34 degrees and filled with items like kale, romaine lettuce, tomatoes, kalamata olives, crispy wontons and dressings.
Related: Smart robots could soon steal your job
Sekar imagines Sallys popping up in shared spaces like cafeterias, airports and schools -- that is, places where a healthy meal would be a welcome change from the usual pre-packaged food. Eventually different versions of Sally could make meals like poke bowls or ramen, or find their way into busy restaurant kitchens.
At first blush, $30,000 is a lot money for a salad robot (there's also an option to lease Sally for $500 a month). But in the Bay Area, a full-time kitchen employee like a line cook can cost $40,000 a year.
"Sally is the best employee. She doesn't sleep, she doesn't take vacation and she's hardly ever sick," said Kelly Olazar, another former Google chef who works at Chowbotics.
It's a constant struggle to hire and retain restaurant staff, Ayers added. That's largely due to the inflated housing prices caused by the same tech employees they're trying to feed. Real estate is so expensive in Silicon Valley that many kitchen employees have to commute long distances for low-paying jobs.
Restaurant workers making the average $14 an hour would be unable to afford any currently listed homes in San Francisco and San Jose, according to a report from real estate site Trulia. The cities are two of the least affordable housing markets in the U.S.
Restaurant workers are not the only ones being priced out. Teachers, first responders and even doctors are struggling to afford homes in the area.
Turning to robots to try and solve labor problems is a classic Silicon Valley approach. Sally is not even the first attempt to automate restaurant work in the area: Eatsa, a quinoa restaurant, replaces waiters and hosts with iPads and a wall of cubbyholes that dispense food.
Related: iPads replace cashiers at SF's quinoa restaurant
Sally is part of a larger trend of automation that could hit the food industry especially hard. Food preparation and service jobs are especially vulnerable because of the large amounts of predictable physical work involved, according to a recent study by the McKinsey Global Institute.
Sally still needs humans. There are numerous workers in each salad's farm-to-robot journey. Someone has to clean and restock the device at least twice a day. People grow and prepare the ingredients, which Chowbotics buys pre-chopped. Chefs developed the salad recipes and dressings.
And Sally is not replacing any jobs at its early locations. Sally's first customers will be diners at Calafia and tech workers at the Galvanize co-working space in San Francisco. For Galvanize's engineers and future startup founders, the only thing a salad robot might replace is a bottle of Soylent.