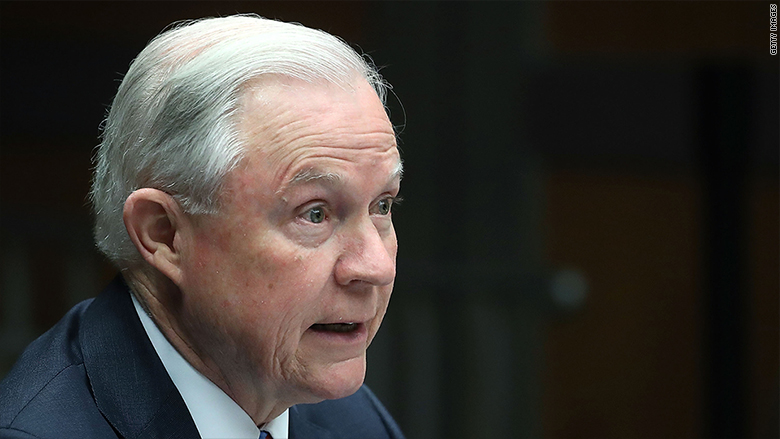 Attorney General Jeff Sessions on Friday declined to say whether the Justice Department's decision to prepare charges against Julian Assange of WikiLeaks would open the door to such action against U.S. news organizations like The New York Times and CNN.
"That's speculative, and I'm not able to comment on that," Sessions said in an interview on CNN.
"I think I understood your question," he added, before telling anchor Kate Bolduan that he was having "a little difficulty hearing" her.
But Sessions gave the same non-answer when he was asked a similar question during an interview on MSNBC later in the morning.
"That's, you know, a hypothetical and facts are so important in those cases," he said. "I'd want to consult with my good lawyers before I gave you an opinion anyway, so I'm just not able to comment on that."
In each interview, Sessions appeared alongside Homeland Security Secretary John Kelly. The two were scheduled to tour the United States-Mexico border during a visit to San Diego on Friday.
Sessions said at a news conference Thursday that arresting Assange is a "priority" -- remarks that had advocates of press freedom concerned.
"Once you start criminalizing publication of secret docs," The Intercept's Glenn Greenwald said on Twitter, "all media outlets are endangered."
It isn't the first time President Trump's attorney general has set off alarm bells in newsrooms. During his confirmation hearing in January, Sessions was asked by Sen. Amy Klobuchar (D-MN) whether he would commit to not "put reporters in jail for doing their jobs."
"I'm not sure," Sessions responded, saying he hadn't studied rules put in place in 2015 by former Attorney General Eric Holder that required extra layers of review before the Justice Department could subpoena a journalist.