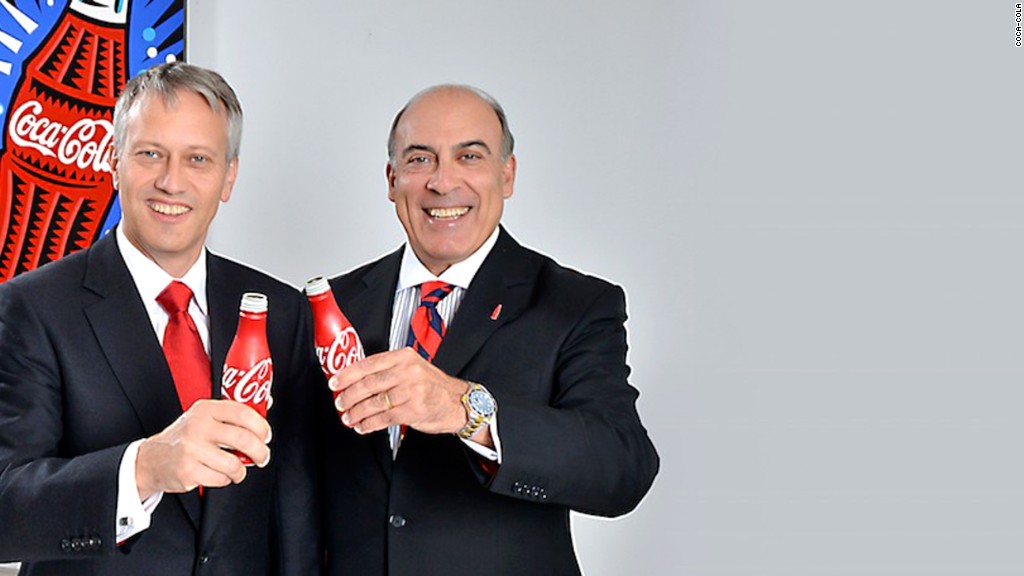 Coca-Cola's sales continue to fizzle -- and the company is planning to cut 1,200 jobs to try and get back on track.
Coke (KO) said in its earnings report Tuesday that the layoffs, which will begin in the second half of this year, are part of a broader cost cutting plan aimed at saving $800 million.
The layoffs are a relatively small fraction of the company's overall headcount. Coke employs more than 100,000 people worldwide.
Incoming CEO James Quincey said the moves are being made to make Coke more agile and lean. The company is also in the process of refranchising some of its bottling operations in North America to save money.
Quincey, currently Coke's chief operating officer, will take over as CEO on May 1. He is succeeding long-time CEO Muhtar Kent, who will remain at Coke as its chairman.
Coke has struggled over the past few years as consumer tastes have shifted away from sugary drinks. Even Coke's diet brands are in decline due to health risks associated with artificial sweeteners.
Coke said on Tuesday that its overall sales were down 11% from a year ago while profits fell 20%.
That's a big reason why Coke is pushing more into healthier beverages like water, milk and soy-based drinks.
Related: MLB drops Pepsi for Coca-Cola
But Coke's sales and stock have also lagged the performance of its key rival Pepsi over the past few years, and some argue that Coke needs to do more to expand beyond its core beverage unit as Pepsi has.
Pepsi also owns the thriving Frito-Lay snack foods business as well as Quaker Oats. Pepsi will report its latest earnings on Wednesday.
So can Coke get back on track? There are some hopeful signs.
Quincey's push to make Coke a company that promotes healthier beverages is in some ways similar to another iconic company that is trying to transform itself into a more palatable brand for calorie-counting consumers.
McDonald's (MCD) stock rose more than 4% to an all-time high as sales in the U.S. and around the globe continued to sizzle. It reported results that topped forecasts on Tuesday.