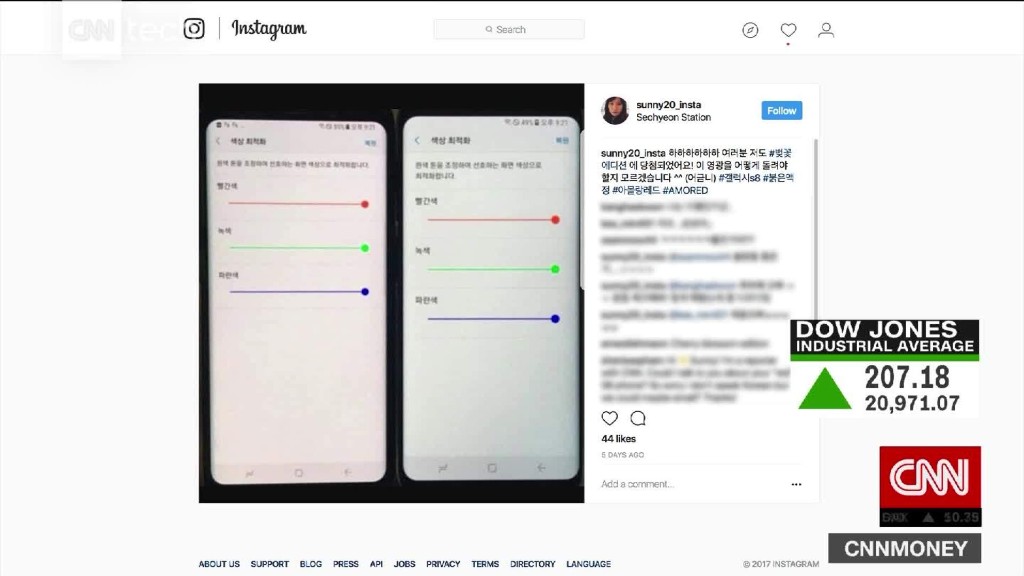 Some users of Samsung's new Galaxy S8 smartphone are seeing red. Literally.
The company is issuing new software for the S8 after customers complained of red-tinted display screens. The update comes just days after Samsung launched its flagship phone in the U.S. and South Korea.
Samsung (SSNLF) says users already had the ability to modify the color settings to adjust for "natural variations" in displays.
But a rush of complaints appear to have prompted the company to provide a fix.
"Samsung has listened to feedback and has decided to release a software update starting from this week which will provide customers with a further enhanced ability to adjust the color setting to their preference," it said in a statement.
Related: What the Samsung S8 means for the iPhone 8
That explanation didn't satisfy Lee Youngsun, a graduate student based in Seoul.
"I'm not a professional in this field, but I'm not sure this problem is all about the software," she told CNNMoney.
Lee says she bought three Galaxy S8s for herself and her family. One of them had the reddish display screen. She posted a photo to Instagram, where a user dubbed the problematic phone the "cherry blossom edition."
Related: Samsung's Galaxy S8 is super hot in South Korea
When Lee brought it to a Samsung service center, she was told it was just a software problem. But she insisted on a replacement and was eventually offered one.
"The new one was even worse," she said, adding that the display's red tint makes her eyes tired. "I adjusted the color balance on my phone, but I still can see the red color and it stands out too much."
The rollout of Samsung's first high-end smartphone since the disaster over its fire-prone Galaxy Note 7 is being closely watched.
Related: Samsung's Siri rival won't be ready for the new Galaxy phone's U.S. launch
The company widely touted the Galaxy S8 display -- a large curved screen that flows onto the phones sides -- and analysts said it was a huge selling point for the new device.
Earlier this month, Samsung said its new digital assistant Bixby wouldn't be fully operational in time for the U.S. release of the S8.