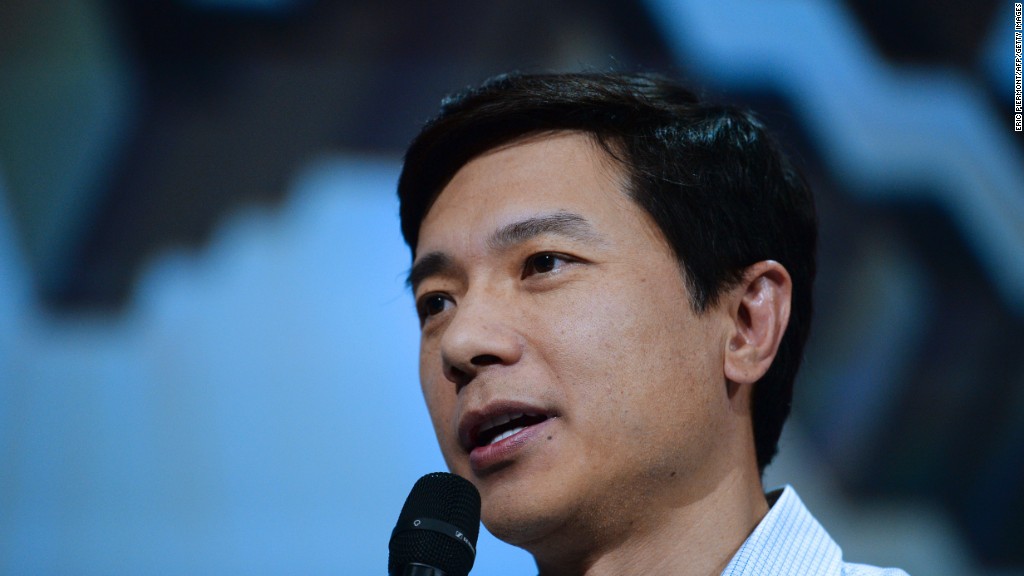 Baidu CEO Robin Li wants more foreign workers to come to China.
"This is a good time for China to stand up and say, 'Hey, come to us. We like you. We welcome immigrants,' " the billionaire tech executive told CNNMoney.
The suggestion from Li, who co-founded China's largest search engine, comes as the Trump administration considers changes to immigration policies that could make it harder for skilled foreigners to work in the U.S.
Li has been a vocal supporter of reforms that would make China more open and welcoming to foreign workers. The country, however, still faces several key hurdles when it comes to attracting top tech talent from beyond its borders.
Foreign workers currently make up only a tiny fraction of China's huge labor market. And issues such as severe air pollution make some overseas staff think twice about pursuing opportunities in the country's fast growing economy.
Related: India to Trump: America still needs our tech workers
One high profile exception in recent years is Hugo Barra. In 2013, he left a senior role at Google for a job at Chinese smartphone maker Xiaomi.
Barra, who worked to bring Xiaomi products to foreign markets, announced in January that he was returning to Silicon Valley.
Baidu's search for success
Baidu (BIDU), which has been listed on the Nasdaq since 2005, maintains an iron grip on the search market in China.
But it wasn't always that way. Li remembers a hard fought battle with Google, which once harbored major ambitions in China.
"I was actually quite afraid when Google set up their operation in China," Li said. "The most scary thing for me was that they could just offer, you know, triple the salary, for every key employee of Baidu, and I was dead."
Google pulled out of China in 2010 after refusing government demands to censor search results in the country.
Related: H-1B visa applications decline for first time in 5 years
Li insisted that Baidu (BIDU) thrived not because of Google's absence, but rather its expertise in the local market.
Chinese companies, he said, still have an advantage at home.
"They have a deep understanding of the market, and the market changes every day," he said.
Foreign competitors, meanwhile, just aren't nimble enough to thrive.
"You're always late," he said. "If you have to get the approval from Silicon Valley, you just cannot move that fast."