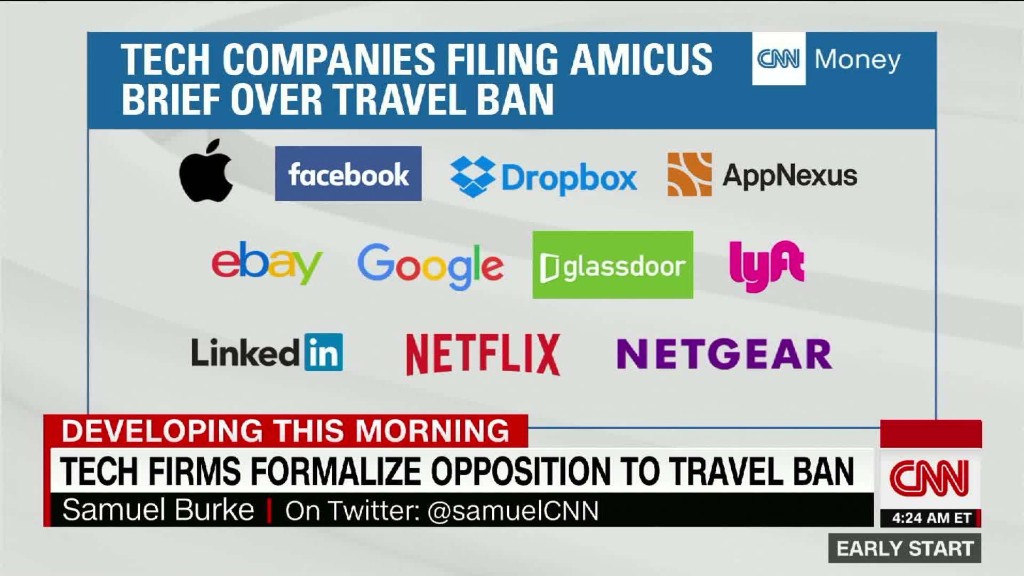 It was perhaps the most intense mic drop moment in the history of corporate conference calls.
At the end of an otherwise routine earnings call in February, Expedia (EXPE) CEO Dara Khosrowshahi thanked his employees and said, "Hopefully we will all be alive to see the end of next year."
There was a brief pause. "Thank you," he added. Then the call was over.
"It was a throwaway comment that was not meant to be anything other than a fun throwaway comment," Khosrowshahi told CNNTech. But it quickly raised eyebrows inside and outside the company.
"From employees, there was a bit of, 'What was that?'" Khosrowshahi told CNNTech. Numerous media outlets, CNN included, pounced on it as a clear dig at President Trump.
The colorful remark, made during the first weeks of the new administration, only helped position Khosrowshahi and Expedia as among the most outspoken Trump critics in an industry full of Trump critics.
On the day of Trump's inauguration, Expedia dropped a new advertisement touting the importance of travel to fight "narrow minds" and "prejudice." Ten days later, Expedia became one of the first in the tech industry to file a legal challenge to Trump's travel ban. Khosrowshahi touted it as standing up "for our travelers and our immigrant roots."
If you were trying to create a foil to Trump in a laboratory, you couldn't do much better than Khosrowshahi.
He's an Iranian refugee who became a successful executive; Trump is an executive turned president with unfriendly positions on Iran and refugees. Khosrowshahi runs a travel business with employees and customers around the world; Trump wants to restrict travel for some of them.
If that's not enough, he just happens to serve on the board of Trump's favorite newspaper, The New York Times.
Related: Silicon Valley's impossible balancing act with Trump
But Khosrowshahi has no desire to stay in the political spotlight.
"I said my part. I'm glad I did," says Khosrowshahi, who came to the U.S. with his family after the Iranian revolution in 1978. "It wasn't popular with everybody. It wasn't calculated. It was from the heart, and I think I represented the company well."
"Now I can get back to work," he adds. "And I'm actually happy about that."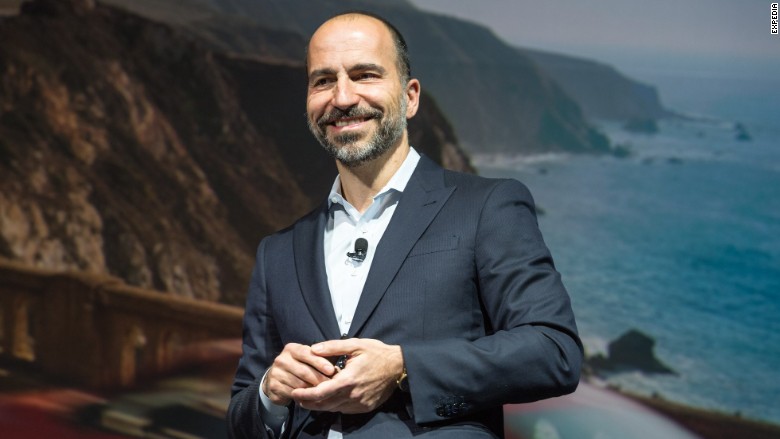 As Khosrowshahi explains it, the decision to wade into the political fight over immigration and the travel ban was more the exception than the rule. Khosrowshahi describes himself and Expedia as both being largely "apolitical" in public.
"We responded to actions that affected travel, which goes to our business. If it affects our business, we will have an opinion," he says. "But otherwise we don't look to wave one political flag or the other as a company."
That thinking is driven in part by the same complex calculus facing other tech companies: Expedia's employees may skew more liberal, but its customers include "plenty of Trump supporters," as Khosrowshahi puts it. Expedia isn't looking to alienate them -- any more than it already has.
"We had some complaints from customers," Khosrowshahi admits of the response to Expedia's political statements. "Hopefully we won't have too many of these occasions."
Related: Meet Silicon Valley's rare Trump supporter
Inside Expedia, Khosrowshahi has worked to ensure employees feel supported after major political events like the U.S. election and Brexit. That starts with an honest dialogue.
"We sure didn't feel like refugees, but in hindsight I guess we were," Khosrowshahi wrote of his personal experience in an internal memo to employees in late January, after the travel ban. "My father and mother left everything behind to come here -- to be safe and give their boys a chance to rebuild a life."
"I write it. It's not manufactured," he told CNNTech. "And it's been generally well received."
His thoughts on immigration policy, refugees and Iran might also be well received by the general public, but Khosrowshahi says he's "hesitant" to become "more of a public figure" for these issues.
"My status as an immigrant... and that being a success story has definitely given me an opportunity to speak personally about an important issue," Khosrowshahi says. "At this point, if there is a stage to be taken, I'm choosing to let someone else take it."