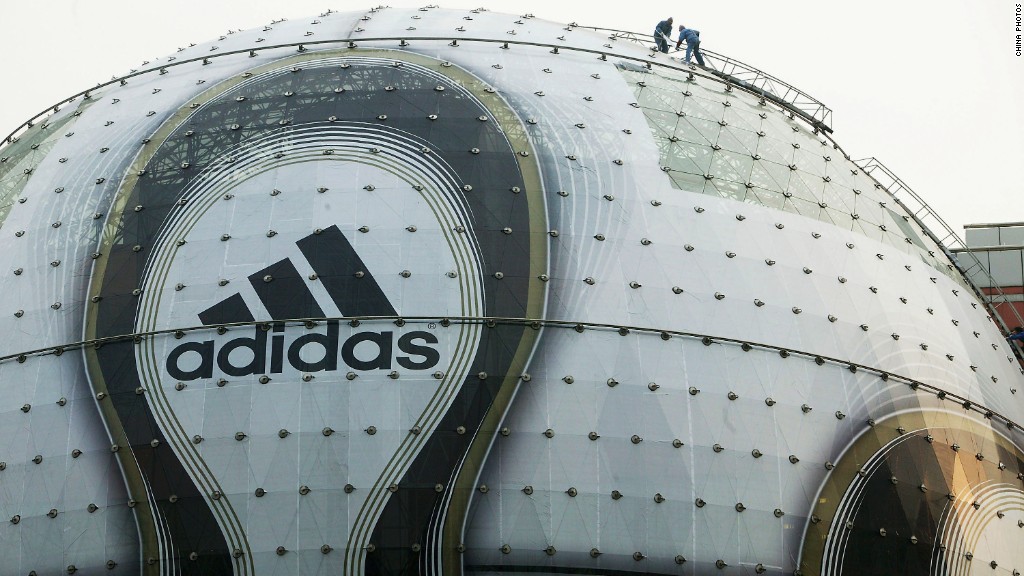 Adidas learned firsthand how easy it is to get in trouble online.
An email earlier this month congratulating runners for having "survived" the Boston Marathon incited a backlash from people who immediately linked it to the bombing at the finish line four years ago. Adidas quickly said it was sorry.
The lesson was not lost on Mark King, the president of Adidas North America.
"I mean, somebody was writing and could feel the challenge of running 26 miles and congratulations on finishing the race. It came out in a very unfortunate way," he told CNNMoney in a recent interview. "It didn't dawn on anyone that that would be the feeling."
Companies are expected to have a presence on social media, too, of course. And King said companies feel even more pressure in this political climate to make statements about current events and social issues. Just this month, Pepsi showed how quickly that can go wrong.
King said the only "political topic" Adidas wants to make a statement about is diversity.
"I don't really think that's political. I just think that for the first time, it's really been ... people are talking about it openly, and I think it's a better place for the world to be," he said.
"So whether we should have higher taxes or not, we're not commenting on, and nor do we really have an opinion. But I think as it relates to making the world a better place for people, I think we're very ... we will be more vocal in those areas."
Adidas has run ads that celebrate diversity and originality by showing the ways athletes express themselves.
Related: Under Armour tries to recover from Trump compliment
At the same time, companies have to navigate relationships with their own athlete endorsers, who are commenting in real time about those same social issues.
"A few years ago, I think athletes were very afraid of being outspoken -- they wouldn't have people that would endorse them," King said.
One of the big names repping Adidas is the NBA's James Harden, who is active on social media and has spoken out about police killings of black men.
"He expresses himself uniquely both on and off the field," King said. "He's not a political guy, he's just an expression guy, and that's really important to us."
King said that while athletes should express themselves, it's important that they're "endorsers" of a company's values. He said that strategy also strengthens customer loyalty.
Related: Coach Calipari on leadership, social media in age of Trump
The relationship between a company and an athlete goes both ways, though. Athletes are becoming more outspoken when they feel their companies' values don't line up with their own.
That has never been more clear than under President Trump.
Steph Curry, one of Under Armour's biggest athletes, was quick to distance himself from comments made by Kevin Plank, the company's CEO. Plank, who is a member of Trump's manufacturing council, called Trump a "real asset" because of his focus on job creation.
King has his own history with Trump from his years as the CEO of the TaylorMade golf company. The two have played golf and done business together. But King said he doesn't see the purpose of a meeting with the president now.
"In today's world, I really don't know the value," King said. "I'm sure I'm not going to be one of his advisers, and he's not going to be one of mine, so, no, I don't really think there's any point to it."