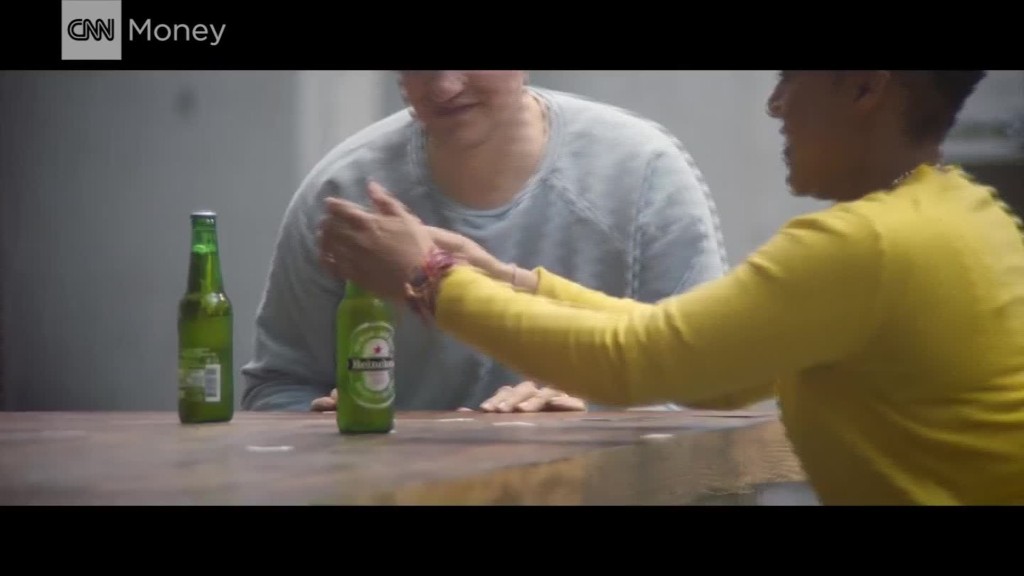 A thought-provoking new ad from beer maker Heineken just showed Pepsi how a beverage company can comment on social issues.
The four and a half minute ad released last week shows pairs of individuals who, unbeknownst to each other, have vastly different stances on various issues: gay rights, climate change and feminism. The pairs go through a series of random team-building tasks and appear to bond before they find out about their ideological differences.
Then they're faced with a choice: Have a beer together and talk it out, or walk away. All three couples choose to sit down for a cold one.
Related: Pepsi and Kendall Jenner join the rogues' gallery of tone-deaf ads
The video -- entitled "Worlds Apart" -- had more than 1.7 million views on YouTube as of Thursday, and 97% of the ratings were positive.
It also received a warm welcome on Twitter, where users heaped praise on the ad.
That's a very different response from the thrashing Pepsi received after it released a tone-deaf ad earlier this month. That spot also tried to deliver a message about unity, but instead sparked a social media backlash that spurred Pepsi (PEP) to remove the ad and apologize.
Related: Russia's ban of supersize beer bottles hurts brewers
That commercial showed model and Kardashian clan member Kendall Jenner handing a police officer a Pepsi as protesters march in the streets. Critics accused the company of appropriating the Black Lives Matter movement and using social justice to sell soda.