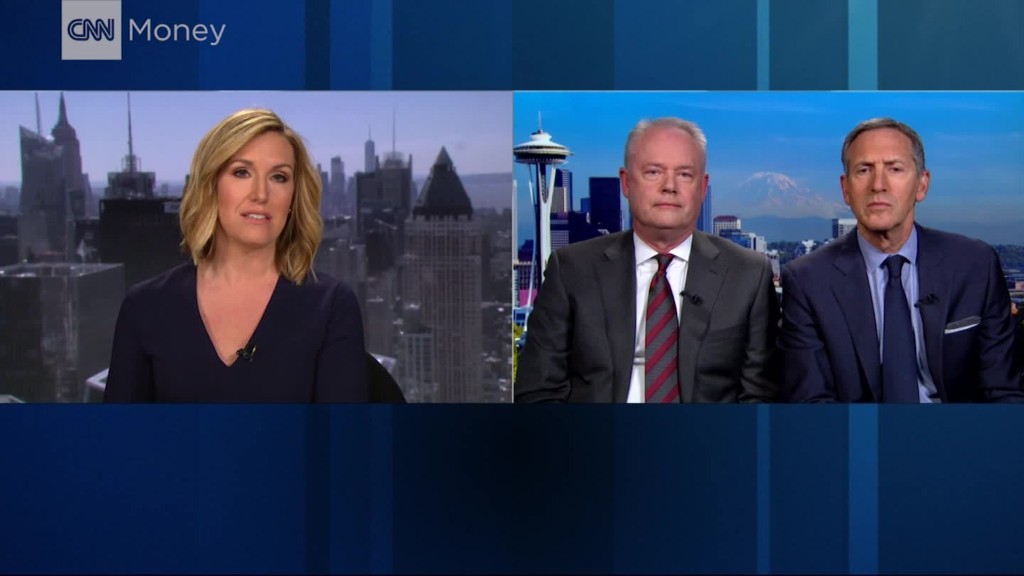 Starbucks said nearly a third of its sales were made online or through its app last quarter.
In an earnings release Thursday, Starbucks noted that 29% of its sales came from orders that were prepaid online or through its mobile app.
Growing digital sales has been a focal point for Starbucks for years. Its popular app -- which allows customers to pay for an order through their mobile phone -- was recently updated to allow customers to place orders for pickup as well.
The update was a smash hit, but it had an unintended consequence: It caused long lines to form in stores of people waiting to pick up their orders, which warded off customers who thought they were waiting in line to place orders at the register instead.
Related: It's real: You can now buy a Unicorn Frappuccino from Starbucks
Starbucks' sales haven't impressed investors lately. The company released its latest earnings report Thursday, and it showed weak sales growth in the U.S. That sent its stock price down nearly 5% during after-hours trading.
The earnings call Thursday was the first that wasn't lead by Starbucks founder and former CEO Howard Schultz. He announced last year his plans to step down as CEO, though he is staying on as chairman. The new CEO is Kevin Johnson, who was promoted from his former post as chief operating officer.
Schultz did make a few comments on the call.
"Yes we had a rough first half of the [fiscal] year," Schultz said, but he noted that the company is making huge strides in China, the world's largest market, that will undoubtedly pay off.
The company is currently opening stores in China at a rate of one store per day.
"Starbucks coffee company is built to last," he said.
Schultz also took the opportunity to brag about Starbucks' digital prowess and said the company's app "will definitely pay off" for the company in the long run.