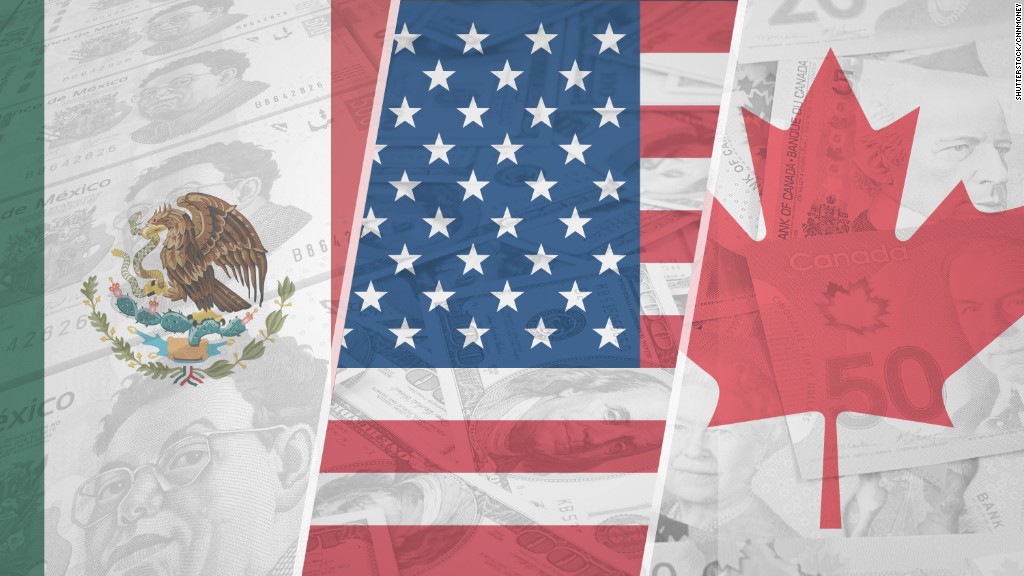 Millions of American jobs could be caught in the crossfire of President Trump's plans for NAFTA, the trade deal between the US, Mexico and Canada.
About 14 million American jobs depend on trade with Mexico and Canada, according to the US Chamber of Commerce.
President Trump late Wednesday agreed to hold talks on NAFTA after phone calls with his counterparts from both neighboring countries. It was a reversal that came just hours after his aides said he was getting close to signing an executive order to pull out of the free trade deal.
Trump hasn't said exactly what he wants in a new deal. On Thursday, he reiterated that throwing NAFTA out is still on the cards.
"If we do not reach a fair deal for all, we will then terminate NAFTA," Trump tweeted Thursday.
Withdrawal would be put millions of American jobs in jeopardy, trade experts say.
Related: NAFTA: Trump plays risky game with $1.2 trillion in trade
"If this administration were...to actually pull out of NAFTA, it would have a very significant effect on millions of jobs in the United States," Michael Froman, President Obama's former U.S. Trade Representative, told CNN on Wednesday.
Ironically, the very manufacturing workers that helped propel Trump to his election victory would be heavily impacted by a NAFTA withdrawal. American farmers would be hit hard too.
Manufacturing companies depend heavily on shipping goods to other countries. Mexico and Canada are America's second and third top trade partners, only behind China.
Since NAFTA became law in 1994, exports from the US to Canada and Mexico are up 280% over that time, while imports from the two countries have risen 313%, according to the US Chamber of Commerce.
Related: Trump's NAFTA is already running out of time
From cars to avocados to Canadian bacon, the three nations exchange billions of dollars of goods every day. Right now, those products cross borders tax-free.
Without NAFTA, they wouldn't. In fact, US companies would be paying more to export to Mexico and Canada, than Canadian and Mexican firms would to ship to the US.
That's because Canada and Mexico have higher tariffs than the US for countries with whom they don't have trade deals. On average, Canada and Mexico charge tariffs of 4.2% and 7.5% respectively. The average US tariff is only 3.5% for exports coming from countries that don't have a trade deal with the US.
Related: Fed: Tearing up NAFTA would hurt US companies
Making it more expensive to export US products north and south would cost US jobs, experts say.
But the jobs impact wouldn't only be felt in factories and farms.
If those avocados, cars and bacon become more expensive, American shoppers will have less money to spend on other items, risking millions of retail jobs.
In other words, the ripple effects on jobs from terminating NAFTA would likely be widespread.