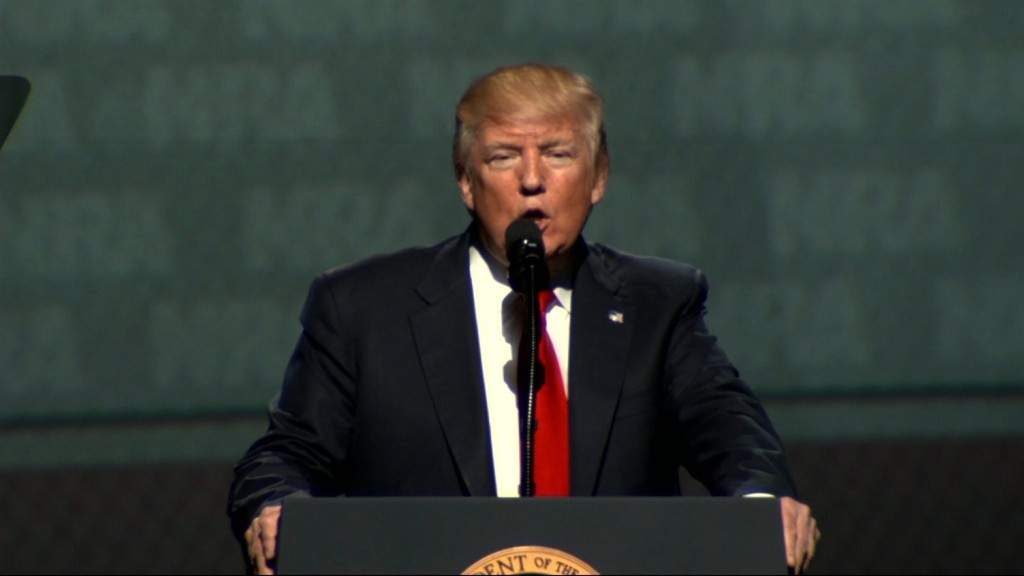 The gun industry is descending on Atlanta, and two of its favorite enemies are nowhere in sight.
The National Rifle Association is holding its annual meeting, including an address from President Trump on Friday afternoon.
But Barack Obama and Hillary Clinton -- the industry's long-vilified boogeymen and the two best things ever to happen to gun sales -- are off the scene. That leaves Trump and the NRA without the personalized perceived threats that for years have fueled their urgent call to arms.
"Our rights are under attack like never before," the NRA says on its website, where it urges people to sign up.
But from where?
It's a question that matters for more than political reasons.
The gun industry grew from 166,000 employees in 2008, the year Obama was elected, to 301,000 last year, according to the National Sports Shooting Foundation, the gun industry lobby. Wages grew from $6.4 billion to $15.2 billion, and total tax revenue grew from $3.2 billion to $7.4 billion.
Obama's attempt to strengthen gun restrictions after the 2012 massacre at Sandy Hook Elementary School in Connecticut helped cause a run on assault rifles. FBI background checks, which loosely track gun sales, hit records after mass shootings in San Bernardino in 2015 and Orlando last year.
Clinton called for tougher gun control during her presidential campaign. Trump spent much of his speech at last year's NRA gathering attacking her.
Now that he's president, though, gun sales have flattened, and gun company stocks have dropped. Sturm Ruger (RGR) stock has dropped 8% since Election Day, while American Outdoor Brands (AOBC), which owns Smith & Wesson, has plunged 23%.
Remington, a New York gun manufacturer, and SilencerCo, a silencer maker in Utah, have laid off workers.
Background checks plunged after November, then showed signs of recovery in February and March, but they are still far behind last year, when the campaign was in full swing.
The NRA had no immediate comment. Larry Keane, senior vice president and general counsel for the NSSF lobbying group, insists that the industry has no boogeyman -- and is better off focusing on sustained growth than relying on occasional spikes in demand.
Related: Gun sales are stuck in a Trump slump
But if the industry is looking for new enemies, there are a couple of clear choices.
The NRA has made the media its punching bag for decades. In his speech at the NRA meeting last year, Trump referred to the press as "very dishonest people, among the most dishonest I've ever met."
The NRA's CEO, Wayne LaPierre, has called out the "dishonest" and "failing" news media for having "weaponized the First Amendment against the Second."
At the Conservative Political Action Conference in February, he equated the "leftist media" with "the violent left," drug cartels and "would-be" terrorists. He also railed against "unelected, unaccountable judges."
State and local governments are another possible enemy.
With the White House occupied by an NRA-endorsed Republican, pro-gun groups and lobbyists have focused on local gun control efforts in cities like Chicago and New York, and states like California, Connecticut, Massachusetts and Colorado.
The NRA on Monday announced its support for the California Rifle and Pistol Association, a gun group that is suing the state over a law passed last year that tightens restrictions on assault weapons.
"They're taking that fight in California and broadening it to gun owners everywhere," said Samuel Smith, a contributing gun industry analyst for Seeking Alpha, a market analysis company.
Related: How Trump is bad for the gun industry
Nathan Yates, a gun industry analyst for Forward View Consulting, another market research company, said the NRA will continue to hammer California for ongoing efforts to implement a law requiring manufacturers to include ballistics identification technology in their guns.
The technology, known as microstamping, stamps shells with identifying marks when the gun is fired, helping police identify guns used in shootings. The California effort is much maligned by the industry, and Smith & Wesson has said it would not sell many of its guns in the state if it takes effect.
"This law will be the new boogeyman," Yates said.
Keane insists that the gun industry, which totaled $51 billion in sales last year, is still strong.
"We're now starting to see growth again," he said. "It's actually better for industry to have sustained predictable growth than to be chasing a spike in demand. If you're managing your business long term, long and steady wins the race."