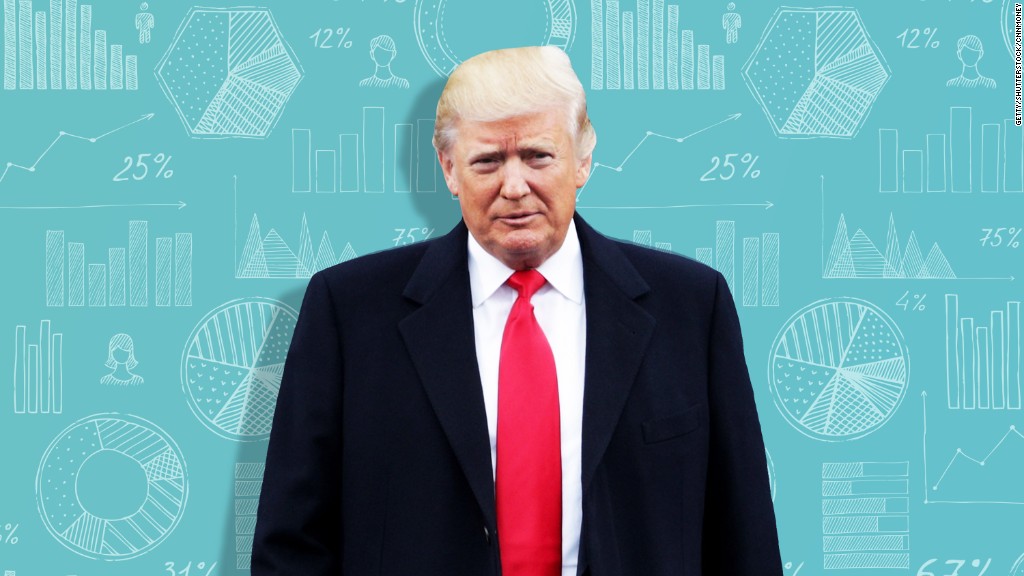 American companies have continued to ship jobs overseas on an almost daily basis during President Trump's first 100 days in office.
The flow persists, even as Trump has tried to use a string of executive orders, regulatory directives and tweets taunting companies to keep jobs at home.
The government doesn't publish how many jobs are moved overseas every month. But a CNNMoney analysis of hundreds of federal filings show that Trump has so far not been able to stop the steady churn of work moving to foreign countries.
Trump is "trying to fight a tide of job losses, and it's hard to slow down tides," said John Challenger, head of Chicago job outplacement firm Challenger, Gray and Christmas and an expert on layoffs. "The forces leading to shifting jobs overseas are so compelling as the world globalizes."
The U.S. Department of Labor filings are part a government program called trade adjustment assistance for workers, or TAA. It provides job training, extended unemployment payments and other benefits to people who have lost their jobs due to foreign trade. That includes people whose jobs have been shifted to an overseas location, as well as those who are laid off due to competition from imports.
In the first 100 days of the Trump administration, more than 270 separate companies applied for TAA benefits on behalf of more than 10,000 workers whose jobs are moving to another country.
CNNMoney's analysis shows that more than 4,000 of these jobs have moved out of the country since Trump took office. And nearly 2,000 additional jobs are due to be moved in the coming weeks and months. The rest of these job moves took place before Trump's term started, even though the petitions have just been filed.
Related: Trump is fixating on jobs he can't bring back
These filings are just a snapshot. But they show the challenges Trump faces in pushing back against economic forces.
While Trump focuses most of his complaints about Mexico and China, the most recent TAA filings show more jobs heading to India than any other country -- at least 2,500 positions. Mexico is the next largest destination for U.S. jobs, with about 2,000 jobs crossing the border, followed by the Philippines, where about 1,000 jobs are headed. About 700 jobs are identified as moving to Canada, while 600 jobs are headed to China.
These moves don't attract much attention individually, because they affect just a handful of jobs at a time. More than half of these TAA filings pertained to 50 jobs or fewer. And in many cases the company or factory itself isn't closing, but rather jobs are being relocated. Still, the incremental losses add up.
Related: Trump's NAFTA is already running out of time
Most of the applications filed since Trump took office are still being investigated by the Labor Department to determine whether the workers qualify for government assistance. But the department has verified that 3,200 of the lost jobs were shipped to other countries, making the workers eligible for benefits.
John Bell, whose job as a system engineer at a background check company was moved to Bangalore, India in March, had his application approved by the Labor Department. A Trump voter based in Atlanta, Bell said he's counting on the president to keep jobs in the U.S. moving forward.
"I hope the new administration really changes things for the country," Bell told CNNMoney. "I do like the idea that their slogan is 'America First.'"
Bell has found a new job, but he says some coworkers haven't been so lucky. The layoffs were "heartbreaking," he said, and it didn't help that they were tasked with training their Indian replacements.
He's holding off on judging the president's success for now, but says he expects results.
Trump has heralded his efforts to save American jobs, such as negotiations that kept 800 positions at a Carrier plant in Indianapolis that were slated to move to Mexico. And he's said his economic plans, which include lower corporate taxes and possible tariffs on imports, will convince companies to stop the practice of shifting jobs outside the United States.