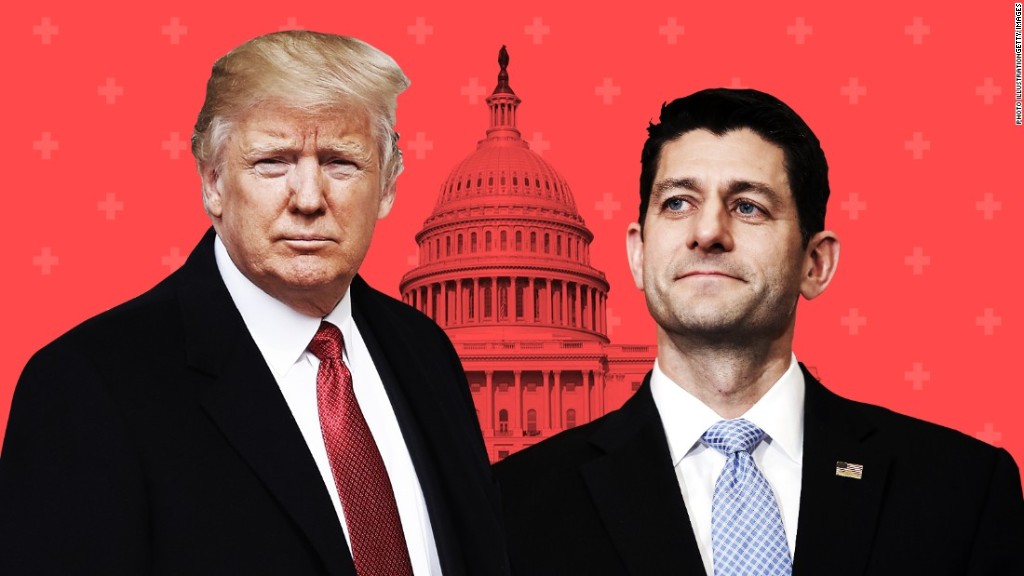 President Trump may not have accomplished his top priority of repealing Obamacare in his first 100 days, but he has certainly left his mark on the health reform law.
The Trump administration is not waiting around for Republicans in Congress, who continue to battle internally over legislation to dismantle the Affordable Care Act. The president and his officials have taken several steps that both undermine and strengthen the law.
These mixed messages have left insurers, providers and advocates increasingly jittery over Obamacare's future. The uncertainty is prompting many insurers to consider withdrawing from the exchanges next year. Several have already pulled out, including Humana (HUM), whose exit is leaving roughly 40,000 people in Tennessee without any coverage option for next year, unless another carrier steps in.
Here's what Trump has done to Obamacare in his first 100 days:
Issued an executive order to roll back Obamacare: Hours after he was sworn in as president, Trump signed an executive order aimed at weakening Obamacare as much as possible under the law. The order directed agencies to minimize the financial burden of the health law on individuals, insurers, states and others.
Related: Trump issues executive order to start rolling back Obamacare
Stressed Obamacare was on the verge of collapse: Trump has repeatedly said -- and tweeted -- that Obamacare was about to explode, implode, fail or otherwise collapse. This runs counter to multiple analyses, including one by the non-partisan Congressional Budget Office, that says the individual market is largely stable. But his pronouncements have left Americans wondering about the health of the Affordable Care Act.
Also, he has rode Congress hard to repeal the law, attacking lawmakers that he feels are standing in the way.
Canceled ads for Obamacare open enrollment: The Department of Health and Human Services yanked up to $5 million in advertising in the crucial days before open enrollment ended on January 31. Supporters of the law said this move contributed to a drop in sign-ups of about half-a-million people. Many younger and healthier Americans enroll in Obamacare in the final days, spurred by ads reminding them of the deadline.
Related: Trump pulls Obamacare ads days ahead of enrollment deadline
Weakened enforcement of the individual mandate: The Internal Revenue Service quietly reversed a decision to start rejecting tax returns that fail to indicate whether filers had health insurance, received an exemption or paid the penalty. While this has always been key to enforcing the individual mandate, the IRS had been processing returns without this information. The agency attributed the reversal to Trump's executive order.
Insurers are concerned that Trump will keep weakening the individual mandate, which stipulates that nearly all Americans have health insurance. This requirement is key to attracting younger and healthier people to the exchanges, which helps offset the costs incurred by older and sicker enrollees.
Related: Trump starts making changes to Obamacare that could cost consumers
Tinkered with some rules to benefit insurers: The Department of Health & Human Services swiftly started making changes to Obamacare where it could. Many of the moves were designed to answer insurers' requests to stabilize the market.
The rule, which went into effect this month, shortens the open enrollment period for 2018, makes it harder for Americans to sign up for coverage outside that period and requires they pay any premiums owed before re-enrolling with the same insurer.
It also gives insurers a little more leeway in raising deductibles and co-pays in their plans, which means people could have to pay more out of pocket but could see slightly lower premiums.
Encouraged states to change Obamacare's rules: Health Secretary Tom Price has informed the nation's governors that they can apply for waivers to modify the regulations governing Obamacare and Medicaid.
Related: Trump administration open to making some Medicaid recipients work
The waivers would allow states to make changes aimed at strengthening the Obamacare exchanges and lowering premiums. Price cited Alaska as an example, noting that state lawmakers began charging all insurance companies a fee to help its one remaining health insurer on the individual exchange cope with high-cost, sickly policyholders. Alaska applied for a waiver from the Obama administration seeking federal funding for the program. Approval is still pending.
Price is also eager to allow states to make changes to Medicaid, particularly to the expansion program that covers low-income adults. States could ask permission to institute work requirements or charge premiums, for instance. Several are already drawing up plans to do so.
Withholding full support of the cost-sharing subsidies: The administration keeps changing its mind about whether it will continue to pay the cost-sharing subsidies that help lower-income consumers afford coverage. Insurers want a firm commitment from Trump officials and Congress that they will fund these payments through 2018 before they commit to participating on the exchanges next year.
Related: Trump's mixed messages on subsidies could prompt insurers to flee
Earlier this week, the Trump administration said the payments would continue, but didn't specify for how long. This tepid statement, which came shortly after one top official said the payments could stop as early as May, did not put insurers at ease.
The subsidies were at the center of a court battle between House Republicans and the Obama administration. Trump has inherited it, but neither side is prepared to settle at the moment.