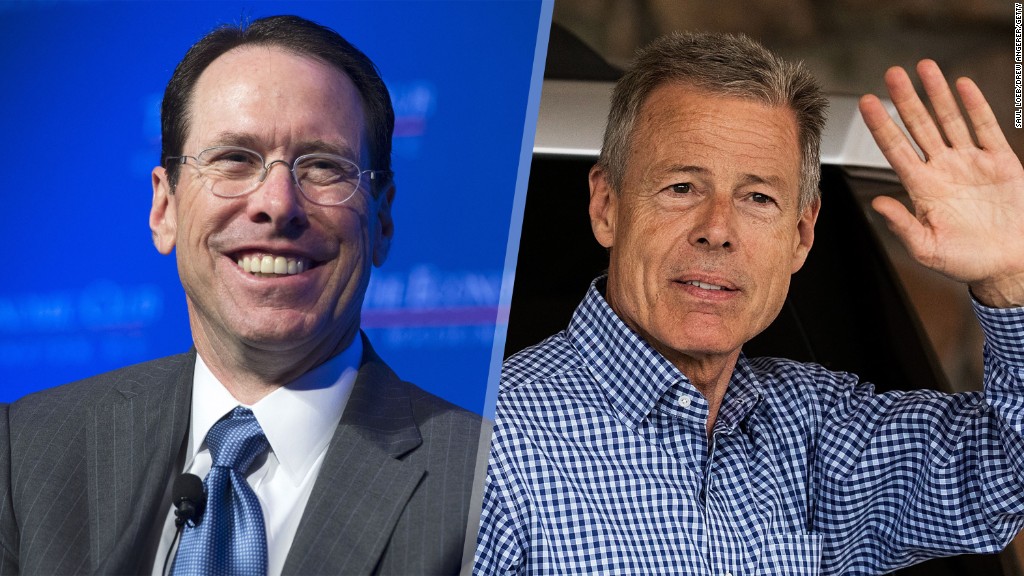 About 21,000 AT&T Wireless workers could walk off the job as soon as Monday.
The Communications Workers of America union gave the company 72-hours notice Friday of a possible walk out.
CWA members have been working on an rolling extension of their previous labor contract since early February. The notice of a possible strike comes the same day as AT&T's shareholder meeting in Dallas.
"We have given AT&T every opportunity to show their commitment to finding common ground and a fair contract," said Dennis Trainor, vice president of CWA District 1. "Time is running out for AT&T to stop undermining good jobs, quality customer service and its long-term success. The pieces are all in place now, and we'll strike if necessary."
Related: Trump can't stop U.S. jobs from leaving
Just because the union has given 72-hour notice doesn't mean a strike will necessarily start on Monday said AT&T spokesman Marty Richter. And even if there is a strike, the company has contingencies to continue to serve customers, he said.
"We continue to bargain with the union and remain confident a fair agreement can be reached," it said in a statement. "The contract covers good paying US jobs averaging nearly $70,000 a year in pay and benefits."
Richter also pointed out that the deal with CWA doesn't cover all the unionized employees at AT&T Wireless.
Between 40% and 50% of the employees covered under this CWA contract work in the company's stores. Roughly the same proportion work in its call centers and about 10% are field technicians.
The union says that AT&T has eliminated more than 12,000 US call center jobs and offshored thousands of other call center jobs to Mexico, the Philippines, India, the Dominican Republic, among other countries. It is seeking an end offshoring in the contract talks. It also is seeking limits on AT&T's use of third-party dealers, known as "authorized retailers," rather than company-owned stores.
Related: AT&T agrees to bring 3,000 jobs back to U.S.
In addition to the unionized wireless employees, there are 17,000 CWA members at AT&T West's wireline unit as well as DirecTV, which is owned by AT&T, who have been working without a contract for more than a year. They went on strike for one day in March before returning to work.
The company did reach a deal covering 20,000 workers at AT&T Southwest in March, in which it agreed to bring 3,000 outsourced jobs back to the U.S. The company said it also reached a labor deal earlier this week with another union, the IBEW, agreeing to hire 1,000 people and open a new call center in Chicago.
AT&T (T) has agreed to purchase Time Warner (TWX), which owns CNN and CNNMoney, although that deal is still awaiting regulatory approval.