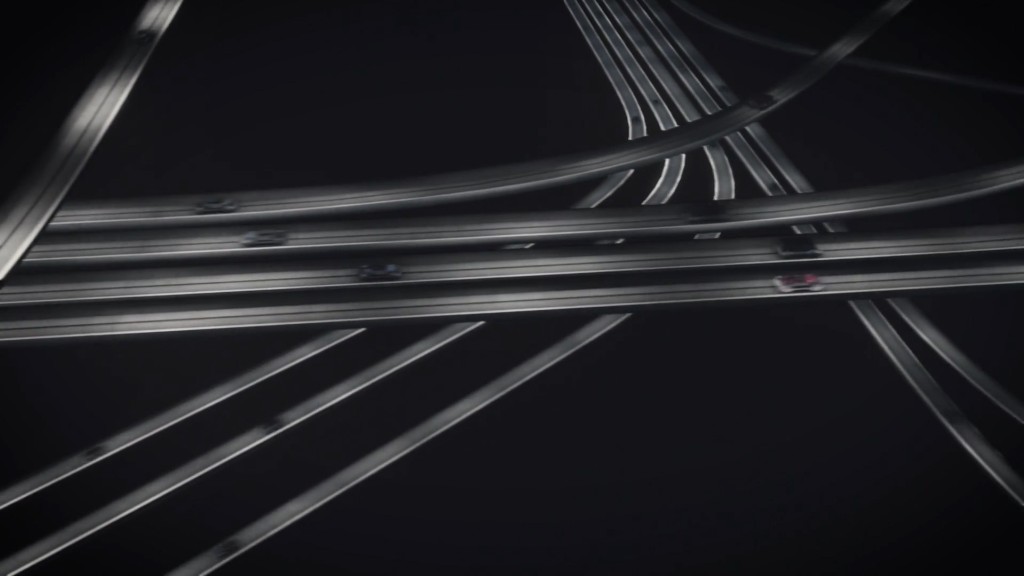 Elon Musk revealed Friday a first glimpse at the network of traffic-beating underground tunnels he hopes to create.
During a speech at a TED Talks conference, Musk -- the Tesla (TSLA) and SpaceX CEO -- unveiled what he hopes to accomplish with his latest venture, The Boring Company.
A new video shows a computer-generated mockup of a sprawling network of underground tunnels that vehicles can access via elevators nested near roadsides.
Once underground, the video shows futuristic silver platforms whisking the cars toward their destinations.
Related: See the view from SpaceX's historic mission
Musk first introduced the world to his tunnel idea in December, when he got caught in one of Los Angeles's notorious traffic jams. Frustrated, he sent out a tweet promising to buy a tunnel boring machine and "just start digging."
It wasn't clear how serious he was. Then in January Musk raised eyebrows when he announced that he's already made exciting progress and he plans to start digging within a few months.
Now it looks like The Boring Company has its first piece of physical hardware. Musk tweeted out an image of a tunnel digging machine sporting The Boring Company logo on Friday.
Though a functioning web of underground highways is undoubtedly a distant dream, Musk is known for taking seemingly impossible ideas and turning them into reality.
With Tesla, Musk achieved something that many doubted was possible -- he built a successful car startup that could compete with Detroit manufacturers. In fact, Tesla recently became the most valuable car manufacturer in America.
Related: Elon Musk's new plan to save humanity from AI
Musk's company SpaceX also achieved a historic feat last month when it launched and landed a rocket from orbital space for a second time. Reusing rockets is a major step forward in making spaceflight more affordable, since they cost tens of millions of dollars and have traditionally been discarded after one launch.
Musk will need to pull off a similar cost-crunching endeavor to make his tunnel dream a reality. Tunneling, like space travel, is typically very expensive, costing hundreds of millions of dollars per mile.
--CNNMoney's Matt McFarland contributed to this report