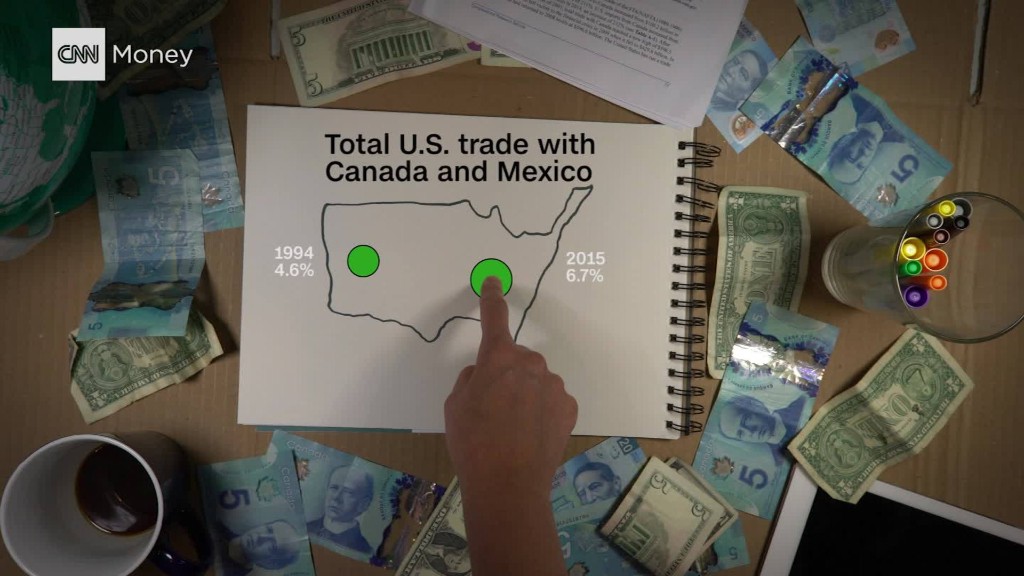 President Trump has agreed to renegotiate NAFTA, the free trade deal between the US, Mexico and Canada.
But he's warning everyone: If a new deal isn't good, he'll pull the US out. For its part, Mexico has said the same: It needs a win-win deal too or it will withdraw. Canada is also demanding a good deal.
Before he gets a new deal, Trump has a long list of things to do and to worry about.
Here is Trump's NAFTA to-do list:
1. Get Lighthizer confirmed: Rober Lighthizer is Trump's nominee to become the U.S. Trade Representative. He is an expert on international trade laws and is expected to lead trade negotiations. Congressional Democrats had held up his confirmation over a technical reason and a bill on coal miners' pensions and health benefits. A full Senate vote to confirm Lighthizer is expected in the next week or two.
Related: Trump agrees not to terminate NAFTA for now
2. Give Congress notice: This is big. Either Lighthizer or Ross will give Congress an official notice that the administration intends to renegotiate NAFTA.
3. Kick off a 90-day waiting period: A requirement of the notice is that Congress and the private sector be given a 90-day consultation period to review the administration's plans before talks start. Mexico completes its own 90-day consultation period this week, and Canada is ready to come to the table as well.
4. Put together a detailed proposal: Trump's team must give a detailed proposal to Congress with what they seek to change in NAFTA and specific timing on when talks will begin. So far, Trump has said little on exactly what he wants in a new trade deal to bring back manufacturing jobs. This notice should provide some clarity to that objective.
Related: a new NAFTA could bring jobs back -- at a cost
5. Trump must meet with Congress if asked: Specifically, top members of the House Ways and Means Committee and the Senate Finance Committee might have questions about his plan.
6. Forecast the impact on industries: During the consultation period, Trump's team has to provide Congress with an analysis of the potential impact of US tariffs on agriculture, textile and apparel products. That analysis may require further meetings to discuss imports that are sensitive to changes in trade policy.
7. The administration needs "fast track" authority: A major reason for the notice is to obtain something called "trade promotion authority" also called "fast track." It allows Lighthizer to negotiate NAFTA without the intervention of Congress. When negotiations are done, Trump's team presents Congress with a simple "yes" or "no" vote on the renegotiated deal -- Congress can't tweak the deal under this authority.
Related: Trump's NAFTA is already running out of time
8. NAFTA trade talks will start in August at the earliest: If the 90-day notice is triggered in the beginning of May, talks could start in August.
9. Trump is already running out of time: Mexican leaders want negotiations to end before 2018. Mexico holds presidential elections in July 2018 and the current president can't run again due to term limits. Mexico's current leading presidential candidate, Andres Manuel Lopez Obrador, wants Mexico to delay negotiations. Trump's team has five months to renegotiate a deal with the current Mexican administration. NAFTA originally took years to get done in the early 1990s.
10. It's not just Mexico tapping its foot. Congress is too: Mid-term elections in the fall of 2018 are another added incentive get a deal done soon before elections start muddying the waters too much for Congress.