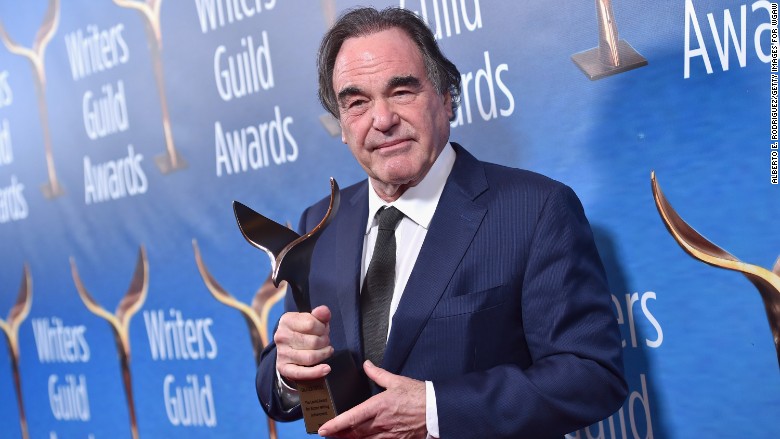 The ultra-political filmmaker Oliver Stone has scored the interview so many journalists have been seeking: a sit-down with Russian president Vladimir Putin.
Actually, several sit-downs, most recently in February.
The premium cable channel Showtime has secured the television rights to Stone's finished product, a four-hour documentary called "The Putin Interviews."
Showtime said Monday that the series will premiere on Monday, June 12. One hour will air each night for four nights.
A promotional clip shows Stone asking "Why did Russia hack the election?" Putin is shown smirking at the question.
Stone, who has been called the most controversial director in Hollywood, has been a critic of American power and political affairs for decades.
He recently told the Sydney Morning Herald that his Putin interviews will open up "a whole viewpoint that we as Americans haven't heard."
Stone described the four-hour series this way: "It's not a documentary as much as a question and answer session. Mr. Putin is one of the most important leaders in the world and in so far as the United States has declared him an enemy -- a great enemy -- I think it's very important we hear what he has to say."
Stone's producing partner on the project is Fernando Sulichin. The two men have previously collaborated on films about Hugo Chavez, Fidel Castro, and others.
Stone's most recent theatrical release was "Snowden," a dramatic account of Edward Snowden's decision to leak information about NSA surveillance programs. Stone repeatedly met with Snowden in Russia while working on the movie.
Some of Stone's trips to Russia also entailed interviews with Putin. "I talked to him originally about the Snowden affair, which is in the film. And out of that grew, I think, a trust that he knew that I would not edit it so much," Stone told the Sydney Morning Herald.
According to Showtime, Stone wound up interviewing Putin "more than a dozen times over the course of two years, most recently in February following the U.S. presidential elections."
Putin has granted a small number of interviews to Americans in recent years -- including to CBS' Charlie Rose and CNN's Fareed Zakaria.
But Showtime is promoting Stone's sit-downs as uniquely extensive -- even invoking David Frost's interviews with Richard Nixon forty years ago.