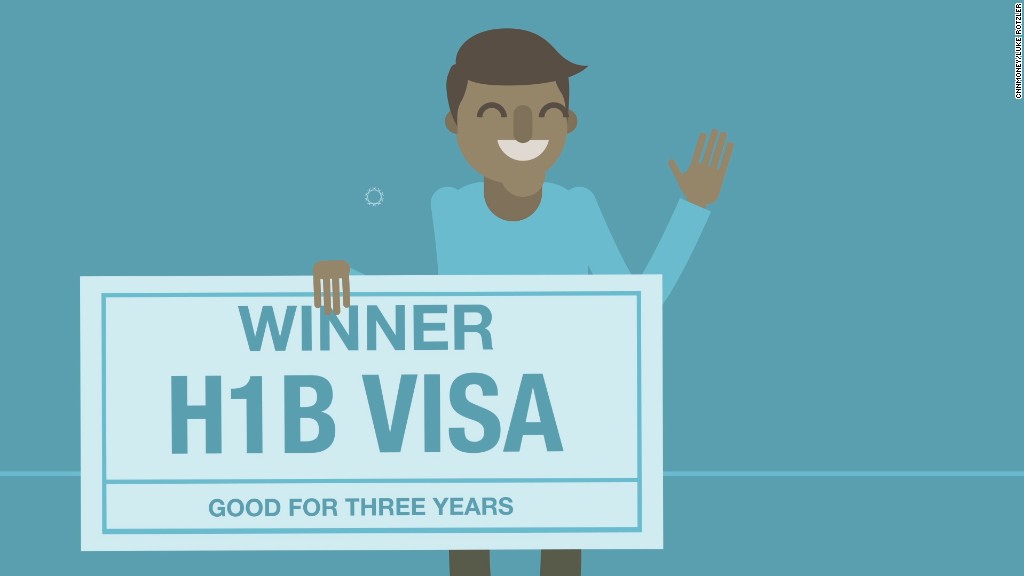 Monday's May Day protests in Silicon Valley were all about the other immigrant workers at tech companies: the contract workers who feed, transport, protect and clean up after the highly paid programmers at companies like Apple, Facebook and Google.
Protestors took to the streets in San Francisco, Oakland, San Jose and other Silicon Valley cities on Monday as part of the May Day demonstrations focused on worker and immigrant rights.
In San Francisco, thousands of protestors carrying signs in Spanish and English marched to the Civic Center alongside the city's mayor, Ed Lee. Lee has been sparring with the Trump administration over San Francisco's sanctuary city status.
Union members representing service industry workers, teachers and longshoremen participated in the event, chanting, "No ban, no wall, sanctuary for all."
One large banner read "Tech workers demand justice" in stark white lettering. It was carried by representatives from The Tech Workers Coalition, which aims to bring together skilled tech employees and service workers.
Related: Trump takes first step toward H-1B reform
"We want to raise their visibility and encourage other workers in tech to realize that these service workers are their co-workers. They're in the same building every day, and they're not being treated the same," said Coalition member Matt Schaefer, an engineer at Loconomics.
When President Trump signed his travel ban executive order, tech companies rushed to support direct employees and H-1B visa holders.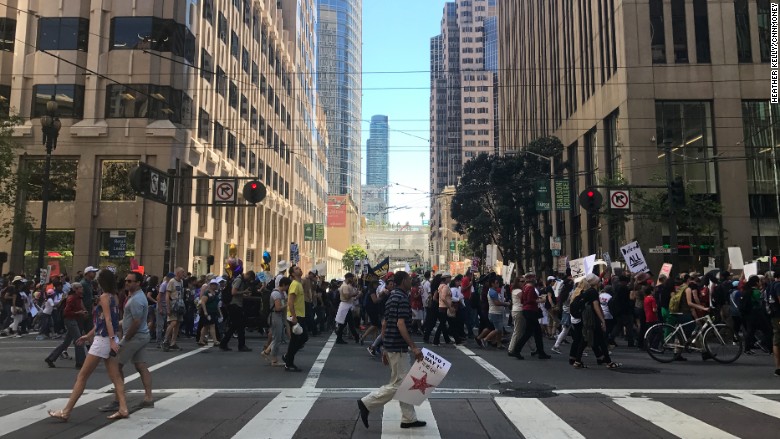 Activists think there hasn't been as much defense of service workers such as janitors, security guards, cafeteria employees and shuttle bus drivers. In Silicon Valley, many of these positions are held by sub-contractors hired and managed through third-party companies.
"I think now there's a growing understanding that there are more parts of the operation than the visa workers," said Jeffrey Buchanan from Silicon Valley Rising -- a non-profit labor group.
The organization sent letters to the 20 largest tech companies in Silicon Valley, asking them to let all workers attend protests without retribution.
"We respect everyone's choice to act on their beliefs," said a Google (GOOG) spokesperson. "We're asking managers to be flexible in accommodating time-off requests and have let our vendor partners know that we support them doing the same."
Related: May Day protests, celebrations around the globe
A Facebook (FB) spokesperson confirmed direct employees are allowed to take time off to protest without retaliation. Last week the company told Bloomberg, "We support our people in recognizing International Workers' Day and other efforts to raise awareness for safe and equitable employment conditions."
Many other service workers, not just immigrants, want more from the tech industry.
Maria Guerrero has worked as a barista at Intel for three years as a sub-contractor. Born and raised in Silicon Valley, Guerrero wants tech companies to do more for service employees who increasingly can't afford to live near the companies where they work.
"They're aligning themselves with Trump. They're willing to help out their direct workers but not us," said Gurrero, who attended protests in San Jose.
"We work there too. We work just as hard and the place wouldn't run without us."