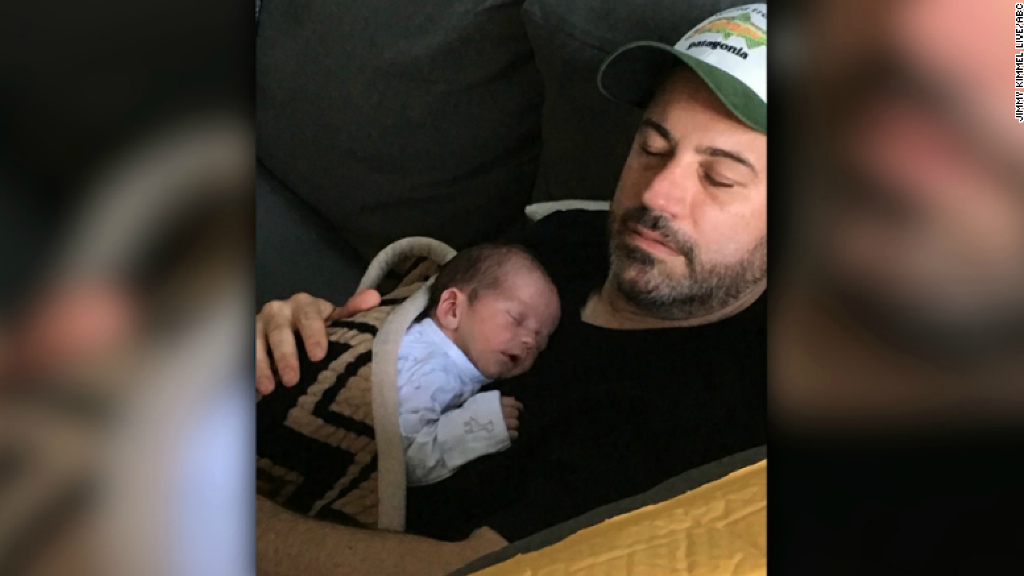 Jimmy Kimmel made a tearful plea on Monday night during his opening monologue for better health care for kids in the U.S. as he shared a deeply personal story about his own newborn son's health crisis.
The monologue included his trademark mix of humor and vulnerability, a winning combination that makes him one of the best storytellers and most relatable hosts of late night television.
Contemporaries Jimmy Fallon and Stephen Colbert have all spoken about their personal lives on air, but Kimmel has done so with pitch perfect humor as he uses his stage as a pulpit for the people and causes he cares about.
Related: Jimmy Kimmel tearfully reveals son's health crisis
One of Kimmel's most memorable stories was in 2011 when he took the stage in tears to pay tribute to uncle and show regular "Uncle Frank" Potenza.
"As you may have heard, my Uncle Frank, who has been a fixture on our show since our first night on the air in January of 2003 passed away over our vacation," Kimmel said to his audience. "He hated vacation, so he decided to ruin ours."
Kimmel memorialized his uncle with funny anecdotes about how much he hated vacation because he loved to come to the show, so much so that he would at times get to the taping "10, 11, 12" hours early.
Kimmel has a knack for sharing stories about those who have inspired him. He again used personal anecdotes to connect with his audience back in 2015 when paid a tearful tribute to his late night hero David Letterman when he retired from the "Late Show."
"We had no VCR, so I would have David Letterman viewing parties at my house in the middle of the night," he shared. "I watched the show every night, I never missed it, but little did I know many years and many pounds later that watching the show was a great education to me."
Kimmel in the same monologue credited his own hosting gig on "Jimmy Kimmel Live!" to Letterman.
"The reason I have this show is because the executives at ABC saw me when I was a guest on Dave's show and hired me to host this show," Kimmel said as he fought back tears.
Kimmel's vulnerability was on full display again when one of his favorite comedians and personal friend, Don Rickles, passed away last month. Kimmel spent nearly 10 minutes, crying at times, as he rehashed stories about Rickles' life and read letters from the comic.
"Dear Jimmy, thanks so much for inviting me to your home for dinner, but to be honest, we would have preferred a three-month trip to Venice, Italy. Love, Don," Kimmel said reading one letter.
Kimmel's great storytelling doesn't always come with tears, however. In one of his best accounts, Kimmel recapped his crazy night as host at this year's Oscar, which infamously ended with the wrong film being named for Best Picture.
This led to viewers turning into Kimmel's show the next night to see if he would share behind the scenes details of the mix up.
And the host did not disappoint.
"We were chugging along and then all of sudden it turned into a one of those Maury Povich paternity test shows," he said during his opening monologue the night after. "It was the weirdest TV finale since 'Lost.'"