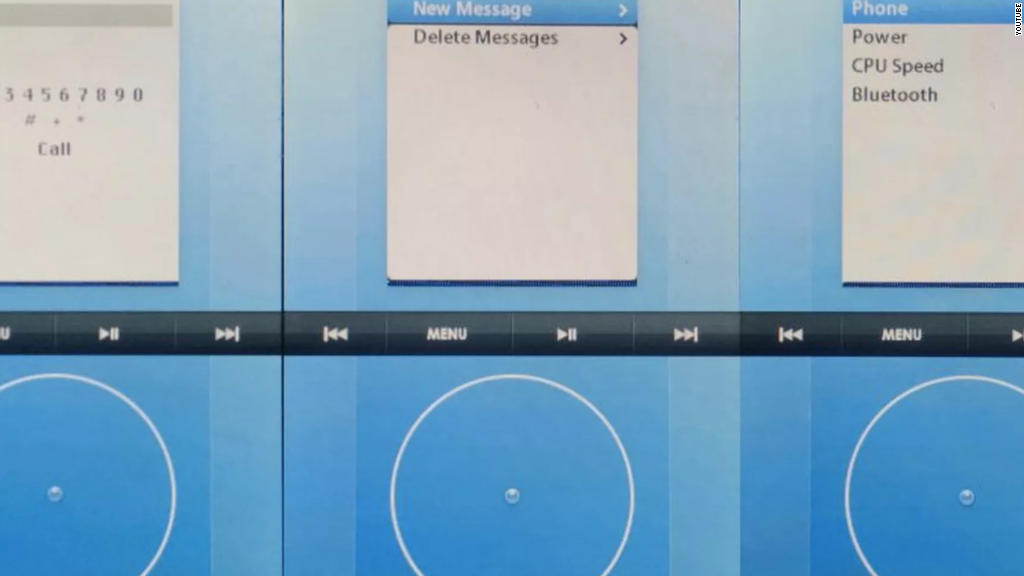 It's time to play Wall Street's and Silicon Valley's favorite game -- how to spend Apple's ginormous (iNormous?) mountain of cash.
Apple (AAPL) said in its latest earnings report Tuesday that it now has $256.8 billion in cash and investments on its balance sheet. Yup. More than a quarter of a trillion dollars. Talk about money burning a hole (or canyon as the case may be) in your pocket!
Nearly all of this money is held overseas for tax purposes though. Apple CFO Luca Maestri said during the company's conference call that $239.6 billion of the cash is outside of the U.S.
But that may eventually change. President Trump wants to give companies like Apple a one-time tax break to repatriate, or bring back, cash to America.
That has investors salivating about the possibility of Apple returning money to the US so it can do something more productive with it than just letting the pile grow larger and larger. Imagine CEO Tim Cook swimming in it like Scrooge McDuck and his gold.
Apple already announced on Tuesday that it will be boosting its quarterly dividend by nearly 11% to 63 cents a share. But even with that increase, Apple's dividend payments are couch cushion change for the company.
An annual payment of $2.52 a year for each of Apple's 5.25 billion shares outstanding would cost Apple about $13.2 billion.
Related: What to expect with the iPhone 8 -- or whatever Apple calls it
Apple also said it is increasing its stock buyback program Tuesday by $35 billion. Repurchasing stock typically boosts earnings per share for companies. Shareholders like that.
But Apple still has a lot more money that it could use for other things, like building plants, hiring more workers and investing in research and development.
After all, for Apple to keep growing, it can't just keep releasing one iPhone update after another. It needs new products, not just the iPhone ∞.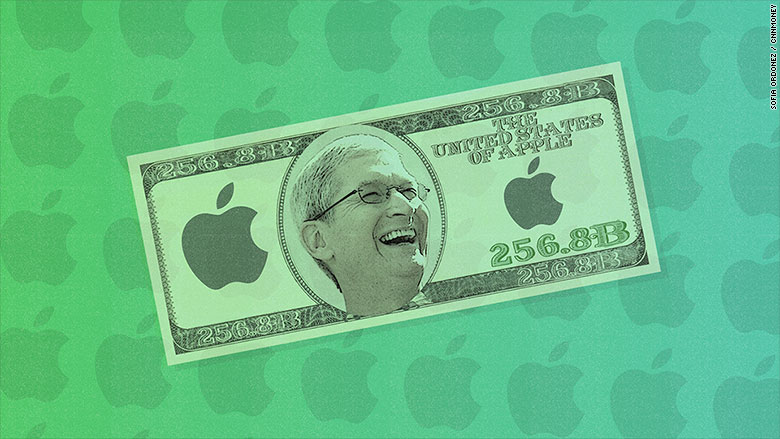 Also, Apple, unlike Microsoft (MSFT) in the late 1990s, doesn't need to hoard cash in order to deal with the possibility of huge legal costs.
Microsoft built up a big rainy day fund partly because of all the antitrust litigation it was facing.
But nobody is calling for Apple to be broken up into pieces and/or pay out ungodly sums of cash to regulators and competitors like Microsoft did. Ironically enough, Apple was a major beneficiary of Microsoft's largesse.
Microsoft invested $150 million in the company in 1997 to settle lawsuits. At the time, the investment was considered a lifeline for Apple. Steve Jobs had only recently returned as CEO. And there were no iPods, let alone iPhones, yet.
That's why some investors think that Apple may use some of the cash for acquisitions. There have been rumors about Apple building a war chest for megadeals for some time now.
Related: Will Warren Buffett keep buying more Apple stock?
Apple's biggest deal so far is the 2014 purchase of Dr. Dre's headphone company Beats. But that was just $3 billion. Apple can -- to borrow an old marketing slogan -- "think different" with its acquisition strategy. And think much bigger for that matter.
Back in December 2015, an analyst at FBR made up a shopping list for Apple. The companies on it? Adobe, GoPro (GPRO), Box (BOX) and Tesla.
If Apple bought all those companies today at their current market valuations, it would cost the company $122 billion -- with nearly all of it going towards cloud computing leader Adobe (ADBE) and Elon Musk's Tesla (TSLA).
Rumors have run wild for awhile now that Apple may be working on some sort of connected car. So if it didn't want to buy Tesla, it could move in another direction.
How's this for a mindboggling stat? Apple could use its cash to buy all of Detroit's Big Three -- GM (GM), Ford (F) and Fiat Chrysler (FCAU) -- for "just" $110.6 billion. In other words, Apple would still have more than $146 billion left over.
That seems highly unlikely, though, of course. But analysts have been speculating about other deals that could make more strategic sense.
Related: Chipmaker stocks plunge on Apple order concerns
In the past year or so, there has been speculation that Apple could make a play for chip company AMD (AMD), which is currently worth just under $10 billion, as well as streaming music service Pandora (P), which has a market value of about $2.5 billion.
There's even been talk of Apple making a bigger push into the media world, with some suggesting a purchase of Netflix (NFLX) or even Disney (DIS).
Neither deal would be cheap though. Netflix is worth $67 billion and Disney's market value is nearly $180 billion. Still, it's astonishing to consider that Apple actually could afford to buy both companies at those prices with the cash it currently has.
So don't hold your breath for Apple to make a bid for either company. But until Apple does make a bold, sexy acquisition, then expect the Wall Street gossip mill to keep churning -- and more speculative stories like these suggesting things Apple could buy.
To that end, let me propose this. Apple would only need $11.7 billion to corner the market on the San Francisco sports scene.
That's the combined value of the San Francisco Giants, Oakland A's, Golden State Warriors, San Jose Sharks, San Francisco 49ers and Oakland Raiders franchises, according to estimates from Forbes.
Of course, the Raiders are planning to move to Las Vegas. But maybe Tim Cook can keep them in Oakland and become a Bay Area hero in the process.