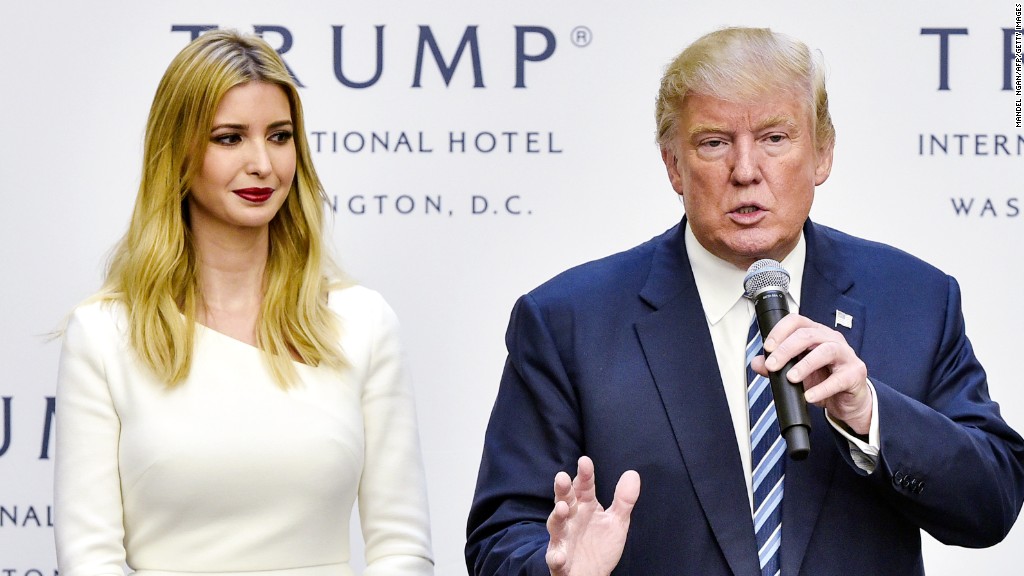 Ivanka Trump's new book includes a lot of inspirational quotes from celebrities and business moguls -- quite a few of whom supported Hillary Clinton over her father.
In "Women Who Work," released Tuesday, Ivanka Trump shares her own advice about being a working woman and mother.
She also passes along advice from other people on the topics of women in leadership, finding success and balancing work with family life. At least a dozen of them either endorsed Clinton, worked closely with her or spoke harshly of President Trump during the campaign.
The inspirational quotes were not provided specifically for the book. Ivanka Trump used them with citations and credit.
Oprah Winfrey on finding a career: "If you do work you love, and the work fulfills you, the rest will come." Winfrey endorsed Clinton last June.
Anne-Marie Slaughter on work-life balance: "If family comes first, work does not come second. Life comes together." Slaughter worked as director of policy planning for Clinton when she was secretary of state.
Mindy Kaling, the actress, author and comedian: "If you don't see a clear path for what you want, sometimes, you have to make it." Kaling tweeted "#ImWithHer" when Clinton locked down the Democratic nomination.
Nadine Burke Harris, a pediatrician and the founder of the Center for Youth Wellness: "We're all working hard. So, we might as well work hard for something that is joyful and enriching." Harris appeared in a video for the Clinton Foundation's Too Small to Fail initiative, and served on the advisory council for the program.
Jane Goodall, the globe-trotting animal behavior expert and conservationist, says that "you have to decide what kind of difference you want to make." In an interview with The Atlantic during the campaign, she said: "In many ways the performances of Donald Trump remind me of male chimpanzees and their dominance rituals."
Related: Jane Goodall has a message for Ivanka Trump
Cynthia Nixon, the actress, is quoted on the subject of trying new things: "If you're being given a number of takes [while making a film], trust that the thing you were trying to do -- you kind of did it. Why not try something else? You could take that idea and [apply it] to life." Nixon told Bloomberg in 2015 that she was "definitely a Hillary person," and she donated to Hillary for America in 2016.
Richard Branson, the founder and CEO of Virgin, on boldness: "It is only by being bold that you get anywhere." During the campaign, he called Clinton "a safe pair of hands and a leader of supreme experience and know-how." He also said a Trump presidency would be "a disaster."
Lauren Bush Lauren, a businesswoman and the niece of President George W. Bush, on careers: "Wake up every day excited to go to work. Find a job that doesn't feel like work but a natural extension of your life and what your priorities are and what you care about. It's so important." Lauren posted a photo of Clinton to her Instagram account last year with the hashtag "#ImWithHer."
Warren Buffett, billionaire investor, on how things can go wrong: "It takes 20 years to build a reputation and five minutes to ruin it." Buffett endorsed Clinton in 2015.
Deepak Chopra, the spiritual author, has this kernel of wisdom: "In the midst of movement and chaos, keep stillness inside of you." Chopra said in a column for the Huffington Post last year that Trump represents an "aspect of the human psyche that we feel embarrassed and ashamed of."
Sheryl Sandberg, the chief operating officer of Facebook, says that making choices "deliberately" can help the reader make room for "both life and career." Sandberg, whose name appears 11 times in Ivanka Trump's book, endorsed Clinton last June.
Colin Powell, the former secretary of state for President George W. Bush, is featured in an anecdote about management styles. Powell said in October that he would vote for Clinton.
In a statement to CNNMoney on Tuesday, representatives for Ivanka Trump said the "Women Who Work" manuscript was submitted months before the election. They said it is "not a political book."
"Ivanka has always believed that no one person or party has a monopoly on good ideas," the statement said. "When she was writing this book, she included quotes from many different thought leaders who've inspired Ivanka and helped inform her viewpoints over the years."