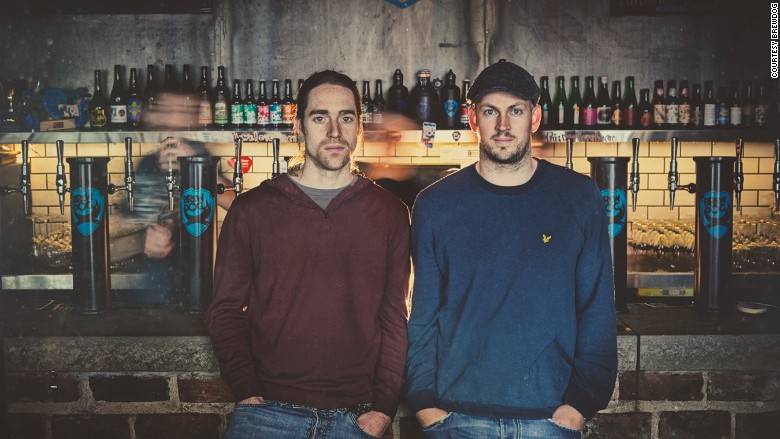 Scottish craft beer maker BrewDog is expanding into the U.S.
The company, which started out a decade ago making beer in a garage in Scotland, recently opened a 100,000-square-foot brewery in Columbus, Ohio, and plans to launch its beers on the U.S. market in the next two months.
It's been quite a journey for James Watt and Martin Dickie, whose firm is now valued at £1 billion ($1.29 billion).
The garage brand's big break
Back in 2007, the pair opened a makeshift brewery in Dickie's mother's garage. They began selling their beer at farmers' markets and from the back of their car.
"No one wanted to buy our beers," says Watt. "They said they were too hoppy, they were too bitter, they were too expensive."
"But we were determined that if we were going to fail we were going to fail on our own terms and do something that we loved."
Watt and Dickie's big break came in the form of a beer competition run by British supermarket chain Tesco (TESO). The grand prize was a spot on the shelves of 400 stores nationwide.
They entered four beers into a blind tasting competition and walked away with first, second, third and fourth place.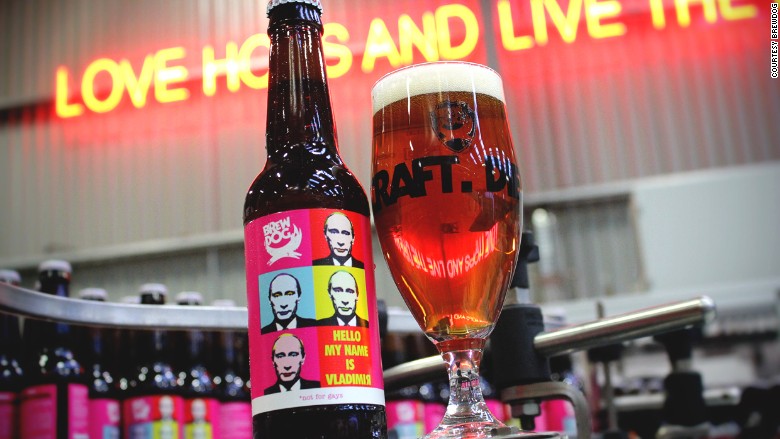 When Tesco asked for a weekly order of 1,200 cases of Punk IPA -- twice their production -- Watt didn't flinch.
"I just sat there with my best poker face and didn't mention anything at all about the fact that it was two guys and one dog filling bottles by hand," he says.
The pair borrowed £20,000 ($26,000) from the bank to buy new equipment, got the beer on Tesco's shelves, and haven't looked back.
Equity for Punks
BrewDog now has more than 50 bars around the world and sales of £72 million (just over $92 million).
"One of the things that's been key to our growth and our history is our alternative business model," explains Watt.
Forced by the global financial crisis to find alternative ways of funding the business, BrewDog offered fans the opportunity to buy shares in the company. They called it Equity for Punks, and have since built a community of 55,000 investors.
"We love the fact that our business is owned by people who are as passionate about great beer as we are," says Watt.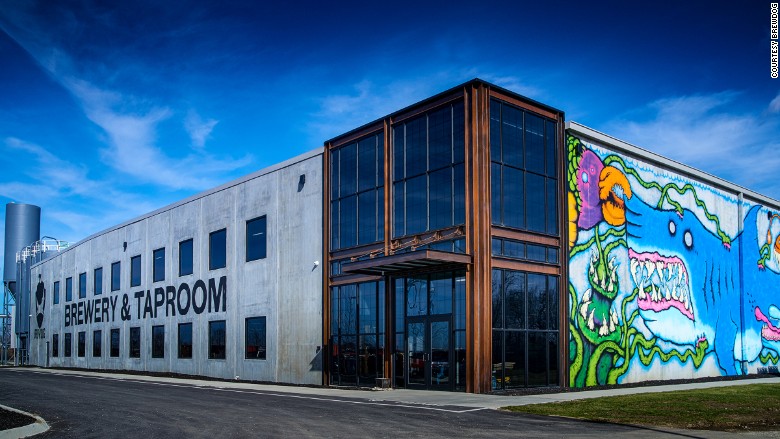 Those who invested early have secured a return of nearly 2,800%, thanks to a $265 million cash infusion from American private equity firm TSG Consumer Partners earlier this month.
TSG now has a 23% stake in BrewDog, which resulted in some critics saying the co-founders have sold out.
Watt dismisses these accusations.
"If we'd sold out I'd be sitting on the beach," he says. "If you sell out, you're out. I'm still the largest shareholder and I'm going to spend the next 10 years working my ass off."
In addition to its U.S. expansion, BrewDog also plans to open two breweries in Asia and Australia.
"We're continuing to live and die by what's in every single glass and every single bottle. That's what made the company what it is, and that's going to underpin everything we do in the future," says Watt.