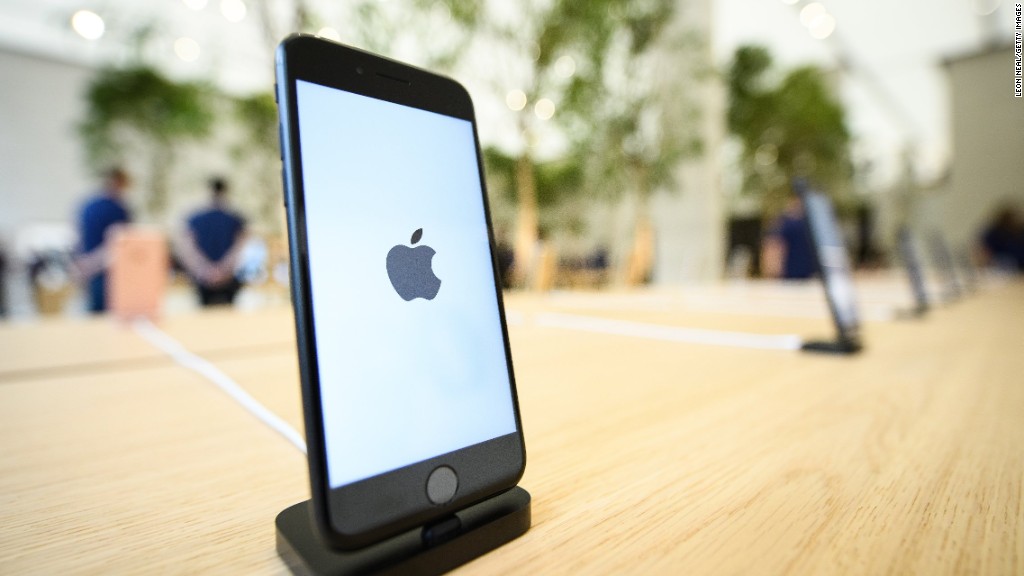 Tim Cook probably wishes people were a little less excited about the next iPhone.
On Tuesday's earnings call, the Apple CEO blamed a slowdown in iPhone sales on rumors about future iPhones. Apple is expected to release an especially exciting new smartphone this fall to mark the device's 10th anniversary. iPhone loyalists are putting off buying the still young iPhone 7 in anticipation of a better upgrade.
Nobody wants to drop $800 on a phone that will be old news in a few months.
As usual, details are sparse but here are a few ways Apple could live up to the hype.
A new name
Historically, Apple announces a new phone in September, and and a new numbered iPhone every other year. Last year was the iPhone 7, so this Fall it should release an iPhone 7S. Incremental upgrades don't really sing "greatest update ever." Apple could jump ahead to iPhone 8, or pick a new name entirely like iPhone Pro or iPhone X. Adding a higher-end iPhone to the line up would mean Apple could still release an iPhone 7S and 7S Plus. The "Pro" version might also add another digit to the price. Expect the new iPhone to start at $1,000.
Nothing but screen
Buttons are so 2015. Like the recently announced Samsung Galaxy S8, a new iPhone could extend the touchscreen so it dominates the entire front side of the phone. That would mean booting the physical home button for an on-screen button or buttons. Apple already took the first step towards this un-buttoning when it made the dot touch sensitive last year.
Related: Apple iPhone sales fall again. Tim Cook blames rumor mill
The higher end iPhone might also switch from LED to a more advanced OLED screen. The edges may also curve for a smoother, seamless look. According to Nikkei, Apple placed an order for 70 million OLED panels this year.
Eyes are the new fingers
The Home button doubles as a fingerprint sensor. The same capacitive touch technology might not work with a full-screen phone. Instead of a fingerprint sensor, Apple could use different kinds of biometric security such as face recognition or iris scanning, according to KGI analyst Ming-Chi Kuo.
Shape of things to come
Tweaking the physical design of the iPhone is pretty minor, but it's what will signal to the world, "Hey, I spent all my money on the very latest iPhone." There's not much you can do with a slim rectangle, but Apple will likely make a few tweaks to the body. In addition to the all-glass front, it could have another piece of glass on the back to double your chances of shattering something when it drops. Also look for different curves or cuts around the edges, and new materials like stainless steel. If you use a case and are worried nobody will know you're an Apple early adopter, just pop in some Airpods.
Related: Apple has a quarter-trillion dollars in cash
RIP wires
Tech companies have been tinkering with wireless charging for years, but the technology just hasn't been ready yet. Apple is rumored to be working on wireless charging for the new iPhone. Last year, Bloomberg reported Apple was working on wireless charging over the air. The reality may be less exciting, according to MacRumors: Inductive charging, which is also wireless but requires physical contact between the device and the charging station.
More port drama
The iPhone 7 removed the headphone jack. It was a controversial decision and forced people to use headphones that worked with the proprietary Lightning port, AirPods or an adapter. It's unlikely Apple will bring the port back, but there is a small chance it could swap it out for the industry standard USB-C port.
The usual
They are the under appreciated upgrades, the predictable results of Moore's Law and constantly improving technology. Every new iPhone, it seems, is faster, lighter and thinner. Expect new processors, improved cameras, and general spec upgrades. Battery life hasn't significantly improved in years, in part due to other upgrades sucking up more power. Apple is also due to update the iOS this year. iOS 11 would likely be previewed at Apple's developer conference this summer.