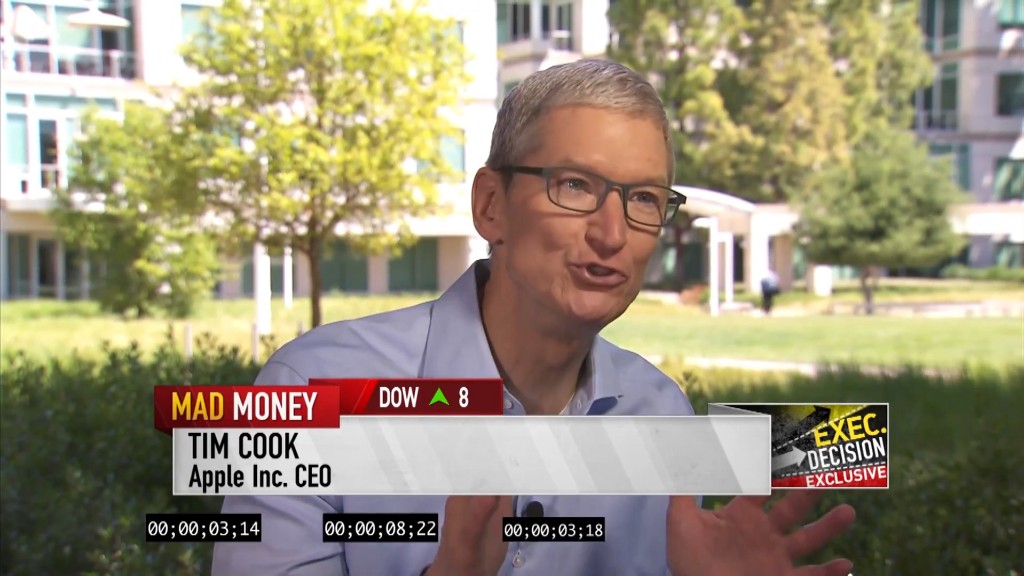 Apple CEO Tim Cook said Apple is putting $1 billion into a fund aimed at bringing advanced manufacturing jobs to the United States.
Speaking on CNBC's Mad Money on Wednesday, Cook boasted that Apple has already created two million jobs in America and said the company has plans to hire "thousands more employees in the future."
But Apple (AAPL) is searching for ways to do more, Cook said. He called the $1 billion an "initial" donation to the fund and said he's already spoken with one company that he plans to invest in. Apple declined to provide any additional details but Cook said it would announce more about the fund later this month.
Related: Should Apple buy Disney? Tesla? The Raiders?
"By doing that we can be the ripple in the pond," Cook said. "If we can create many manufacturing jobs, those manufacturing jobs create more jobs around them because you have a service industry that builds up around them."
Cook also said Apple plans to put money into programs that will train "the next generation" of app developers, and he plans to announce more about that this summer.
"You can see, we're really looking at this thing deeply. How do we grow our employee base? How do we grow our developer base? And how do we grow manufacturing?" Cook said. "And you will see us bring things to market in all of those areas across this year."