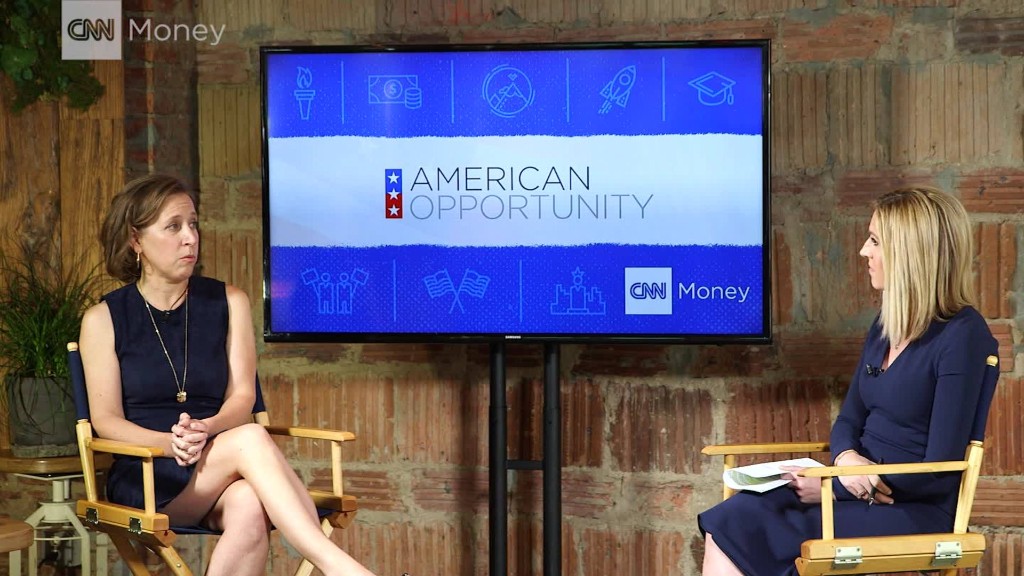 One of the most powerful tech executives in the country hates when she gets interrupted.
YouTube CEO Susan Wojcicki said it's one of the more common microaggressions, or subtle and indirect forms of discrimination, that women and minorities face in the workplace, including her.
"Even in a culture where people are well meaning, there are sometimes 'microaggressions.' People who will just cut you off. You'll be talking and someone will interrupt you," Wojcicki told Poppy Harlow at the CNNMoney American Opportunity breakfast in New York. "That's become a big pet peeve of mine."
Wojcicki said that while Silicon Valley is a diverse place, with many different opinions, there are bound to be issues in an environment where there's such a dominant majority group. In this case, white men. Only 26% of all tech jobs in the U.S. are held by women, according to the National Center for Women and Information Technology. "It's going to be harder for that minority," said Wojcicki, adding that she believes sexism is a "solvable problem."
Listen to Susan Wojcicki's conversation with Poppy Harlow on Boss Files
In an op-ed that ran in Vanity Fair in March, Wojcicki wrote that she's "frustrated that an industry so quick to embrace and change the future can't break free of its regrettable past."
Accusations of sexism at tech companies have made headlines in recent years. Wojcicki's piece came after Susan Fowler, a former engineer at Uber, alleged systemic sexism at the company which included being propositioned for sex. The allegations caused Uber CEO Travis Kalanick to hire former attorney general Eric Holder to lead an investigation into its workforce.
"We seek to make Uber a just workplace and there can be absolutely no place for this kind of behavior at Uber -- and anyone who behaves this way or thinks this is OK will be fired," said Kalanick at the time. But some of the company's investors have questioned why Kalanick didn't work to fix the company's culture earlier.
To combat sexism and promote more diversity in the workplace, Wojcicki outlined three different factors that she said may "sound straightforward" but may not be happening at Silicon Valley companies.
First, she said CEOs and executives need to make it clear that diversity matters.
"It really needs to come from the top," said Wojcicki. "You need your entire management team to realize this is important, we are going to be a better, stronger team if we have diversity."
Related: Salesforce just spent another $3 million to close its gender pay gap
She praised Salesforce CEO Marc Benioff as "an example of a CEO owning the issue." In April, Salesforce announced that it had raised the pay of 11% of its employees in order to close the gender pay gap between male and female staffers around the world. The company conducted a similar review of its employees' salaries a year earlier, bumping up the pay of 6% of its employees.
Moreover, Wojcicki said companies need to support diverse groups by giving them funding and other support, and not just rely on minority members to self-organize.
Lastly, she said mentorship is key. Wojcicki said that in addition to hard work, luck, and good business decisions, she has come this far because mentors have helped advocate for her. One of her biggest mentors was the late Bill Campbell. Known as "the Coach," Campbell would make sure Wojcicki was invited to important meetings and events.
"You need people on the inside -- those happen to be a lot of men," she said.
Related: Silicon Valley mourns the loss of its 'coach'
Wojcicki said she feels the responsibility of being a female leader in tech. Part of that means representing tech "as a really compelling place for women."
In January, YouTube's parent company Google (GOOG) was sued by the Department of Labor, after the company repeatedly refused its request to provide names, contact information, job history and salary history details as part of a routine audit into its equal opportunity hiring practices. In April, Janette Wipper, a Labor Department regional director, testified that the agency found a "systemic" problem of gender pay inequality at Google.
"We were really, really surprised by that allegation," Wojcicki said, noting that the company has a "sophisticated team" that makes sure employees within the same level are paid within the same band of compensation.
Google has previously said that it "vehemently" disagrees with the government's claims, adding that the "DoL hasn't provided any data, or shared its methodology."
Wojcicki said she personally goes through the salaries of YouTube employees to ensure that they are consistent and fair. "After my teams go through it, after HR goes through it, I go through it and spot check that it is consistent and it's fair."