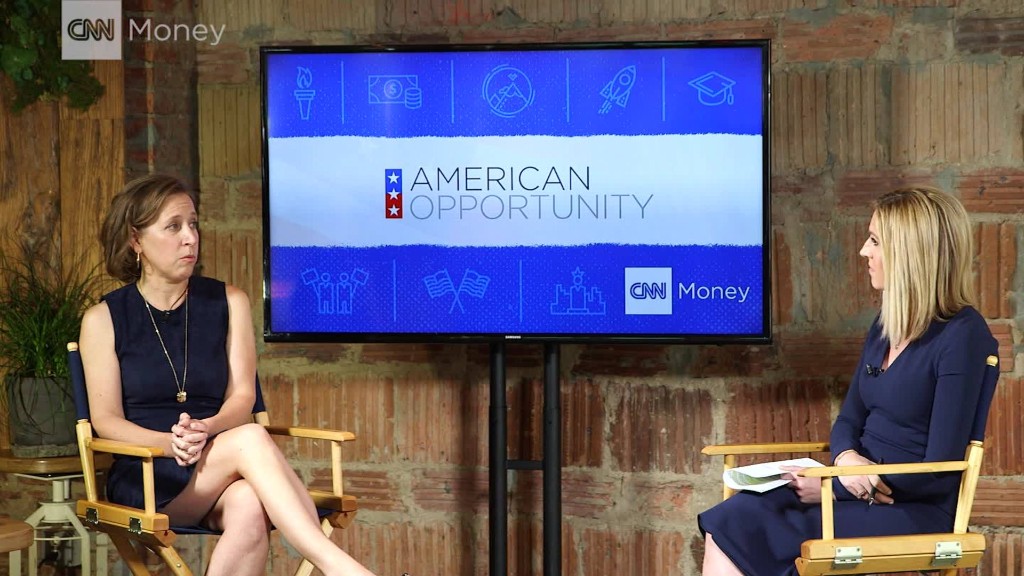 Paid parental leave is not only good for business, it would be good for the country.
That's according to YouTube CEO Susan Wojcicki, who named parental leave as the issue she would personally like to see the Trump administration tackle most during an interview with CNN's Poppy Harlow on Wednesday,
Wojcicki, who was the first woman to ever take maternity leave at YouTube's parent company Google. (GOOG) The mother of five has long touted the business benefits of giving parents paid time off. Google, which is now called Alphabet, saw that new mothers were half as likely to quit once the company increased its maternity leave from 12 weeks to 18 weeks in 2007.
Still, the U.S. is one of only two countries, out of 185 surveyed by the United Nations' International Labour Organization, that doesn't mandate paid leave for new mothers. The other country is Papua New Guinea.
Listen to Susan Wojcicki's conversation with Poppy Harlow on Boss Files
And Wojcicki would like to see that change.
"Paid leave is a not just a mother and child issue, it's a societal issue we have," Wojcicki said at CNNMoney's American Opportunity breakfast in New York. The benefits of paid leave include keeping more women in the workforce. It also could help reduce health issues that result from a startling statistic: Nearly 25% of American women go back to work just ten days after giving birth, Wojcicki said.
"How can that be good for babies? How can that be good for breastfeeding? We're paying for it in all these health costs as opposed to just giving women the time to be at home and recover, bond with their babies. It's a huge issue," said Wojcicki.
The executive noted that Google as a company cares about a variety of policies, such as H-1B work visas, patent reform and net neutrality.
And while the Trump administration has been trying to foster a working relationship with Silicon Valley, it is unclear whether Wojcicki will get the ear of President Trump anytime soon.
Related: Trump creates tech council to 'modernize' government's digital services
On Monday, President Trump signed an executive order establishing an American Technology Council to help the government "transform and modernize" its digital services. One of its first orders of business will include a "summit" in June; tech leaders will take part in "working sessions" to lend their ideas and expertise, a White House official said.
Trump has had a rocky relationship with Silicon Valley leaders, which began in part with a controversial travel ban rejected by many in Silicon Valley.
As of Wednesday morning, Wojcicki said she's "not yet" been asked to attend, adding that it's possible someone else from Google was invited. When asked whether she'd attend, Wojcicki said, "I would have to hear a bit more about the agenda and what's being planned."