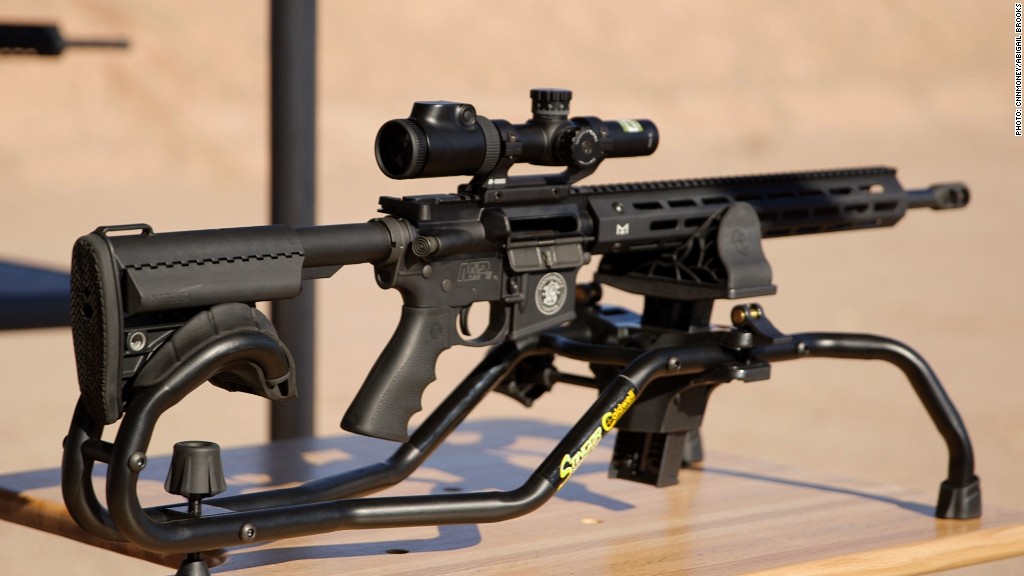 The ammo shortage that once confronted gun owners is a distant memory.
Ammunition sales have slumped since the election of President Trump.
Cabela's, which sells outdoor products from tents to bear-proof food kegs, said on Thursday that quarterly same-store sales were down 9% compared with a year ago, dragged down in part by guns and ammo.
And Olin (OLN), a conglomerate that manufactures bullets and industrial chemicals, said in its quarterly earnings report on Tuesday that sales dropped 11% for its Winchester Ammunition division.
Cabela's (CAB) said it was facing "several headwinds," including the election. The threat of tighter gun control drives up sales of guns and ammo, but with Trump in the White House and Republicans running Congress, that threat has vanished. Gun company stocks have fallen sharply.
Related: Who is the new nemesis for Trump and the NRA?
At Olin, CEO John Fischer told analysts that stores "reduced their inventory that had been built ahead of the November 2016 presidential election, in anticipation of a different election outcome. We expect this impact to continue through the second quarter."
Cabela's also mentioned "tough comparisons from the San Bernardino tragedy." The December 2015 shooting rampage caused a surge in sales in the first three months in 2016, and those sales were hard to match in the first three months of this year.
Cabela's, which is being acquired by Bass Pro Shops, is working harder to push its ammo out the door. Cabela's is offering a 40% ammo discount for brands like Remington, American Eagle, PMC and Winchester, which is owned by Olin.
A discount like that would have been unthinkable in the months following the December 2012 mass shooting at Sandy Hook Elementary School in Connecticut. Ammo flew off the shelves, causing shortages and prompting Walmart (WMT) to ration customers to three boxes a day.
Related: Trump is a drag on guns and ammo sales
After that, bullet factories ramped up production. Recognizing an unmet demand for ammo, gun companies Sig Sauer, Sturm Ruger (RGR)and Vista Outdoor (VSTO) branched into ammo production before the slowdown.
Rommel Dionsio, a gun industry analyst for Wunderlich Securities, said that Vista is increasing its ammo manufacturing capacity this year, a decision the company announced in August, when bullets were still in short supply.
"They made their decision at a time when the industry was growing rapidly and there was a shortage of ammunition (last summer)," Dionisio told CNNMoney in an email. "The market has certainly changed since then!"
Vista did not immediately answer a request for comment.