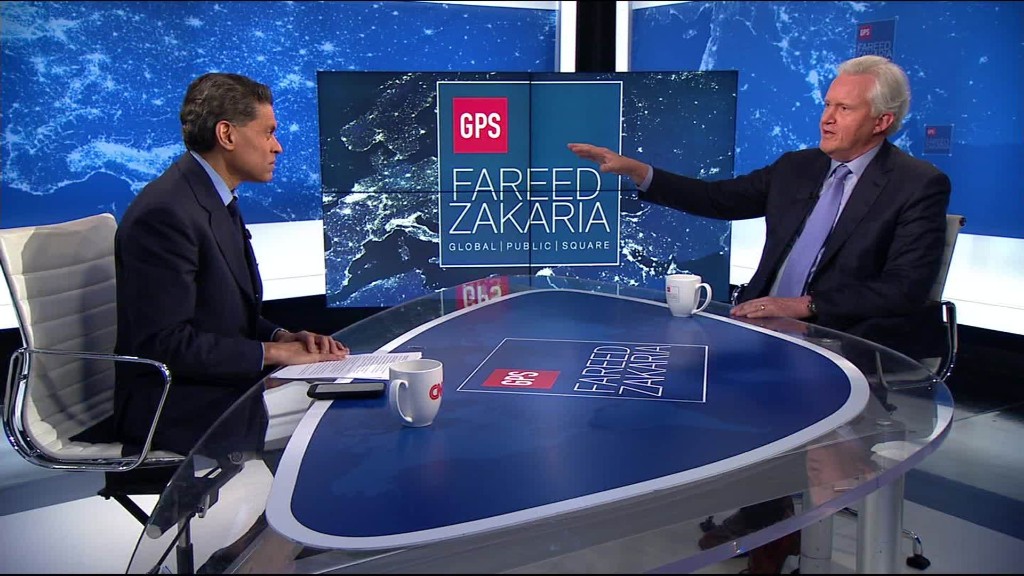 The U.S. should stop whining about globalization and start making changes.
That's the message General Electric CEO Jeff Immelt delivered on Thursday to lawmakers hoping to help American companies compete against foreign firms.
"It is time to stop complaining and start competing," he said during a speech at Georgetown University.
Immelt explained that years of slow wage growth and jobs being moved overseas have led to a backlash in the U.S. against globalization.
"The systems of free trade haven't worked for enough people," he said. "But protectionism is not the answer. It makes us look weak, not strong."
Immelt, who has disagreed publicly with some of President Trump's policies, said that politicians should focus on reducing regulation, reforming the tax code and boosting infrastructure investment.
But he doesn't think that withdrawing from trade deals is the right policy.
"We should work to modernize and improve them," he said.
Immelt had some specific advice for Trump when it comes to renegotiating the North American Free Trade Agreement (NAFTA), saying the U.S. should push for the creation of an integrated market for energy in North America to help lower costs and boost manufacturing.
"Instead of moving backward, let's compete for the world," he said. "Let's try harder ... globalization should be more about growth than cheap wages."
GE (GE) makes nearly 70% of its sales outside the U.S.
Related: U.S. unemployment hits 4.4%
Immelt made the case that global rivals -- especially China -- have become more influential and powerful because they pursued global trade and investment opportunities.
The CEO told CNN in April that he tries to stay out of politics -- but has found it necessary to speak out against some of Trump's policies.
He has opposed Trump's travel ban, his position on climate change and his plan to build a wall on the border with Mexico.