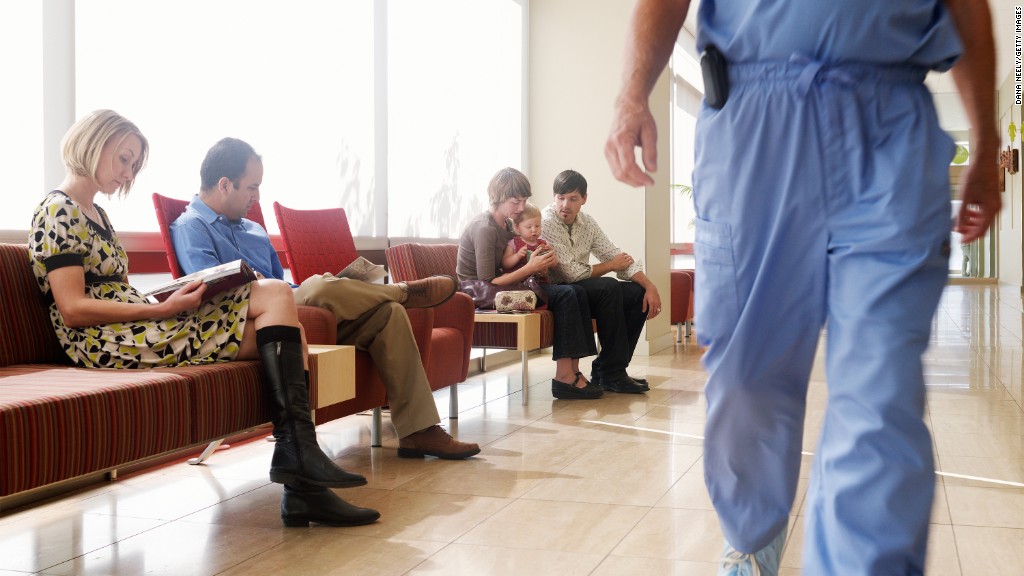 President Trump and congressional Republicans are taking aim at one of the strongest and most consistent sources of job growth in the U.S. economy -- health care.
The numbers tell the story.
Some 1.1 million jobs have been added in health care since 2014, when the Obamacare insurance exchanges started increasing access to care.
That's roughly as many jobs as were added at factories and construction sites combined over the same period, according to Labor Department statistics.
"Obamacare was a de facto jobs program, whether it was intended that way or not," said Sam Glick, a health care expert and partner at consulting firm Oliver Wyman.
Related: This bill could leave millions uninsured
The Affordable Care Act, passed in 2010, prompted an increase in spending on medical care, and that resulted in more jobs for people who provide those services.
Hospitals are the largest private sector employers in many cities, Glick said. That applies to small cities like St. Augustine, Florida, and Victorville, California, medium size cities like Pittsburgh and Omaha, and even large cities like New York, Chicago and Phoenix.
The hiring trend started before Obamacare as the population aged. But increased health care access for millions of Americans sped it up.
The health care jobs boom was on display again on Friday, when the Labor Department reported that 37,000 more health care jobs were added in April.
The fastest-growing part of health care employment is the "ambulatory health care services" category, which includes positions in doctors' offices, outpatient clinics and the like. Those jobs are up 10% since the start of 2014, compared to a 6% growth in jobs of all kinds.
Related: How the Republican bill would change health care
Some health jobs, especially in home health care, don't pay particularly well. But the average health care position pays about $28 an hour, which works out to about $56,000 a year. That's 10% more than the average private sector job nationwide. They're skilled jobs, more likely to be unionized than others in private industry, and relatively difficult to outsource overseas.
"A lot of the best, new middle class jobs in this country are in health care," said Glick. "The manufacturing job of the past is in health care today."
But Glick and other experts are worried that Republican plans to scrap and replace Obamacare will put a brake on the area's job growth, or even lead to employment cuts in some places. The potential closure of some rural hospitals is a big concern.
Related: Who gets hurt, who gets helped if Obamacare is repealed
The Congressional Budget Office estimated that an earlier version of the Republican plan would cut government spending on health care by about $60 billion to $80 billion a year over the next decade. That would translate into less demand for services, said Daniel Polsky, executive director of the Leonard Davis Institute of Health Economics at the University of Pennsylvania.
"That decrease in spending will translate into a contraction in the health care sector," Polsky said.
And because health care "is highly labor intensive," he said, a reduction in health care services would necessarily put a crimp in hiring.