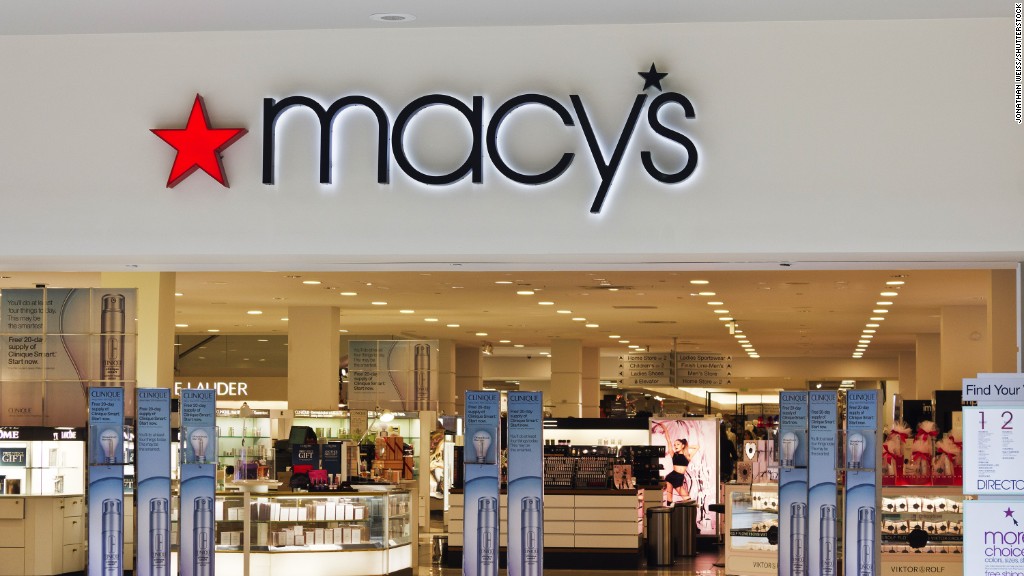 The retailpocalypse for some well-known American stores could continue this week.
Struggling chains Macy's, Kohl's and JCPenney are all due to report their latest quarterly results. They are unlikely to be good.
Analysts are predicting another quarterly loss for JCPenney when it reports on Friday. Meanwhile, sales and profits are expected to fall at Macy's and Kohl's. They both release their results on Thursday.
Shares of Macy's (M) and Kohl's (KSS) are both down nearly 20% this year, while JCPenney's (JCP) stock has plunged more than 30%.
Nordstrom (JWN) will report its earnings on Thursday as well. Sales are only forecast to rise 3% from last year while earnings are likely to be unchanged from a year ago. But its stock is up about 3% this year.
Traditional retailers have had a very tough time lately. Macy's and JCPenney are both closing stores. So is Sears (SHLD), which also owns Kmart.
Target (TGT) said earlier this year it will look to cut prices to attract more shoppers after it reported awful sales for the holidays and warned that 2017's results will be much lower than expected as well.
Related: Retailers continue to cut jobs
Several mall-based apparel chains are in even worse shape. Wet Seal, Aeropostale, Pacific Sunwear, American Apparel and The Limited have all recently filed for bankruptcy. So have The Sports Authority and Payless ShoeSource.
Amazon (AMZN) is a major headache for all these companies. It now sells just about everything online, including food and clothing. Its prices are often lower than its rivals. And Amazon is even opening up more of its own physical stores.
Walmart (WMT) is another problem for struggling retailers. It's making a big bet on digital commerce. Walmart now owns Jet.com and other online stores, including women's apparel retailer ModCloth, outdoor gear retailer Moosejaw and footwear store ShoeBuy.
And it's worth noting that Wall Street has applauded both Walmart and Amazon as they continue to gear up for battle. Shares of Walmart are up more than 10% this year while Amazon's stock is up more than 25%.
So there is hope for traditional retailers. If they bulk up more on digital, shoppers and investors may embrace them.
Still, can Macy's and other retailers that have fallen on hard times really bounce back? Wall Street will be looking for signs in this week's earnings reports that these companies are going to invest even more on digital initiatives.
Related: There is a retail bubble -- and it's bursting
But many of these retailers are playing catch up. Simply put, they underestimated the threat from the likes of Amazon and now are scrambling to convince people that they are still relevant.
Macy's chief financial officer Karen Hoguet said during the company's last earnings call in February that "we were not able to overcome the secular changes in the industry related to shopping habits" during the holidays.
She added that "these changes appear to have had a bigger impact on our store business than we had expected. We recognize we need to make dramatic changes in how we operate the business."
Macy's isn't alone. Most brick-and-mortar retailers have to do even more with their mobile and overall digital commerce operations in order to hold onto existing customers and attract new ones.