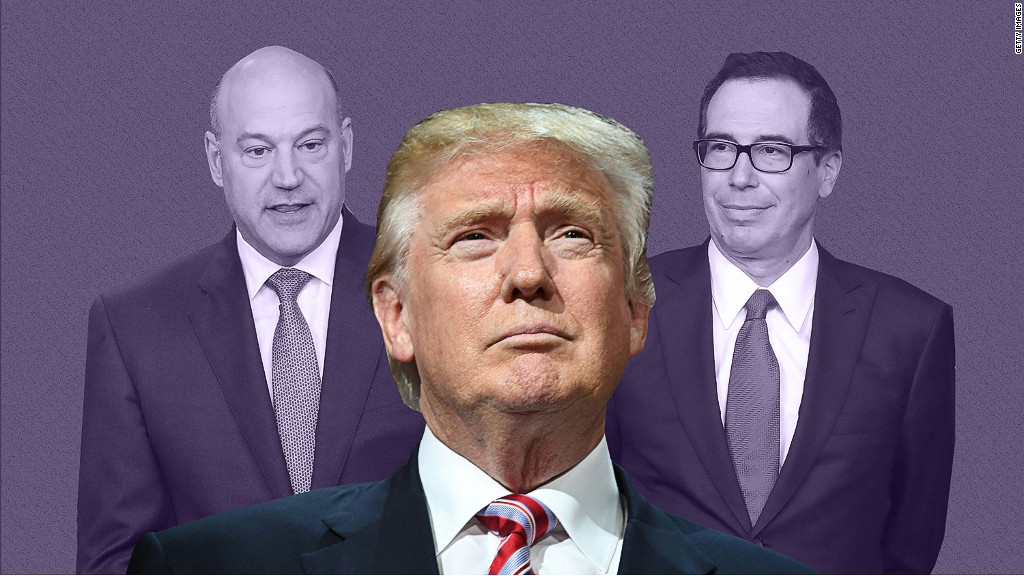 In the past week, the Federal Reserve expressed confidence in America's economy, the U.S. unemployment rate hit a 10-year low, and the presidential election in France showed that the tide of anti-European Union populism may be ebbing.
You'd think these events would lift the stock market. But they haven't.
Solid earnings from leading companies haven't moved the needle, either. Neither has President Trump's first big legislative win -- the passage of his health care plan by the House last week.
Since April 25, stocks have barely budged. The Dow closed that day at 20,996 -- and on Monday afternoon, it was in almost exactly the same place. The S&P 500 and Nasdaq have moved only slightly higher in that time.
So why is the market going nowhere?
Wall Street is still waiting for Trump to unveil the specifics of his "massive" tax cut plan.
The Trump administration released a one-page outline on April 26, and Treasury Secretary Steven Mnuchin and economic adviser Gary Cohn talked about it briefly. But investors want more details.
Related: How the economy is really doing
They hope lower tax rates for individuals and businesses, and other tax reform, will give a big boost to the economy.
Some argue that lower corporate taxes could bring a flood of cash back into the economy, creating an effect similar to Fed stimulus programs after the financial crisis.
Apple (AAPL), Google owner Alphabet (GOOGL), Microsoft (MSFT), Cisco (CSCO) and Oracle (ORCL) are collectively sitting on more than half a trillion dollars in cash. They're holding much of it overseas to take advantage of lower tax rates.
And the Trump team has promised a one-time tax break for companies if they bring back, or repatriate, that cash to the United States.
If these and other companies use that overseas cash to build plants in the United States and hire more American workers, it could substantially boost consumer spending and the broader economy.
Meaningful change on taxes would arguably have a much bigger impact on markets and the economy than replacing Obamacare and paring back the Dodd-Frank financial reform law. Lower taxes could unleash spending by real people and corporations.
But until investors have a better sense of what Trump's economic team will propose, the market may continue to tread water.
Related: Wall Street to Trump: Read our lips. Just fix taxes
Stocks have already enjoyed a solid run since Trump defeated Hillary Clinton in November.
The Dow, S&P 500 and Nasdaq are at or near record highs. And Wall Street's so-called fear gauge, a measure of volatility known as the VIX (VIX), dipped below 10 on Monday and is the lowest in a decade.
CNNMoney's Fear & Greed Index, which looks at the VIX and six other measures, has edged higher in recent weeks, too. It's in Neutral territory but not far from registering Greed.
So one could argue there has been too much complacency in the market. Investors now need to be more prudent. And Trump has to actually deliver on his promise to come up with a tax plan that can make it through Congress.