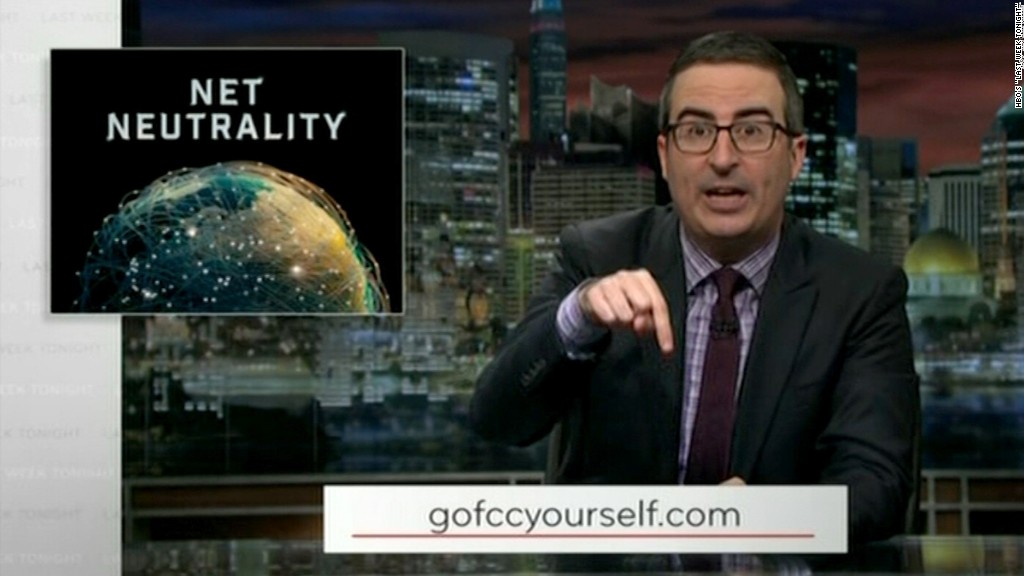 Oops, John Oliver did it again.
In Sunday's episode of "Last Week Tonight," Oliver revisited the issue of net neutrality amid threats of rollbacks.
The host encouraged his viewers to visit the FCC site and leave comments in favor of strong net neutrality rules. And to make it easier, he offered a shortcut to the commission's comment form through the domain www.gofccyourself.com.
"I'm calling upon all of you -- the internet, time wasters and troublemakers -- to join me once more in just five to 10 minutes of minor efforts," he said on his show. "I need you to do this. Once more unto the breach, my friends."
Oliver's stab at net neutrality in 2014 gave the late-night host his first viral moment and established the activist comedy tone of his show.
Related: FCC chair unveils plan to roll back net neutrality
Last month, FCC Chairman Ajit Pai revealed plans to weaken Obama-era net neutrality rules that prevented internet service providers from favoring certain sites by intentionally speeding or slowing down user access. (Appointed by Trump, Pai previously worked at Verizon as a lawyer.)
"America needs you to rise -- or more accurately, remain seated in front of your computer screen -- to this occasion," Oliver concluded Sunday's show. "So please, fly my pretties, fly once more!"
Coincidentally, the FCC suffered a DDoS attack Sunday night that caused its comment system to crash.
"These actors were not attempting to file comments themselves; rather they made it difficult for legitimate commenters to access and file with the FCC," CIO David Bray said in a statement.
It was not immediately clear whether the DDoS attack was related to Sunday's "Last Week Tonight" episode. An FCC spokesman said the commission did not know the motive behind the attack and denied to comment on Oliver's segment.
After "Last Week Tonight" aired its first net neutrality piece nearly three years ago, the FCC site crashed when it was flooded with 4 million comments.