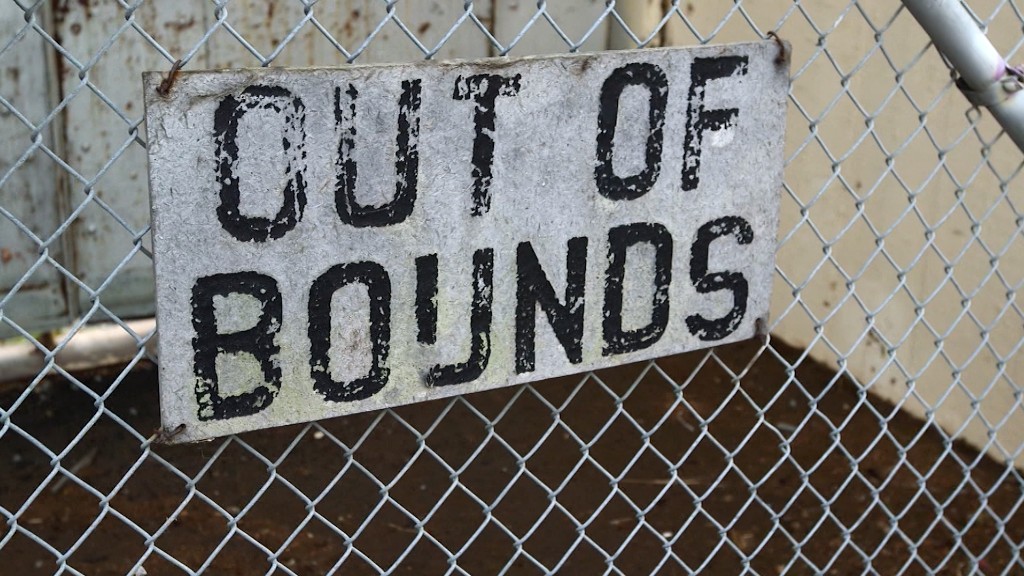 Michael Taylor has been promoted seven times in five years at Nehemiah Manufacturing, a Cincinnati company that makes household and personal care products.
Before the company brought him on, he couldn't land a job anywhere. "Employers would run a background check on me and back out," he said.
But at Nehemiah, he's one of at least 60 workers who have one thing in common -- a criminal record.
Taylor has battled drug and alcohol addiction and been to rehab more than once. In his 20s, he did prison time for his involvement in a burglary.
In a way, that made him just what Dan Meyer, the company's owner, was looking for.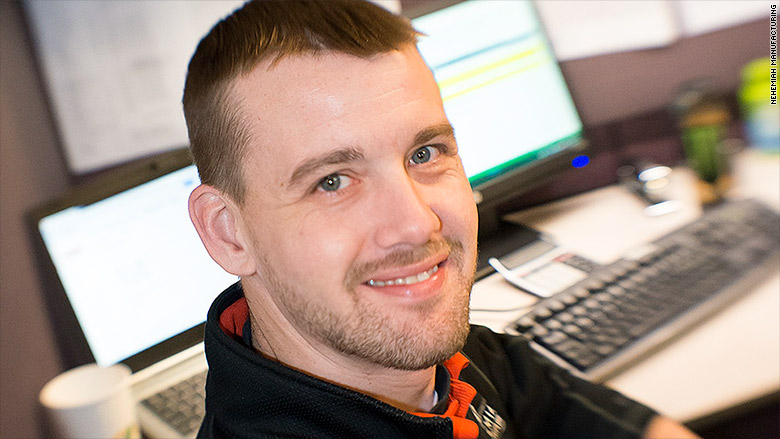 Eight years ago, Meyer had an idea: He could combine his 30 years experience in the industry -- he was an executive at Procter & Gamble (PG) and had launched and sold two consumer-product startups -- with a social mission.
He set up in a 30,000-square-foot building in a neighborhood then struggling with severe unemployment. And the company set out to hire people with felony convictions or experience with addiction.
Nehemiah makes products under its own brand names, like Boogie Wipes for kids' noses, and licenses others, including some of Procter & Gamble's Downy and Febreze products.
Meyer, who was raised Catholic, named the business after a figure in the Old Testament who helped repair and rebuild the walls of Jerusalem.
Today the company has three facilities, all in some of the poorest sections of Cincinnati. The business pulls in $50 million in annual revenue and employs 110 people in all.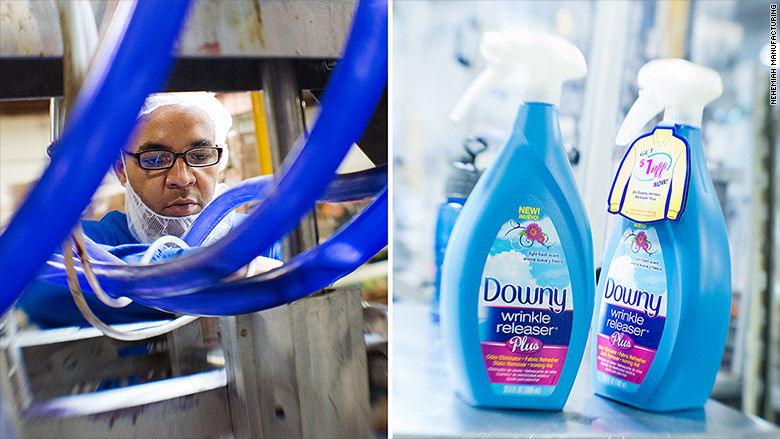 But Meyer is proudest of what he calls his second-chance employees.
"We've given them a chance and found them to be hidden gems and among our most loyal employees," said Meyer.
The stigma of a criminal conviction makes finding a job tough. According to the National Employment Law Project, an employment rights advocacy group, the chance of finding work drops as much as 50%.
Access to a steady job, though, can reduce the chance of a second offense by 31%, according to a study by the Manhattan Institute for Policy Research, a public policy think tank.
Related: An Indian technologist creating factory jobs in America
At Nehemiah, these employees are offered temporary jobs first. They start on the factory floor taking products off the conveyor belt and loading them onto pallets.
Taylor, 34, went through three weeks of training, then started on the floor at $8.75 an hour. He was promoted to operating a forklift, then to product supervisor, and eventually to operations manager.
He makes $70,000 a year and oversees most of the workers at the company.
"It's been a long struggle for me after prison," he said. "Everyone treats you like a loser if you've gone to prison. It's a miracle I didn't go back to drugs. Getting a chance at Nehemiah happened at the right time."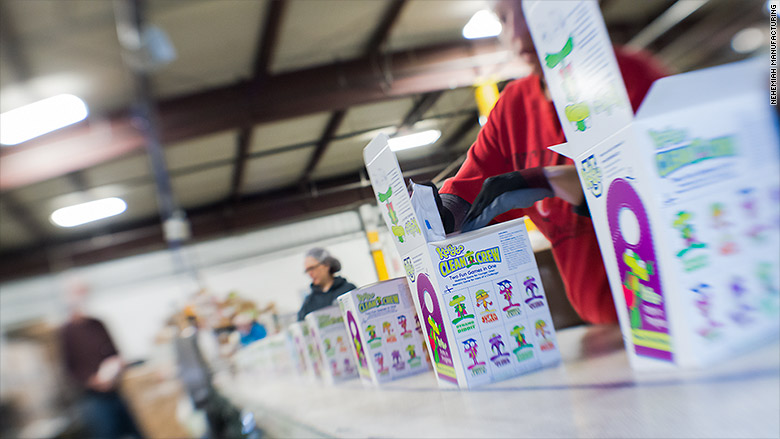 Felicia Johnson, 42, is a line captain, managing six workers. She supervises product packaging and makes sure the company meets daily production targets.
Before this job, she was jobless, often homeless. She found cocaine at a young age, and "my life spiraled out of control," she said. She was arrested more than once on drug charges and separated from her three children.
Related: High schooler sells $1 million in custom socks
Her turning point came eight years ago, when a drug recovery program connected her with Nehemiah.
"I now have job skills, I'm responsible, and I'm a leader," she said. "I've learned my worth."
Other companies have seen the value, too.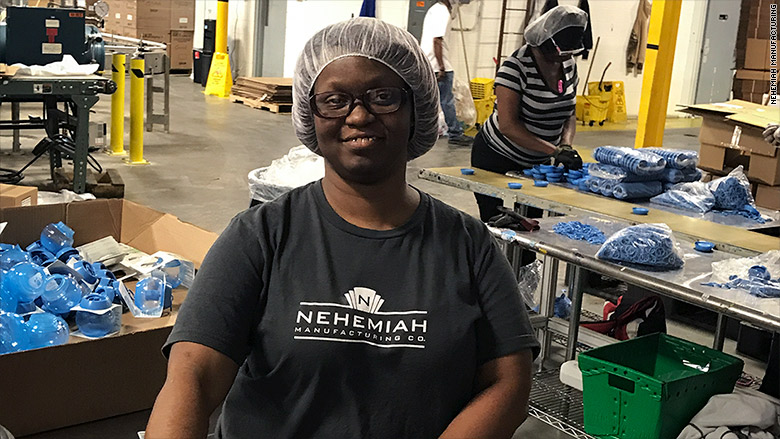 A small manufacturer outside Denver called Mile High WorkShop cranks out pillows, tote bags, cutting boards and ski parts. Each of its 10 employees has a troubled past, including homelessness, drug addiction and jail time.
Related: This Michigan toymaker pledged never to go to China
Greyston Bakery, in Yonkers, New York, which makes brownies that go in Ben & Jerry's ice cream, has an "open hire" policy to help people get back on their feet. About 30% of the bakers have been incarcerated, struggled with addiction or had similar issues, the company says.
At Nehemiah, about 40 people with troubled backgrounds turn up every month looking for work. "We can't hire them all," Meyer said.
He's trying to encourage other businesses in the city to hire them, and he said 22 local companies have done it.
"2,500 individuals each year leave our county jail system," Meyer said. "I want to help each one find and keep a job if they want to."