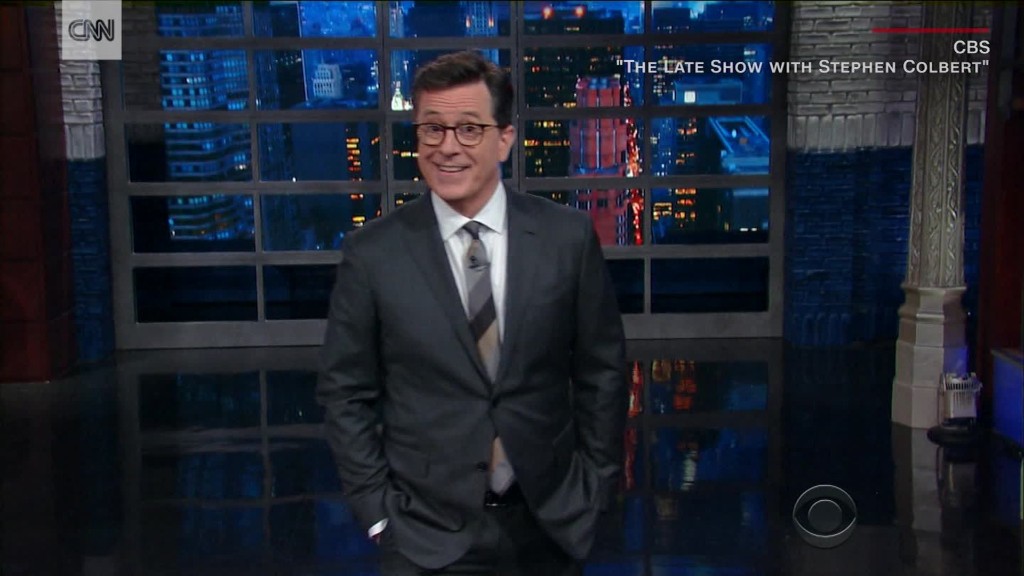 The "#FireColbert" campaign that began after Stephen Colbert made a lewd joke about President Trump doesn't seem to have slowed him down. In fact, it may have even helped him in the ratings.
An average of 2.8 million people were watching "The Late Show with Stephen Colbert" last Monday night, when Colbert made a joke which implied Trump was taking part in a sexual act with Russian President Vladimir Putin. The comment led to an online backlash, which included some people calling on CBS to fire him. But the next night, the show brought in an average of 3.3 million viewers, an increase of nearly 18% over the prior night, and 22% over a week before.
The whole week went on to be a successful one for Colbert. His show brought in an average of 3.06 million viewers over the week, up 12% from the week before, which helped him win late night for the fourteenth consecutive week, according to Nielsen data. And his nightly average viewership never dipped below Monday's, even as the controversy gained more attention by week's end.
In all, over the week, "The Late Show" beat its closest rival, "The Tonight Show with Jimmy Fallon," by 410,000 viewers. That is Colbert's largest margin of victory since his premiere week in September of 2015.
Colbert responded to the backlash last Wednesday by saying that if he had to do it over, he would "change a few words that were cruder than they needed to be."
Related: FCC is reviewing complaints about Colbert's Trump jokes. But that's its job
"I'm not going to repeat the phrase, but I just want to say for the record, life is short, and anyone who expresses their love for another person, in their own way, is to me, an American hero," Colbert said.
But ultimately, Colbert said, he did not have any regrets.
"I had a few choice insults for the president in return. I don't regret that. He, I believe, can take care of himself," the host said. "I have jokes; he has the launch codes. So, it's a fair fight."