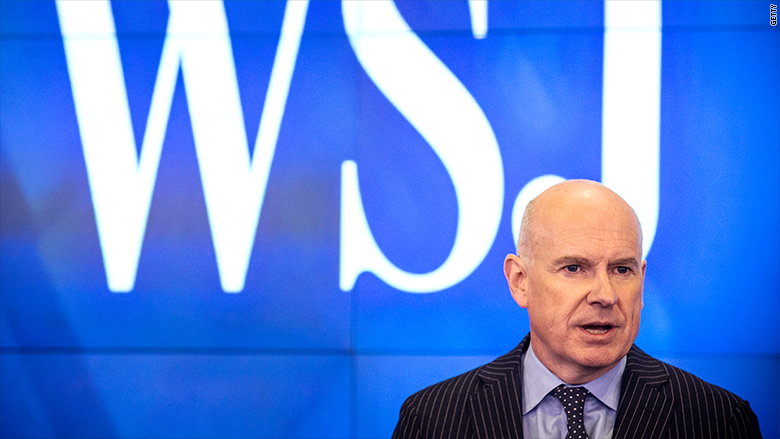 In the Age of Trump, the Wall Street Journal has kept its head down.
It has not stressed the necessity of its journalism, à la the New York Times and its "Truth is Hard" ad campaign or The Washington Post with its new slogan "Democracy Dies in Darkness," nor has it made a big deal about subscriber growth in the wake of Trump's election.
But the Journal is celebrating subscriber growth. The paper added 305,000 daily digital subscribers in the year between March 31, 2016 and March 31, 2017, according to an SEC filing from its parent company News Corp.
The Journal's competitors at the Times, meanwhile, announced 308,000 new digital news subscriptions in just the first three months of 2017.
Related: New York Times has record subscriber growth -- and some bad news too
Two sources told CNNMoney that in presentations to staff this week, Carla Zanoni, an executive editor for audience development at the Journal, provided insights into the Journal's subscriber base, which is overwhelmingly wealthy older men: 79% of Journal subscribers are male, 88% are above the age of 50 and 70% make over $100,000 a year, according to her presentation. More than nine of every ten Journal readers (92%) have a college education, Zanoni's presentation said, according to the sources.
Zanoni also advised Journal reporters to focus on shorter stories that broke information out into bullet-points, the sources said. She said readers surveyed by the Journal had expressed an interest in shorter news items.
"It reminded me of Axios," one of the sources said, referring to the new digital news service that has put a premium on short, concise news items.
Correction: An earlier version of this article incorrectly reported the period during which the Wall Street Journal added 305,000 subscribers.